A high-powered steam iron can actually make the task of ironing your clothes much simpler for you. Most of the people, however, do not even take into account the power rating of the steam irons before buying them. Rather than just looking at the visual appearance, a good idea will be to look at the other features including the power rating before taking a call. The next time around, you're comparing irons like Rowenta DW6080, Rowenta DW5080, Rowenta DW8183, Rowenta DR8080 it would be a good idea to take into account the power rating as well.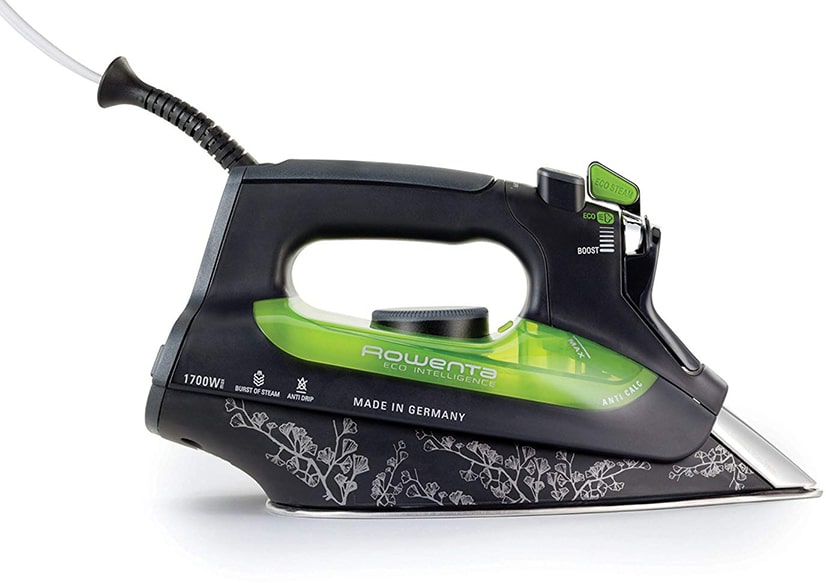 We will now delve into the intricacies of a steam iron which not only provides you with high power but also incorporates a lot of other features. We are talking about the Rowenta DW6080.
Rowenta DW6080 Review
The Rowenta DW6080 might look like just another steam iron but with a power rating of 1700 W, it can remove the stubborn wrinkles quite easily. Additionally, there are a lot of other features incorporated as well.
Rowenta DW6080 Eco-Intelligence Features
1700 W power rating
Less energy consumption
3 different steam settings
Soleplate is made from stainless steel
Auto shutdown feature
400 hole design
Vertical steaming capability
Anti-drip design
Excellent grip

1700 W power rating
With the power rating of 1700 W, the steam production will be quick. You will not have to wait for a long period of time in order to start using this iron.
Less energy consumption
Comparing it with other irons like Rowenta DG5030, Rowenta DR8080, Rowenta DG8430, Rowenta IS6300 will make you realize that the energy consumption is as low as 25%. On this feature alone, it can be judged as the best Garment steamers which you can buy. Due to the less energy consumption, using this iron will be more economical. The lower energy consumption makes this steam iron suitable for commercial applications.
3 different steam settings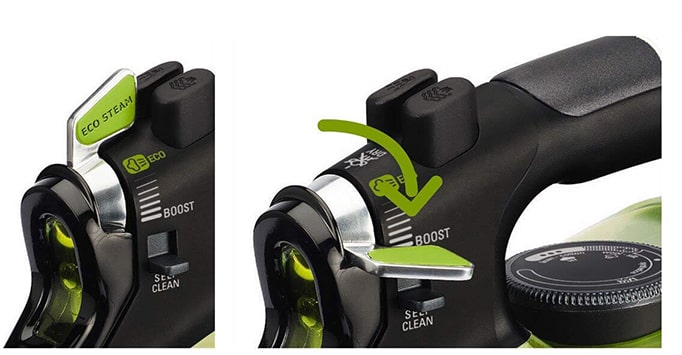 The iron has 3 different steam settings. As a result, you can easily decide how much steam should be released. The 3 settings are dry, eco, boost. You can easily select the steam setting as per the fabric type. Most other irons like Rowenta DW9280, Rowenta DW8080, and Rowenta DW5197 do not offer such multiple steam settings. You can precisely control the steam which is released.
Soleplate is made from stainless steel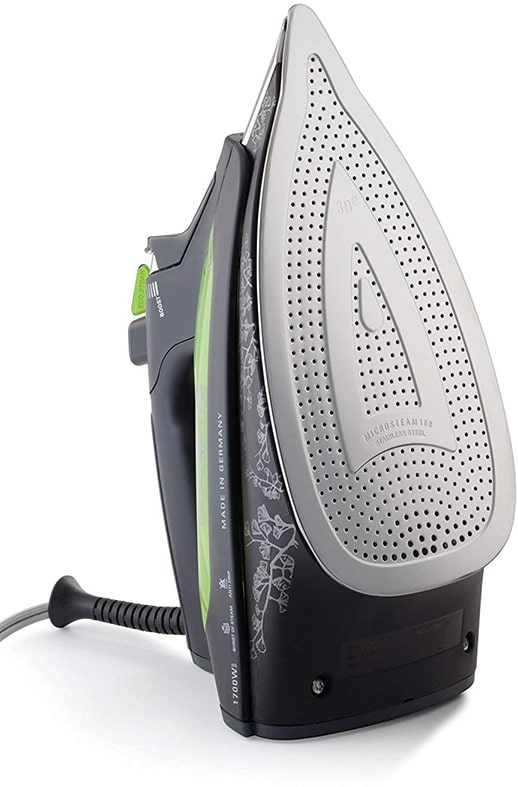 The stainless steel soleplate ensures that the soleplate glides smoothly over all fabrics. Stainless makes the soleplate much more durable. Owing to this very reason, it becomes simpler to use the steam iron for a longer timespan. Stainless steel is a metal which is not only suitable for high durability but can also handle exposure to water. As a result, steam exposure will not impact the stainless steel soleplate negatively.
Related to read: Best Stainless Steel Iron
Auto shutdown feature
If the iron is not used for up to 8 minutes, it will turn off on its own. As a result, an accident can be avoided due to the heating of soleplate being on when it is unattended. Such safety features make it perfect for residential usage. The auto shutdown feature not only avoids the accidents but also reduces the consumption of electricity. In case, you forget to shut down the iron, it will shut down on its own.
400 hole design
As it consists of 400 Micro holes, the steam which will be distributed over the area will be more than adequate. With such a high density of steam, you can remove any wrinkles from the fabric.
Vertical steaming capability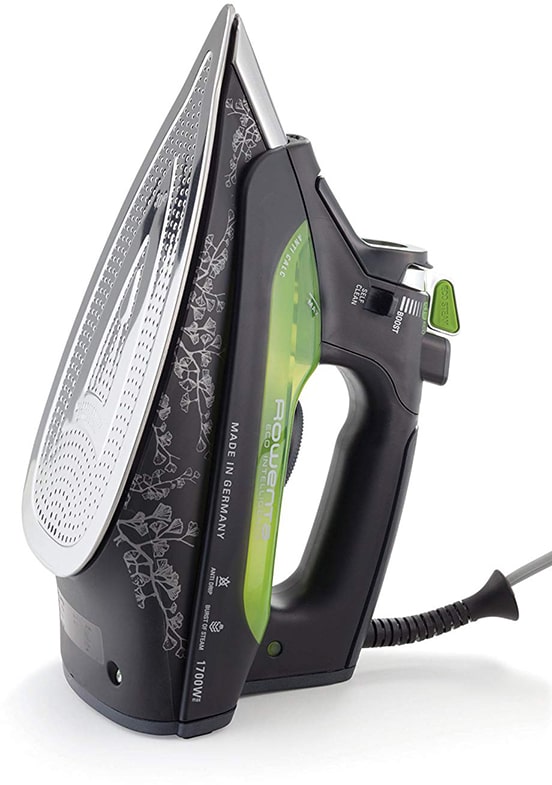 Owing to its vertical steaming capability, you can remove the wrinkles from the garments on the hangers. Thus, you will not have to remove them all the way from the hangers in order to just iron them.
Anti-drip design
Steam Iron design is made in a way that you will not have to worry about water spilling. There will be no leakage of water even when the tank is filled up to the brim. Thus, it is highly reliable as well.
Excellent grip
Many of the steam irons like Rowenta DW2070, Rowenta DW2171, and Rowenta Focus Xcel DW5260 do not provide proper grip. However, you will have no complaints at all from this steam iron. It is soft to hold but at the same point in time, the grip is excellent as well which allows you to use it in any way which you want without the fear of the iron falling off.
As so many different features are incorporated, you can definitely consider this to be the best steam iron which you can buy. Rather than just going behind the affordable irons like Rowenta DA1560, Rowenta DW7180, Rowenta DG8520, Rowenta IS6200 or searching for a steam iron under $100 or steam iron under $50, it is a better idea to get the steam iron along with the best ironing board and you are good to go. With so many different features incorporated, steam ironing your clothes will now become an easier task with the help of this Best Rowenta Iron.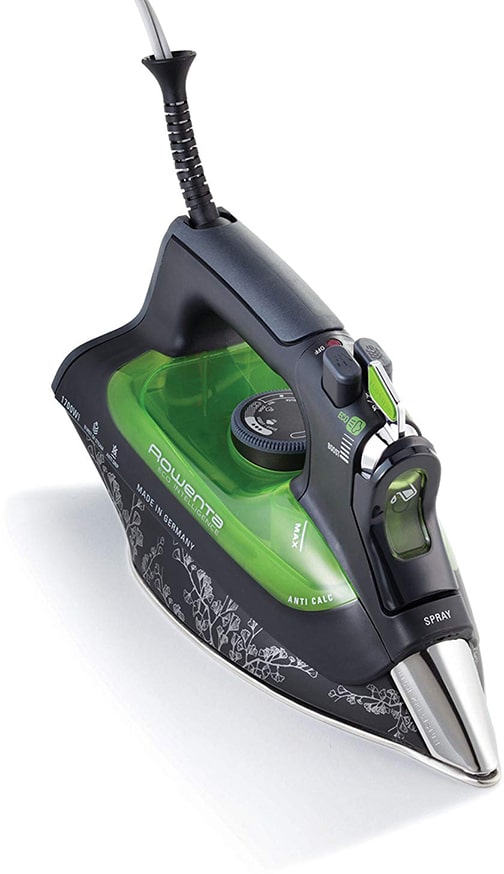 Looking to buy Rowenta DW6080? Check out the Pros and Cons.
The Pros
The soleplate is made from stainless steel.
It has vertical steaming capability.
Auto shut down in 8 minutes when not used.
It has 1700 W power rating.
400 hole design.
It has excellent grip.
Consumes up to 25% less energy.
It has an anti-drip design.
Excellent grip.
It has 3 different steam settings to choose from.
The soleplate glides smoothly.
The ergonomic design helps you use the iron for longer periods of time.
The Cons
The lower steam setting provides very little steam.
The steam setting button is not that sturdy.
Conclusion
Thus, if you're on the lookout for Best clothing iron, a good idea is to go with the Rowenta DW6080, as the features which it has on offer are not available in most of the other steam irons. It makes the entire steam ironing experience much easier and effortless for you, as stated in our Rowenta DW6080 Review above.