How to Find Top Rated or Best Selling Steam Irons Under $50?
Many steam irons which promise sophisticated features are top dollar. However, there are excellent irons costing less than $50. Some models in this price range are quite powerful. The Shark GI405 features 1800 watts of power which is similar to what models that cost close to $150 feature.
Some of the best clothing irons under $50 have highly polished sole plates made of stainless steel or ceramic. These plates come with not stick properties and have precision tips to reach difficult spots on clothes. Some of these irons are digital iron and come with an LCD display.
Here are most likely the Best Steam Irons under $50
1. Black and Decker D2030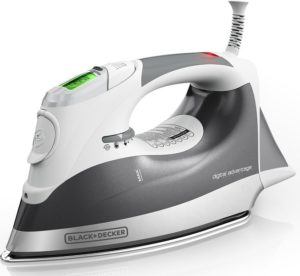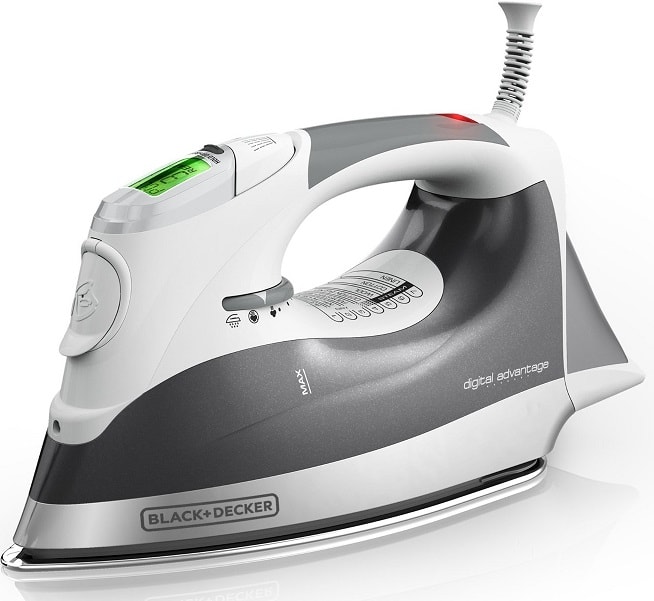 This is a digital iron that comes with a display which allows the choice of appropriate steam level, temperature and fabric setting. D2030 comes with a heavy duty stainless steel plate that is very effective in pressing creases. This black and decker has comfort grip with ergonomic features and with a handle that fits nicely in the hand, ironing can be blissful. It is one of the best selling irons across all brands and it's one of the best steam irons under $50. Read our full review on D2030 to know more.
The Pros:
Heavy stainless steel sole plate that is durable and effective in pressing clothes.
It has an LCD display that shows clearly the mode of fabric the iron is on.
Auto clean function for easy maintenance.
It has powerful vertical steam and burst of steam for straightening hanging clothes.
Variable temperature and steam dial that allows selecting of the best settings for different garments.
It has automatic power off.
The Cons:
Sole plate does not have anti stick coating and is prone to sticking or tugging.
It does not have anti calc feature and therefore prone to furring.
It does not have a retractable cord.
Tank cover is not strong enough and breaks easily.

2. Sunbeam Steam Master Iron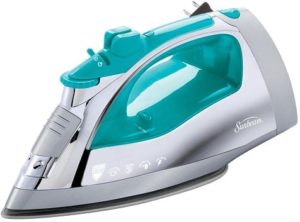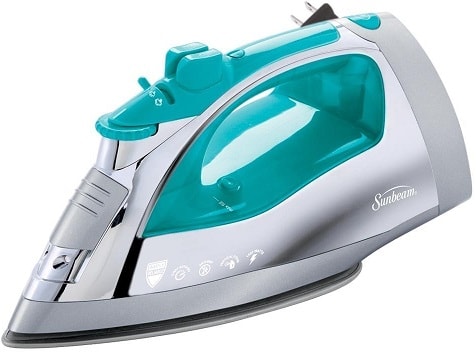 This steam iron comes with a chrome finish to enhance its looks and its durability. Even though it is manufactured in China, it is a popular American brand that produces good results. It comes with a large water tank and packs in 1400 watts of power. The dual spray mist button on this iron makes provides for easier removal of creases. Read our full review on Sunbeam steam master iron to know more.
The Pros:
15 steam macro holes in its sole plate that release of steam during ironing which helps straighten creases.
Shot of steam that helps in tackling more difficult creases and helps in vertical steaming.
8 foot and retractable cord that facilitates easy use and storage.
It has self clean and anticalc feature that provides for easy maintenance.
Light in weight and suitable for old people or people with problematic limbs.
It has a very efficient anti drip system that prevents spillages.
Variable steam that has 4 different settings for use on any fabric.
The Cons:
The burst of steam is relatively weaker compared to other models.
The macro holes do not deliver as much steam as the micro hole technology in other irons.

3. Shark Professional Steam Power GI405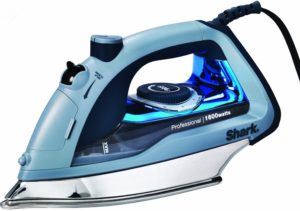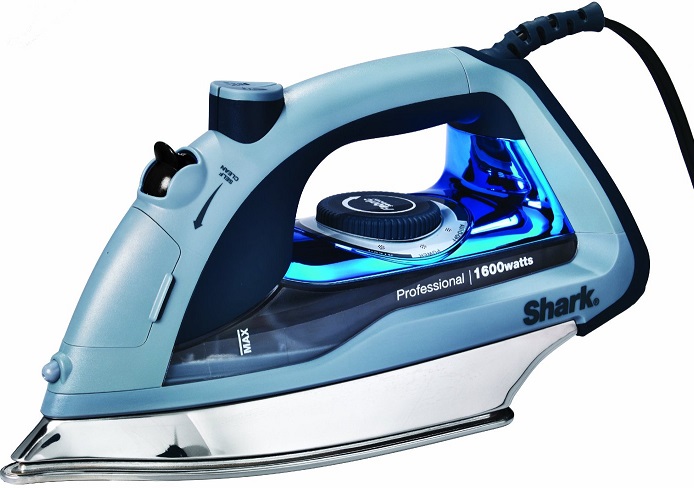 This is a handsome iron with a heavy sole plate with advanced stability. The thermostat has led indicator lights for precise control and an electronic selector to guide you when working with different fabrics. It touts itself as a professional grade iron that packs high power for superior steam generation.
The Pros:
High power of 1800 watts. This allows it heat up very quickly and remove tough creases with ease.
It has a large stainless steel sole that gets the job done in fewer strokes.
LED indicator lights for precise control and monitoring.
It has a relatively large opening for refilling the tank.
Self clean and anticalc that allows for easy maintenance and longer lifespan.
The Cons:
It is relatively heavy compared to other models.
The steam button seems to malfunction after a while.
Many buyers have complained that its steam generation reduces after short use.

4. ZZ ES322-P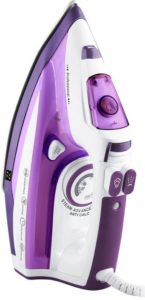 If purple is your favorite color, you will fall in love with this iron. Even though it is slightly bigger in size than some models, it is light and easy to use. ES322-P comes with a rubber has a stainless steel plate that incorporates 269 steam vents that produces a good amount of steam. It also has auto shutoff for safety.
The Pros:
Good steam generation through the vents in its sole plate.
It warms up reasonably fast.
A powerful burst of steam that helps to flatten even tough creases.
It has vertical steam option that allows straightening clothes while hanging them.
An overheating protection system that prevents the iron from being damaged.
It has anti drip and self cleaning system with anticalc.
1 year manufacturer guarantee.
The Cons:
It does not have a retractable cord.
Does not have a precision tip.

5. Eureka Razor Powerful Steam Iron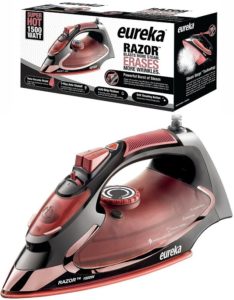 This good looking steam iron features a unique nano ceramic sole plate. Apart from a very smooth glide on all fabrics, the sole plate allows even heat distribution and prevents tugging. It also has steam surge technology that allows efficient and excellent steam generation. The ergonomic thermostat knob and soft grip handle provides comfortable ironing.
The Pros:
Powerful burst of steam that helps remove creases easily.
Its steam surge technology allows for efficiency and effective vertical steaming.
Precision tip that allows reach of tricky spots on clothes.
It has anti drip and self clean features.
Long 10 ft cord .
2 year limited warranty.
The Cons:
It does not have a retractable cord.
The indicator light does not stay on even when the iron is hot or being used.

6. Shark GI468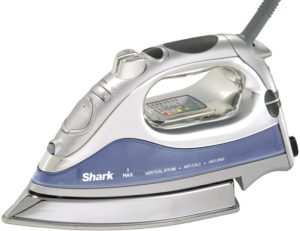 This is a compact iron that comes with a useful led display and a professional stainless steel sole plate. It packs in a decent 1500 watts of power and intelligent electronic controls. It has an automatic power off that will shut power after 7 minutes of inactivity to prevent accidents.
The Pros:
Light weight and is suitable for people with arthritis or other joint problems.
It has powerful steam generation capacity including vertical steam option.
Self clean and anticalc system for easy maintenance.
It has intelligent controls that maintain the selected temperature.
A stainless steel sole that is durable and that glides easily on any material.
The Cons:
It does not have superior steam generation technology found in some models.
Somehow unstable on its base.

7. Black and Decker IR2020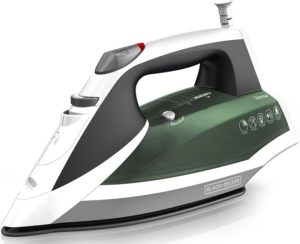 This is a stylish model that incorporates smart steam technology which automatically matches the sole plate temperature with optimal steam levels for a hassle free ironing of any garment. It features a nonstick sole plate durable non stick sole plate that easily glides while ironing. It also features a dual position cord that easily adjusts during ironing.
The Pros:
The smart steam technology enables easy ironing and efficiency in steam production.
A true glide non stick sole plate that offers 2 times smoother gliding than other models.
Blast of steam that is very effective in removal of tough creases.
It has vertical steam for straightening hanging garments.
Auto off for safety.
The Cons:
Relatively low power at 1200 watts
Does not have a retractable cord.
It does not have auto clean and anti calc system
Anti drip feature missing.

Final Verdict on Steam Irons Under $50
Even though the Shark GI405 has the highest wattage among these irons, many buyers have complained over its performance nonetheless, it has a slightly higher rating than the GI468. Even though the black and decker IR2020 offers a more superior sole plate, the D2030 has a higher wattage, and performs much better while costing lesser(Under $50). It definitely a better buy than the Sunbeam Steam Master which doesn't deliver as much.
If you want to go for more than $50 then our guide on best steam irons under $100 will surely help you.