Even though many people are apprehensive about items manufactured in China, the Black and Decker D2030 will melt the heart of the most indifferent cynic. It nonetheless is an American brand that according to a 2014 report by Euro monitor has a market share of 27% in the United States. The Black and Decker D2030 stands tall among the other black and decker models and is by far the most popular. It is also one of the bestselling irons across other brands.
Perhaps the greatest selling point of this iron is that while offering great performance, it is relatively cheap and costing less than $50. Even though it comes with a lower wattage that the Black and Decker D3030, the D2030 greatly outsmarts it in other features and has a higher customer rating.
Black+Decker D2030 Steam Iron Review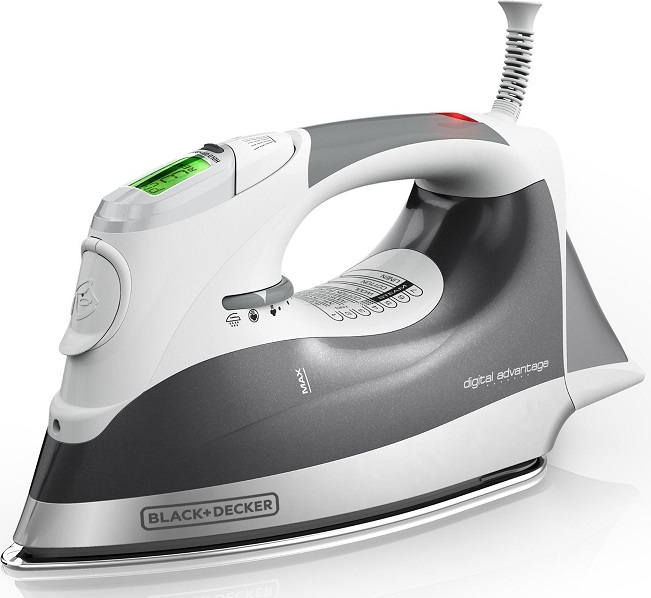 For those who appreciate technology, the D2030 is a digital iron. It comes with an LCD display to allow precise temperature, steam level, and fabric setting and is probably the only iron in this price range that prides in this feature. Even with a heavy sole plate that straightens creases without much effort, this iron does not compromise on comfort. It fits easily in the hand and has comfort grip with ergonomic features with all buttons within easy reach. Even though its cord is not as long that of the t-fal FV4495 most buyers find it sufficient. It is a professional iron that requires little maintenance.
Features of D2030 Iron:
1500 watts of power
Digital clear LCD display for easy monitoring
Heavy duty stainless steel sole plate
Variable temperature and steam option
Vertical steaming with powerful burst of steam
Power 3 way auto off
Auto clean ant calc system
Anti-drip system

1500 watts of power
This is relatively high wattage of power making this iron powerful. It heats up and irons faster than models with lower power. This power also allows it to produce steam generously and over a long period of time. High power also allows it to be very effective in removing tough creases.
Heavy duty stainless steel sole plate
Stainless steel is a very durable material and doesn't scratch easily. Apart from this iron serving you for a long time, it also glides easily on all fabrics and heats up quickly and remains hot throughout the ironing session. Its sole plate is heavy duty helping it to downs creases without much effort. Even so, it is not a heavy iron and can be used for long without much discomfort.
Digital LCD display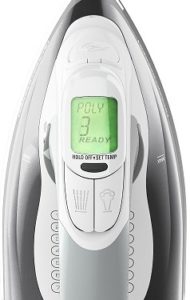 The D2030 comes with an attractive display atop the handle for easy reading. This display allows for precise temperature and steam controls in order to produce best results. It also displays the mode it is on for easy monitoring by the user.
Variable temperature and steam
The D2030 is a professional iron. It has an easy to use button that takes away guesswork from ironing. This dial allows the user to find the best temperature and steam settings for any cloth or garment thereby producing excellent results. It also allows efficiency and conserves water and power.
Vertical steaming and powerful burst of steam
With just a press of a button, the D2030 produces a burst of steam. This can be directed at tough creases to remove them instantly. This feature also allows vertical ironing where the iron is used as a steamer to straighten hanging garments without having to iron them on the board.
Power 3 way auto off
If you leave this model idle for a while, it automatically cuts off power. When left on its face or when lying on either side, it shuts in just 30 seconds. While on its base it goes off after about 8 minutes. This feature gives peace of mind as fires or accidents related to ironing are less likely to happen.
Anti clean and Anti calc system
The Black and Decker D2030 automatically prevents calcium build up inside it which happens commonly in devices that hold water. This allows the use of tap water with this iron unlike other brands that require distilled water. It also incorporates an anti-clean system which when engaged, disposes sediments and dirt that could be present in the irons water tank. This increases the lifespan and efficiency of this steam iron.
Anti- drip feature
Have you ever had an annoying iron that continuously spills water spoiling garments during ironing? Not this one! This model has an integrated anti drip system which reduces the risk of dripping especially in low temperature modes.
Want to Buy the Black+Decker D2030 Steam Iron? Read Pros and Cons
The Pros:
It has an LCD display that allows for easy monitoring and control. Most digital irons with this feature cost way above $50.
It has a comfort grip handle with ergonomic controls that allow comfortable ironing.
It is relatively light. The Black and Decker D2030 weighs only 3.85 pounds and is considerably lighter than models like Rowenta DW5080 that weighs 4.3 pounds. It can therefore be used for a long time without much fatigue or discomfort.
It has a stainless steel sole plate. Even though it is not as unique as the Nano ceramic sole plate offered by the Eureka Razor Powerful steam iron, it is long lasting and glides easy
It has anti calc system which prevents the buildup of calcium and other minerals that are found in tap water. When furring occurs it destroys electric components and reduces efficiency.
It has a powerful burst of steam and vertical steaming. This feature allows steam to be directly aimed at tough creases and helps to remove them instantly. It also allows straightening of clothes while they are still hanging or fabrics that are delicate and which cannot be ironed.
It has an auto clean function that prevents accumulation of sediments and dirt inside the tank and clogging of steam vents. This maintains efficiency and effectiveness of the iron.
It has one year limited manufacturer guarantee.
The Cons:
It does not have a retractable cord featured in other cheaper models like the sunbeam steam master iron
It does not have an anti-stick coating on its sole plate and is therefore prone to tugging and sticking on clothes.
Some buyers have complained that the water tank cover breaks easily and if this happens then it leaks and is difficult to work with.
It does not have a precision tip.
Conclusion:
The Black and Decker D2030 is a powerful and effective iron that has won the hearts of many people. However, buyers who are more price conscious might find the t-fal FV 4495 more attractive not only because it is cheaper, but also because it offers higher wattage and a better quality sole plate.


Related read: