The Rowenta DW5080 surpasses the expectations of many less than $100 irons and lives to the promise of the Rowenta brand "High performance for your well being." Even though it lacks the looks of the Rowenta steam force DW9230 which is slightly cheaper, it has a sleek contemporary look and is aesthetically appealing. The handle looks and feels comfortable to hold and incorporates easy to read ergonomic controls. The thermostat knob has precise reading settings for five fabrics namely: nylon,silk,wool, cotton and linen. There is also a well placed steam control lever at the top together with a steam jet and spray mist button.
Rowenta DW5080 Review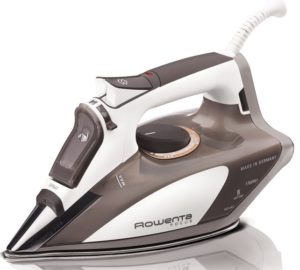 Perhaps the most obvious thing is its enhanced precision tip. Other than giving it a more urban and modern look, it allows for easier reach to tricky areas especially when ironing shirts. Unlike the DW2070, the Rowenta DW5080 Focus is a German brand made in Germany. This gives an assurance of high quality and minimized defects over other brands manufactured in china like black and decker.
The DW5080 Focus has the following features
Stainless steel sole plate with precision tip
1700 watts of power
400 micro steam holes
Automatic power off
10 oz water tank
Anti calc feature
Vertical steaming
Self cleaning system
Anti drip feature

Stainless steel sole plate with precision tip
The Rowenta 5080 has a firm and durable sole plate which is made of stainless steel and which is highly polished. Even though ceramic is known to be a better material for the sole plate, stainless steel is just as good. It does not rust and scratch and remains shiny for a long time. The Rowenta focus DW5080 has an excellent glide on the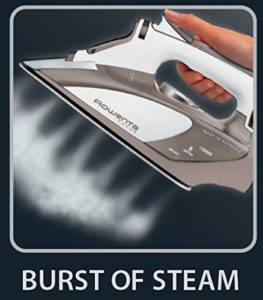 fabric and therefore less energy is required in ironing. This model also incorporates an aluminum core which helps distribute heat quickly and evenly across the plate. This sole has a rounded bottom that prevents creasing as you move the iron back and forth.
1700 watts of power
The Rowenta DW5080 comes with an impressive 1700 watts power. This is similar to what much more expensive models like the Rowenta DW9280 offer which cost close to $150. The Rowenta DW5080 therefore heats up much quicker and produces more steam than those with lower wattage.
400 micro steam holes
The sole plate for the Rowenta DW5080 has 400 steam micro holes distributed evenly along the surface. This is the highest number of steam micro holes available in the market and Rowenta has even patented it meaning no other brand is going to release a 400 micro hole iron using the same technique. The more the steam an iron is able to release, the easier it is remove creases. Even with 300 micro holes, the Rowenta DW2070 is a very effective iron. The DW5080 is an excellent performer and can rival any high cost brand in the market.
Self cleaning feature and Anticalc system
This model like most other Rowenta models comes with a self cleaning feature. When engaged, it flashes deposits or impurities that accumulate inside and block the chamber. These deposits are usually from the use of hard water which contains elements such as calcium and magnesium.The burst of steam feature is also very effective in cleaning vents. The integrated anti calc system ensures that scale does not build up which could ruin the iron. This increases the lifespan of the iron and ensures efficient and clean steam delivery.
3 way auto off
Although this is a common feature even among cheaper iron brands, it is nonetheless useful and can prevent accidents like electric shocks or even fires. When left on an upright position the Rowenta DW5080 turns itself off after 8 minutes. When left on its base or tipped over,it automatically shuts off it 30 seconds. This can give peace of mind to those who are easily distracted when ironing or those who just remember to turn off when they are done but it should be noted that stored heat will still scorch your garment if you leave it face down.
10 oz water tank
This iron comes with a large water tank; much larger than the DW2070 which is only 8.54 oz. It has a level indicator that shows safe level to avoid dripping. However this iron having 400 micro holes releases a large amount of steam and therefore drains the tank much faster. A number of people have been irritated by having to fill the tank up to three times when ironing a couple of clothes. This model also allows the use of tap water.
Burst of steam
Burst of steam is concentrated at the tip to remove hard to reach wrinkles from even difficult fabric. It also makes it easier to tackle stubborn creases that do not go down easily. It can also be used in cleaning the iron for more efficiency.
Vertical steam
Vertical steam ensures that you you can remove creases even on garments and clothes that are hanging on the line.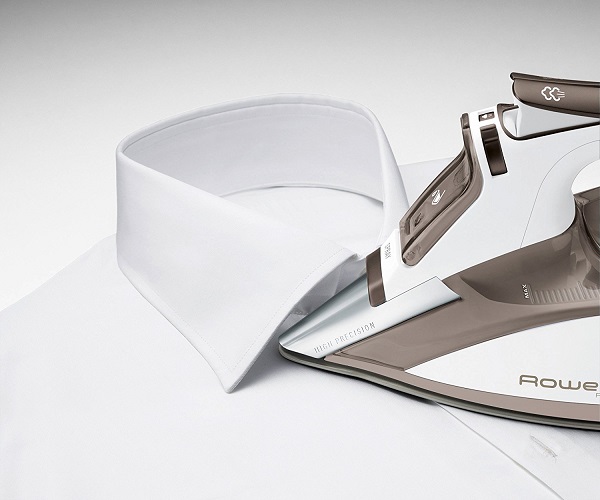 Looking to Buy Rowenta DW5080 Focus Steam Iron?
The Pros:
It is very effective. The 400 micro holes allow it to produce a lot of steam allowing it to remove creases quickly and efficiently. It also boasts a powerful 100g/min burst of steam.
It is made in Germany. Made in Germany products are less likely to be faulty and almost have a high quality guarantee.
Unique precision tip allowing easier navigation through tricky spots.
It has an enhanced anti drip system and there are few complains about leaking or dripping.
Large soft touch rear which provides extra stability when the iron is on its heel.
The Cons:
It weighs 3.4 lbs when empty and much heavier when filled with water. It therefore is isn't as light as other models and people who iron for long periods might find it uncomfortable.
Even though it has a large tank, it exhausts the water rather quickly and therefore requires frequent refills.
It costs close to $100 which is a bit pricey. There are other brands which cost much less and have same or better features.
Conclusion
The Rowenta DW5080 is a high performance and efficient iron and could be one of the best steam iron models in the market. However, If there's match between Rowenta DW5080 vs DW8080 then the Rowenta DW8080 is a much better choice because it has better features and costs much less.


Highly relevant to read…