A quick survey in the market will reveal that there are hundreds of iron brands on sale in local and online stores with different features and at different prices. Rowenta which is a German brand is not as well known as traditional brands like Philips and may not be as popular as black and decker but nevertheless has growing popularity.
Rowenta DW2070 Review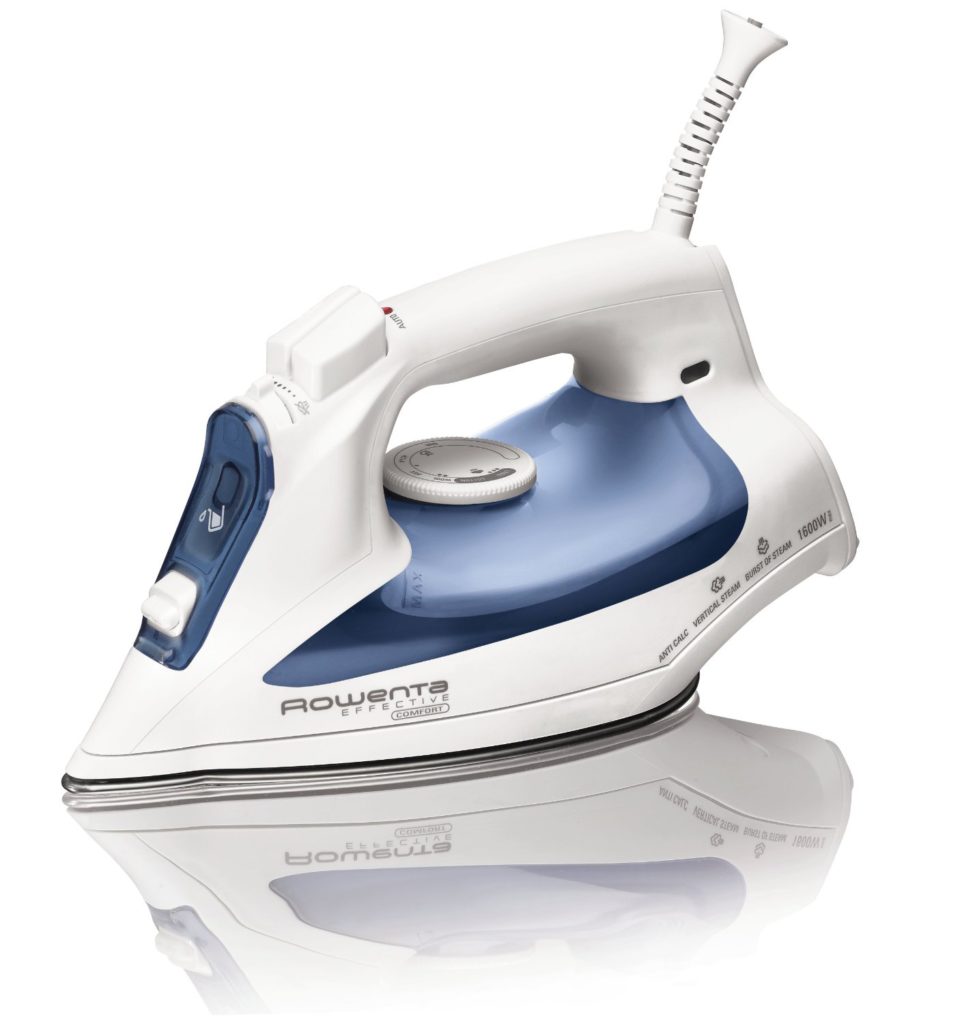 You can count up to sixteen or more different Rowenta steam iron models with some going close to $150. The Rowenta effective comfort DW2070 is not the cheapest and also not the fanciest but it is a practical ironing box. It is aesthetically appealing with a white body and a blue midsection. The handle is strong and is ergonomically designed with a thumb rest for comfort and easier handling. The thermostat knob is well placed for easy reach during ironing. It weights only 3.5 lbs which makes it feel light.
The Rowenta DW2070 has the following features:
Stainless steel sole plate with is scratch resistant and features excellent non stick properties.
3 way auto shut off
1600 watt power
Self cleaning mechanism
Anti calc to prevent scaling
7 foot electrical cord -with 360 degree pivot
Anti drip system.

Stainless Steel Sole Plate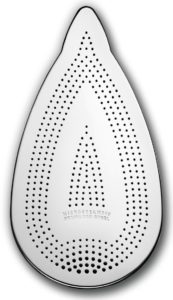 A sole plate is probably the most important part of an iron box. Although a ceramic sole plate is the smoothest and most durable, stainless steel is also a good material. It is scratch resistant, rust resistant and very durable. The DW2070 features a stainless steel sole which is enhanced with non stick properties. This ensures that the iron will not accumulate materials on the sole which can damage or stain clothes during ironing.
This steam iron also incorporates 300 holes on the sole to release steam. These micro holes are lined along the base and even in the tip and the center so that steam can be evenly distributed. This sole plate is also stream lined and tapers at the nose. This is a feature that allows for easier gliding of the iron and reaching tricky spots like the button area.
Self Cleaning Mechanism
Most of the water we use in the household contains minerals such as calcium bicarbonate. These mineral deposits accumulate in appliances that come in contact with water or are used to store water. This deposit makes electrical appliances to be inefficient and makes them consume more power. The Rowenta Effective Comfort DW2070, comes with a self cleaning mechanism that flushes out loose mineral deposits and ensures optimal performance. The integrated anti calc system also increases its lifespan.
3 Way Auto Shut Off
Like many other brands, Rowenta offers an auto off feature. This is a function that automatically cuts off power after a period of inactivity. For this particular model, power is automatically cut off when the iron is left sitting on its base for eight minutes. When left sitting on its sole or on its side, it will turn itself off in 30 seconds.
1600 Watt Power.
The higher the wattage of the iron the faster it heats up and the faster it releases steam. Sometimes a higher watt iron can also save power compared to a lower watt one because the later heats up slowly and a lot more time is required during ironing. DW2070 Features 1600 watt power which is admirable. Surprisingly, The DW2090 which is very similar to the DW2070 features 1500 watts and costs 10 dollars more. Although it features a precision tip and has a retractable cord that automatically adjusts the cord length as needed, there are no other features that differentiate the functionalities of these two irons.
Anti Drip System
The Rowenta DW2070 incorporates an anti drip system that minimizes the risk of dripping and soaking clothes. Although there has been increased number of customers complaining about this feature not working, it is a common problem across board. Perhaps the main problem is consumers filling the iron completely. Perhaps conspicuous calibration is required to show the safe level to which water should be put.
Spray Mist, Shot of Steam and Variable Steam
The variable steam function allows control over the amount of steam produced. The Rowenta DW2070 also features a spray mist and a shot of steam buttons. These features allow a more precise shot of steam to erase stubborn creases. It can also be used for vertical steaming and self cleaning.
Comparison with Sunbeam Steam Master Iron
The sunbeam steam master iron offers all the features of the Rowenta DW2070 but packs in a retractable cord that is 8 foot long compared to the Rowenta's 7 foot cord. It also promises a more advanced anti leak system at all temperatures to eliminate unwanted drips. Though it has 1400 watts of power, it costs $10 less.
Are you looking to buy the Rowenta DW2070 Steam Iron?
The Pros:
Good performance : This iron certainly a top performer and rivals more expensive brands like DW2090. Even though the Black and Decker D2630 is a digital iron and costs about $10 more, it has fewer micro steam holes on the sole that are only located around the edges leaving out the center areas.
Pointed tip : This iron features a thin and pointed tip that allows easier maneuvering around buttons and the edges.
High wattage : It boasts of 1600 watts which allows it to deliver excellent performance and heat quickly.
Reasonable cost : The DW2070 is reasonably priced putting in mind its performance. It is among the few Rowenta brands that cost less than $50.
The Cons:
Dripping : Many people complain that it leaks and the steam control malfunctions.
It has durability issues with some people claiming that it cracks upon falling.
The manufacturing is done in china and there could be a quality control problem because some models don't experience problems while others are faulty.
The cord is 7 foot long and even cheaper models have longer cords. You might require an extension cable or to iron very close to the power socket.
Conclusion
Even though the Rowenta DW2070 effective comfort steam iron has no fancy features and is an "analogue" iron, it is effective and value for money. The company also offers 2 years guarantee if you purchase a faulty one. If you want a Rowenta brand in your house, this might be a good place to start.


Highly relevant to read…