The Rowenta DW9280 steam force is royalty among steam irons. It doesn't scream for attention, it just has a look that can't be ignored; a million dollar look! This is an iron that combines ultra-modern technology with high power to make a high performance gizmo. From LED indicators to motion sensors, this is an iron that has it all.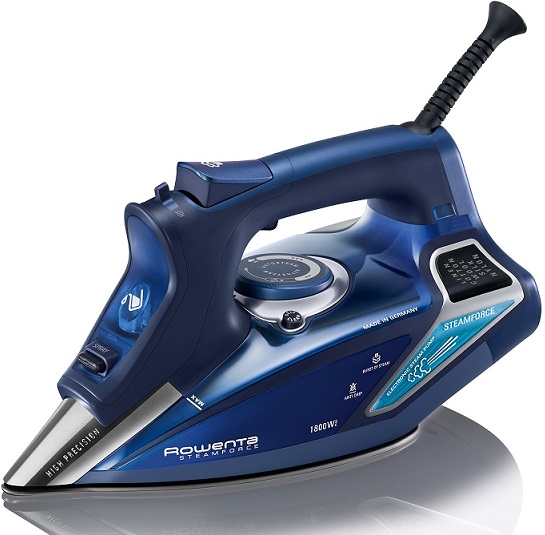 Rowenta DW9280 Steam Force Features:
1800 watts of power.
Electronic steam pump.
Highly polished stainless steel sole plate with non- stick.
400 steam micro holes
Digital LED display.
Steam motion sensor.
Anti- calc system.
Self- clean system.
Auto power off.
High precision tip.

1800 Watts of power.
This iron comes with so much power you would think it's an oven. It heats up way faster than lower watt irons and it gets as hot as a furnace. It has no problem maintaining the heat at the set temperature and the user will realize that not many creases can withstand a single stroke of this iron.
Electronic steam pump
This technology is exclusive only to this model. The electronic steam pump delivers a remarkably powerful burst of steam that can deal with the most difficult creases. At 210g/minute it is probably the most powerful burst of steam available in household steam irons. It is more powerful than that of the Rowenta DW8080 which delivers 200g/minute. This pump also directly pushes 15% more steam into fabrics than any other iron producing top of class results.
Stainless steel sole plate with non-stick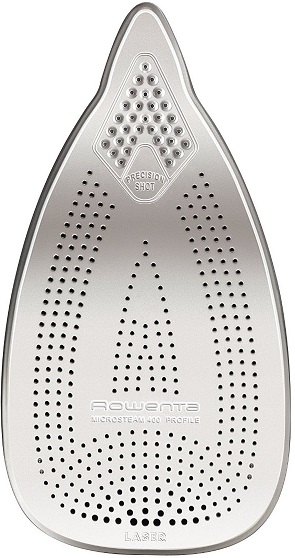 This model features a highly polished stainless steel sole plate which offers superior glide on all fabrics. This very smooth surface offers little resistance during ironing and thus little effort is required to move the iron back and forth on the fabric. It also features a silicate coating that prevents scratching and has non-stick properties. The stainless steel sole plate is also easy to maintain and durable.
400 steam micro holes.
Only available to a few Rowenta models including the DW5080 and the DW8080,the 400 micro holes is an exclusive Rowenta technology. These numerous vents which are evenly distributed on the entire sole plate of the steam iron are very efficient in generation of steam. Due to this technology, there are very few steam irons costing less than $150 that can match the steam output of the Rowenta DW9280 making it one of the most effective irons you can ever buy.
High precision tip.
The Rowenta DW9280 has a precision tip that allows ironing of tricky spots and hard to reach areas. With this model, it is easier to iron collars, in-between buttons and pleats. This tip also comes with a precision shot function that sends a concentrated steam shot at a specific point of interest on the fabric for easier creases removal.
Digital LED display.
This model comes with integrated liquid crystal display that allows one to choose from five different modes of fabric from Linen to nylon. It allows for precision as the temperature is displayed and the appropriate fabric to go with it.
Steam motion sensor.
This is an intelligent function in the Rowenta DW9280 that controls variable steam depending on the motion of the iron. When there is no motion, the iron automatically cuts down steam saving water and power.
Anti-calc system.
Like most Rowenta models, the DW9280 comes with integrated anti-calc. This system prevents the accumulation of scale or mineral deposits inside the iron. These deposits lead to inefficiency and may lead to destruction of electrical components. Scale usually results from the use of hard water when filling the tank. While models without this system require regular manual de-calcification, this model gives peace of mind while using tap water while ensuring efficiency and longer lifespan.
Self-clean system.
This model comes with an auto clean function that when engaged, flashes out all dirt and other impurities that may have accumulated in the tank. Dirt may cause the blockage of steam holes leading to lower steam production and inefficiency. It may also cause more power consumption. Rowenta advises buyers to use this feature at least once a month for best results.
Auto-power off.
This is an important safety feature that allows the Rowenta DW9280 to go off automatically after a period of dormancy. It shuts off after only 8 minutes when left vertically on its base and after 30 seconds when left face down or when tipped over on either side. However, the Rowenta DW5197 lacks this feature and is appropriate for professionals like tailors and designers.
Make your Buying Decision by Reading Pros & Cons of DW9280
The Pros:
It is a high power iron possessing a massive 1800 watts that allow it to heat up almost instantly and retain high temperatures.
It is one of the best irons in steam generation. The Rowenta DW9280 has 400 micro holes on its sole plate and comes with steam force technology that enables it to produce an excellent amount of steam.
It is a very effective iron. By combining the vast steam vents with high power, the Rowenta DW9280 produces first class results.
It has one of the most powerful bursts of steam at 210g/min with precision shot. This makes it very effective in removing creases and in vertical steaming.
Steam motion sensor that controls steam production conserving water and power.
It has a stainless steel sole plate that is highly polished offering superior glide and with nonstick properties.
Anti-calc and self-clean for efficiency and to increase its life span.
It has LED display for precision and ease of use.
Precision tip to reach 'hard to get' areas.
The Cons:
Even though not as heavy as the Rowenta DW5080, the Rowenta DW9280 is a relatively heavy iron and may cause discomfort after a period of long use.
It requires frequent refills as the large amount of steam it generates exhausts the tank very quickly.
The water tank is not clear and it is difficult to know the water level.
Short cord length compared to other Rowenta irons.
Conclusion.
The Rowenta DW9280 is one of the most effective irons you will ever come across. What it promises, it delivers and the results cannot be compared with those of cheap irons. Even though It comes with a higher price tag, it is a worth buy. However the Rowenta DW5080 has higher ratings and comes at a cheaper price with a little compromise on the features.