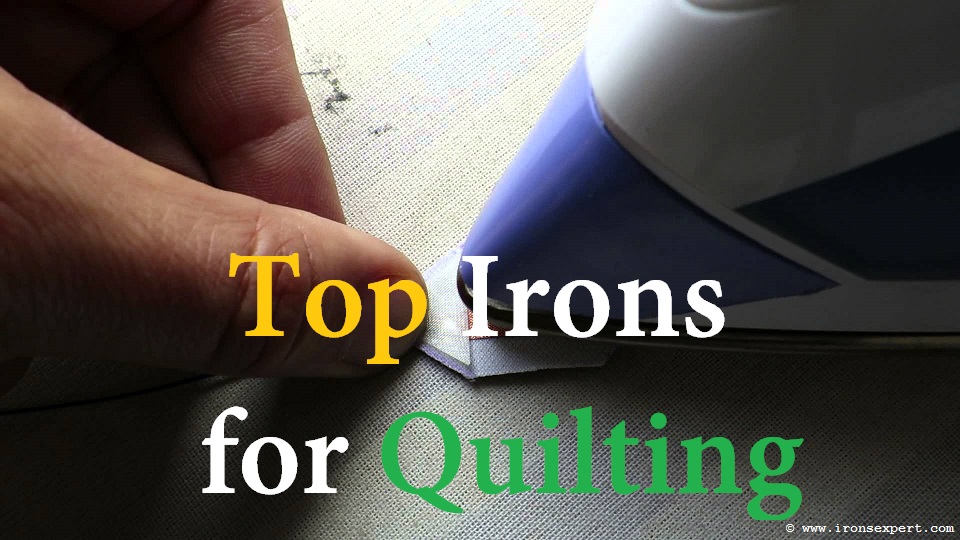 Quilting is a buzzword in tailoring and dressmaking but it is a technique that is not as complicated as it sounds. It is basically refers to the sewing together of several layers of cloth to achieve desired results. Mostly, it is three fabrics that are stitched together and when this is done, the end product is called a quilt. A quilt has been likened to a sandwich with three layers: the quilt top, middle layer and the base or fabric backing. These three layers have distinct functions:
The quilt top has the design and decorative function.
The middle layer contains the batting mostly of cotton or polyester. It can be thick or thin depending on the functionality of the garment.
The Fabric backing is purely functional and little design is put into it.
Quilting has been around for centuries and has been embraced by many people of different cultures and nationalities around the world bringing about different styles. The more popular ones include: American, Swedish, South Asian, Hawaiian, Amish and African American quilts among others.
Which Type of Quilting Iron to Buy?
Any experienced quilter will tell you that having a good iron during quilting is not an option but a requirement. It is a process that requires constant pressing of fabric to ensure accuracy and to achieve the best results. To start with, the fabric must be pressed first to straighten it and to reduce chances of errors in cutting. The seam allowances then have to be pressed open or closed. It is advisable to press the seam first closed before pressing it any other way.
When the seams have to be pressed open it is advisable to rely on an iron that has a precision tip while applying little pressure. The seam intersections must also be ironed .When seams are pressed away from each other, a flatter block is achieved. Then, the quilt top must be pressed with a hot iron to make it neat.
It is therefore imperative that a best quilting iron must be used. The following irons can be considered:
Oliso TG1050 Smart Quilting Iron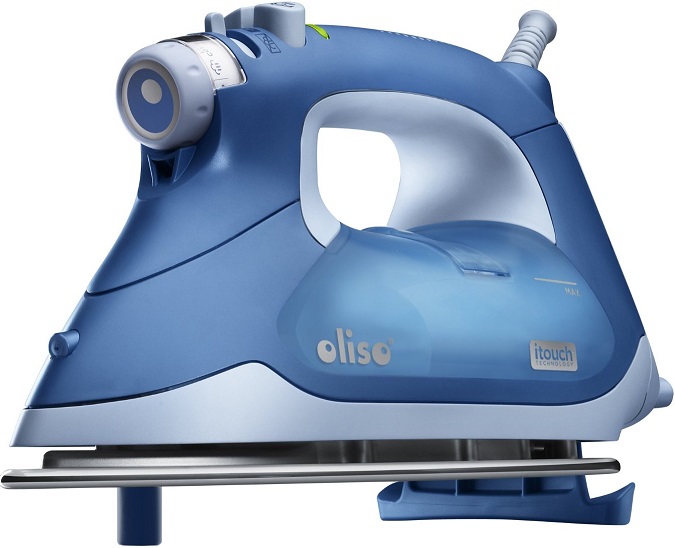 This steam iron is appropriate for quilting because of its digital temperature controls that allow precision during pressing. TG1050 comes with exclusive technology called iTouch that allow the iron to lift at the touch of a button and lower when the iron is not being moved. Oliso incorporates the use of scorch guards which prevents tipping and scorching during ironing. This iron comes with 1600 watts of power ensuring quick heating and producing enough heat to flatten creases. It also has a tapered tip that makes it easy to press seams and has anti drip system to prevent spilling and causing damage to delicate fabrics.
The Pros:
It has itouch technology. This makes use of sensors that allow the iron to lift or lower itself during ironing reducing the risk of scorching and reducing strain as the user does not have to keep lifting the iron while using it.
With 1600 watts of power it heats up reasonably fast and it gets hot enough for use in quilting and other professional use.
"detailer" tip that is rounded which helps it to reach difficult areas unreachable with a broader iron.
Large 12.7 ounce water tank that is easy to fill.
Precise temperature control as it is digitally monitored.
Burst of steam with vertical steaming capability and continuous steaming at all temperatures.
Automatic power off in 3 modes for safety.
Anti leak feature that prevents dripping while ironing.
The cons:
It goes off after 8 minutes and while being used for sewing purposes the user has to keep reheating it.
While not all, some buyers have complained that it malfunctions after a period of use.
Heavy iron and in the event of moving it, it is quite cumbersome.

Oliso Pro Smart Iron TG1600 with iTouch Tech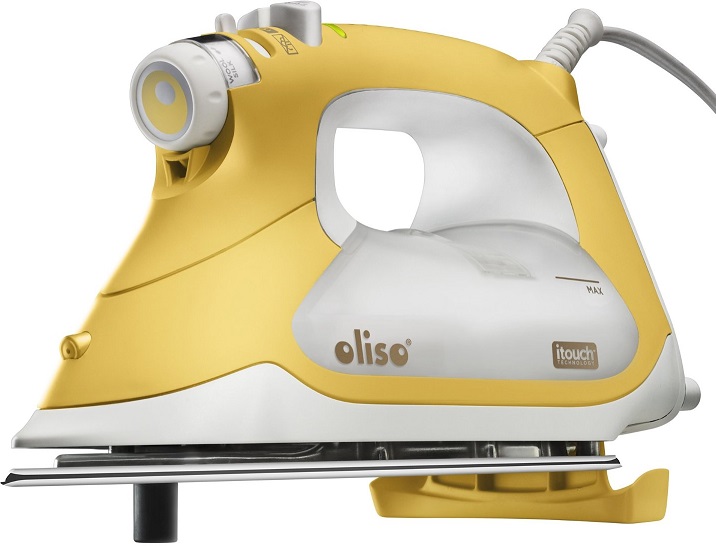 What sets this iron apart from the TG1050 and many other steam irons is that it has 30 minutes window before automatic shutoff. This makes it one of the best irons for quilting because the user does not have to keep waiting for the iron to reheat. TG1600 features the iTouch technology that allows the iron to stand on its own without having to lift it to its base when moving from one fabric to another causing less stain and reducing chances of scorching. Oliso's iron is a high power iron at 1800 watts ensuring that it heats up almost instantly and that it remains hot. It has a burst of steam for vertical steaming and a "detailer" tip for reaching tight spots. Read our full review on Oliso TG1600 Iron.
The Pros:
iTouch technology that allows the iron to levitate and lower automatically. This reduces chances of scorching of fabrics and reduces strain during ironing.
High power iron at 1800 watts and almost heats up instantly and remains hot for professional use.
Half hour window period before it shuts off automatically making it suitable for quilting and other sewing purposes.
Pointed tip that makes it easy to use it on pleats and cuffs and other tricky spots.
Specialized super flat sole plate suitable for quilting and other sewing use.
Provides powerful continuous steam with burst of steam with vertical steaming ability.
Sole plate has chromium finish offering superior glide capability.
An extra long cord.
The Cons:
Although a common problem among steam irons, many buyers complain about the Oliso TG1600 leaking problems.
The scorch guards are susceptible to breaking and often do especially on impact.
Many buyers have complained about the short lifespan of this iron.

Steamfast SF-717 Home-and-Away Mini Steam Iron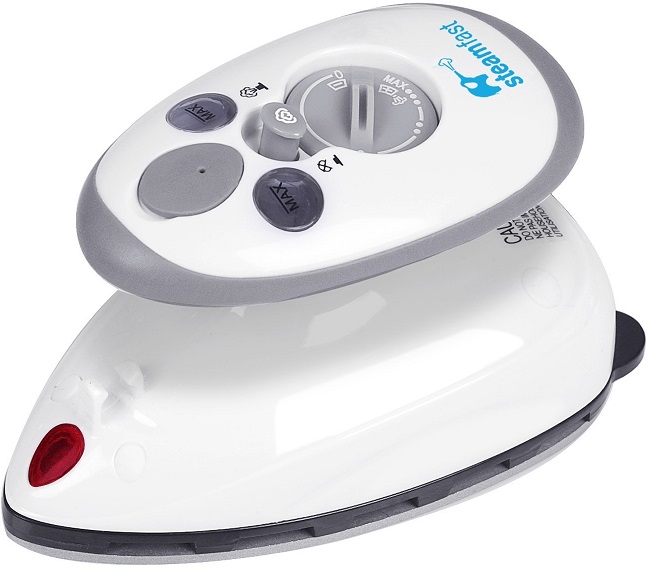 This iron stands out in being light weight and small. It is one of the most convenient irons available for traveling with. At 420 watts of power, this iron might not be powerful enough to remove deep creases but it is enough to spruce you up when away from home. It offers a non- stick soleplate which heats up in just 15 seconds.
The Pros:
It is very convenient for travelling with.
For its size, it heats up fast and stays hot.
It comes with a non-stick sole plate.
Because of its size its easier to reach tight spots like the button areas and is easy to use while working seams.
It comes with dual voltage power for use in Europe or other places while travelling.
The Cons:
Doesn't get hot enough to remove tough creases.
Doesn't have burst of steam feature.
The tank is small and holds little water.
It does not have auto-shut off feature and may cause accidents in domestic use.

Small Mini Iron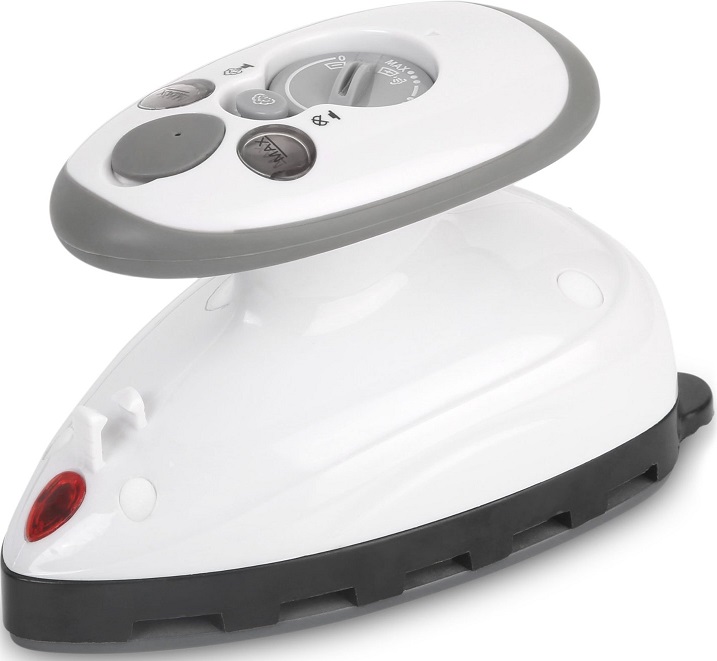 This iron is just as small as its name. This makes it very appropriate for sewing and quilting as it is very easy to iron through seams and cuffs. It is light and gets hot enough and has a digital temperature control for precision. It comes with an ergonomic handle for comfort and bears an integrated power cord ensuring ease of packaging while traveling.
The Pros:
Heats up fast in just 15 seconds.
Small in size and easy to hold and work on seams and other tricky areas making it suitable for sewing.
Non-stick ceramic sole plate that has a very smooth glide on fabrics.
Convenient for travel and features a relatively long power cord.
Anti-drip feature that prevents staining of clothes.
It allows choice of dry and steam ironing.
The Cons:
Its sole plate has a small surface area and therefore more time will be required for ironing compared with bigger irons.
Due to its limited wattage, it can not get as hot as more powerful irons.
It has a small water tank and more frequent refills are required.
Doesn't have burst of steam and cannot be used for vertical steaming.

Singer Expert Finish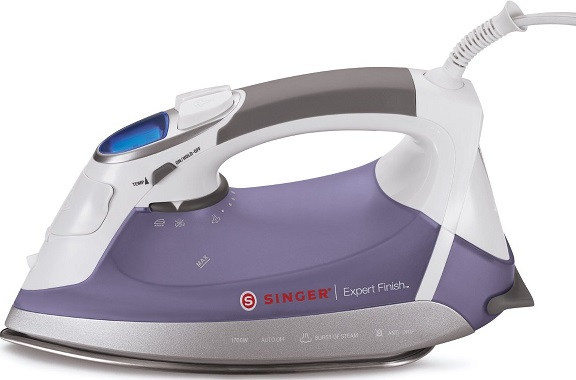 This iron comes with a digital display with back light that displays the precise temperature for a given fabric. It also matches the temperature with appropriate steam ensuring effectiveness and utmost garment care. The stainless steel is polished for easy glide and has steam vents for even steam distribution. It comes with vertical steam and burst of steam which is very effective in removing creases. It being a high power iron, it delivers good results and comes with automatic power off.
The Pros:
1700 watts of power allowing it to heat up very fast and stay hot.
An open sole plate tip making it suitable for sewing and quilting.
LCD display allowing precise temperature settings.
It matches temperatures with appropriate steam levels for efficiency in ironing.
Generous steam output with vertical steaming.
Anti-drip to prevent spilling and damage to delicate fabrics.
3 mode power smart off for safety.
The Cons:
It does not have a retractable cord.
Goes off after about 8 minutes and quilters and sewers will have to keep reheating it once it goes off.
Some customers complain that it has a leakage problem.

Panasonic NL-L70SR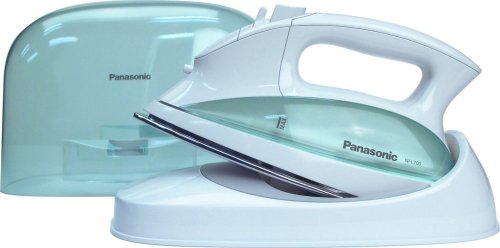 This is an iron that strives to ride the wireless wave. NL-L70SR comes with a charging port that heats up the iron and allows the user to iron without the inconvenience and limits of a power cord. This iron has electronic temperature control that incorporates indicator lights that allow precision in temperature when working with different fabrics. This is one of the few irons that feature a removable water tank for easy refilling. It has spray mist and vertical steaming option. It also features anti-calc and stay-clean vents for easy maintenance. The anti-drip prevents spillage and protects delicate garments. Read our full review on Panasonic NI-L70SR review.
The Pros:
It allows convenient use as it is not tied down by a cable and it can be used at any angle.
Good for quilting because it does not auto shut off.
An electronic temperature control that is easy to use and which allows precision.
Stainless steel sole plate suited to trap air pockets for superior glide.
Detachable water tank that allows for easy refill.
Spray mist and burst of steam suitable for vertical ironing.
Self clean vents that prevent blockage from dirt and has anti-drip feature.
Auto off for the charging port.
A powerful burst of steam.
The Cons:
It takes a bit of time for the iron to heat up at the charging port.
The iron has a small water tank which requires regular refiling.

Conclusion
Quilters will find that a professional iron without automatic power off like the Rowenta DW5197 very appropriate. However, Oliso TG1600 allow up to half an hour of dormancy before auto shut off and have found favor in many quilters. Other smaller irons or those with precision tips are suitable because they are easy to use on seams and easily reach tight spots.