The Panasonic NI-L70SR is not your usual street corner cheap iron; This cordless iron is an iron that sits at the high table with the big boys. NI-L70SR does not beg for attention it begets attention. It looks fragile yet in a nice way, like porcelain, like expensive china; but in reality it is a sturdy iron. It is not a butterfly or a rainbow it is just white with no attempts at artwork or decorations.
Panasonic NI-L70SR Cordless Iron Review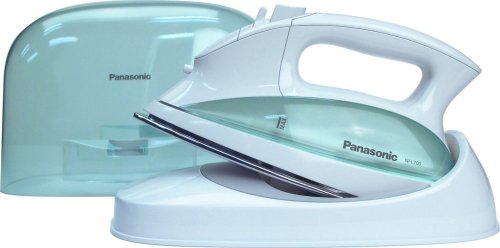 It is one of the irons with the highest ratings being praised for its design and functionality. It heats up well and has been used even for quilting and in other crafts in tailoring. The iron utilizes the use of a micro- processor to achieve precision in temperature control allowing navigation from low to high heat. It can be used as both a steam iron and a dry iron depending on need. It also has high and low steam settings to suit different kinds of fabric. Heavier fabrics or clothes with more creases require high steam and high heat to straighten them and this iron can be able to combine the two settings.
Some steam irons come with water tanks that are difficult to refill or monitor. Many buyers have complained about the Rowenta DW9280 because of its dark colored water tank and difficulty in refilling. For ease of use, the Panasonic NI-L70SR incorporates a removable water tank making refilling an easy task. If you are frequently on the move, this iron comes with a free carrying case that is heat resistant.
Features:
Stainless steel sole plate.
It has a stable charging base that prevents the iron from toppling when it is being heated.
The charging port has a retractable cord that allows for easy and convenient storage.
It has electronic controls for temperature regulation.
Three temperature settings.
Detachable water tank.
1500 watts of power.
Indicator light for heat monitoring.
Stay clean vents.
Anti-drip feature.
Burst of steam feature.

Stainless steel sole plate.
Even though stainless steel is not as prestigious as ceramic it is one of the best materials in the manufacture of sole plates. This is because it is durable and does not scratch easily. It is also shiny and glides on fabrics with much ease.It is also noteworthy that it requires little maintenance as cleaning it is easy and after all it does not easily gather dirt. This sole plate has steam vents which release steam during ironing to remove creases faster.
Stable charging base.
The panasonic NI-L70SR comes with two components; the iron without a cable and a charging port attached to a power cable. During ironing, the iron is rested on the port to maintain its temperature. This port is usually placed on the ironing board for ease of reach and for convenience. The port is wide and stable to support the iron and to prevent accidents that would happen if it were to topple.
Electronic controls for temperature regulation
This iron uses advanced technology to achieve precision. It uses a micro processor similar to the ones used by many smart devices. This allows for seamless transition from low power to high power eliminating guesswork.
Three temperature setting.
The Panasonic NI-L70SR allows a choice between low,medium and high power. This allows the user to chose the appropriate setting based on the type of fabric or depending on how creased up the cloth is.
1500 watts of power.
The charging port has a wattage of 1500 which is relatively high power. Even though not as high as that of singer expert finish which packs in 1700 watts, the Panasonic NI-L70SR gets hot enough and can even be used for professional purposes.
Indicator lights.
When the iron is hot and ready for use, an indicator light turns on to alert the user.
Anti-calc feature.
Calcium and other mineral deposits usually find their way into steam irons through the use of hard water. This Panasonic model prevents the blockage of steam vents by automatically preventing furring from occurring by incorporating an anti-calc system. This prevents the blockage of steam vents.
Anti drip feature.
Although dripping is a common problem amongst steam irons,there are very few complaints about this model. This is because the Panasonic NI-L70SR has a superior anti-drip system that prevents leakages or spills.
Burst of steam.
With the touch of a button, this iron sends a powerful jet of steam. This easily removes crease and can be used for vertical steaming to straighten hanging garments and drapes.
The Pros:
It offers flexibility and convenience as the iron is not tied up by a power cable. It might offer more comfort during ironing as the user can assume any posture.
Since it has no auto shut off it is suitable for professional use such as quilting since it does not have to be reheated.
Stainless steel sole plate with round indentations that trap air, which helps in achieving smooth glide during ironing.
Variable steam that is controlled by a button allowing selection of the best steam option depending on fabric being ironed.
Allows for precise temperature adjustments through the use of electronic temperature control.
It has powerful burst of steam that easily removes tough creases and helps in self -cleaning.
A unique detachable water tank that is easy to refill.
The charging port has auto off function and goes off after the iron has been left on it for 10 minutes
The charging port has a retractable cord which allows for easy storage.
It has stay clean vents. The inbuilt anti -calc system prevents the accumulation of scale in the steam vents increasing efficiency and lifespan.
The cons:
Up to 3 minutes to heat up unlike other models that heat up in seconds.
A small water tank that requires frequent refills.
Might require regular placing on charging port especially during long ironing sessions.
Conclusion.
Panasonic is a Japanese brand that has been trusted over the years. Even though the Panasonic NI-L70SR is manufactured in China, its quality cannot be doubted; it has been put to the test and proven. This iron is almost identical to the Panasonic NI-L70SRW and has no real difference except for color. Because the L70SR is cheaper by few dollars a prudent buyer might find it the better option. However, if you do not have to buy a cordless iron, you will be spoilt for choice as many effective corded irons are cheaper. At that price range, you will find the Rowenta DW5197 which is way superior and more effective than the cordless Panasonic NI-L760SR.