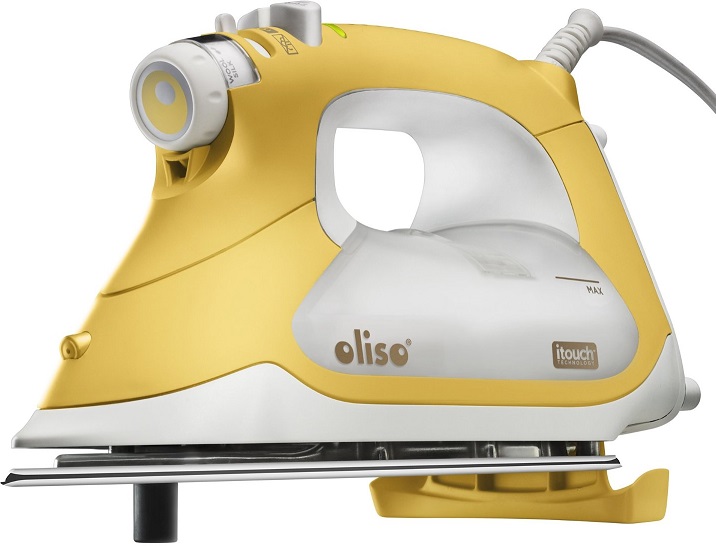 The Oliso pro smart iron with iTouch technology TG1600 is not your average iron; it was named by the Time magazine as one of the best innovations of 2006. Even by today's standards, this Oliso model is still smart and savvy. Manufactured by Oliso Corporation which is based in San Francisco United States, this is an iron that comes with all the bells and whistles.
Features of Oliso Pro TG1600
Touch technology
A Detailer tip
Smart steam with triple play
Extra-large water tank
Ultra-premium sole plate
Delayed auto shut off
1800 watts of power
Extra-long power cord

iTouch technology
This technology which is exclusive to the Oliso Smart Iron TG 1600 and a few Oliso models make this a truly intelligent iron. If you pause during ironing, for example, to remove an item of clothing from the board, you do not have to lift the iron to its base. When you take your hands off the handle, the iron automatically lifts itself to prevent scorching. When you touch the handle again, it lowers itself so you can continue with ironing.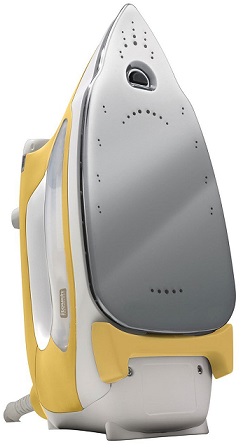 Ultra-premium soleplate
The Oliso pro TG1600 smart iron has a high-grade stainless steel soleplate with bead blast chromium finish that ensures the smoothest of glide. This soleplate is scratch resistant and is extra thick to enhance durability and to flatten out creases easier.
Detailer tip
This Oliso model comes with a high precision tip that allows the user easy access to tricky areas such as cuffs, pocket and the collar. This iron allows sewers and stylists to be able to create intricate pleats with much ease.
Smart steam with triple play steam
This is a cutting edge feature that makes this a very efficient iron. When you stop ironing, it automatically cuts of steam to save on water and energy. Triple play allows the choice of 3 steam options: continuous, horizontal and vertical steaming for the best ironing results.
1800 watts of power
Like the Oliso TG 1100, the Oliso Pro TG 1600, comes with 1800 watts of power. With such high power, this iron heats up in less than 80 seconds. It does not just heat up fast but also gets hot enough to flatten even the very stubborn creases. It has built-in digital controls that make it great at maintaining temperatures whether high or low.
30 minutes auto shut off time
You do not have to worry about safety because the Oliso smart iron TG1600 has an auto shut off function that will automatically turn it off if you leave it unattended. However, unlike the Oliso TG1050 Smart iron which shuts off in only 8 minutes, the TG1600 cuts power in 30 minutes. This makes this model great for quilting and other sewing projects.
Extra-large water tank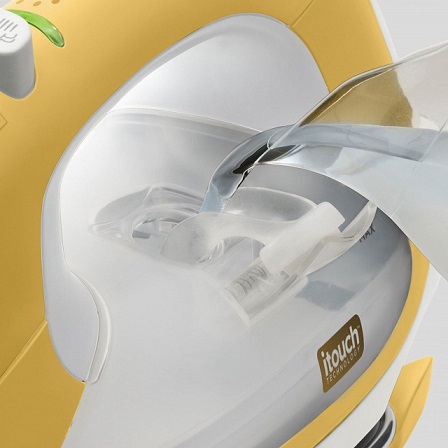 One of the most common complaints about steam irons is how fast the water tank depletes. The Oliso TG 1600 comes with a 12.7-ounce water tank that will go a long way before requiring a refill. Other irons with a sizable water tank include the Rowenta DW5080 and the Prado X3 Professional which both have a 10-ounce water tank.
Extra-long power cord
The length of the power cord determines the convenience your iron will afford you while ironing. A longer cord is definitely more preferable than a shorter one because you get more freedom with arm movements. You can iron from any angle and at your favorite spot without having to rely on extension cables. The Oliso pro TG1600 smart iron comes with a 12 feet cord which is probably the longest you will get with any iron.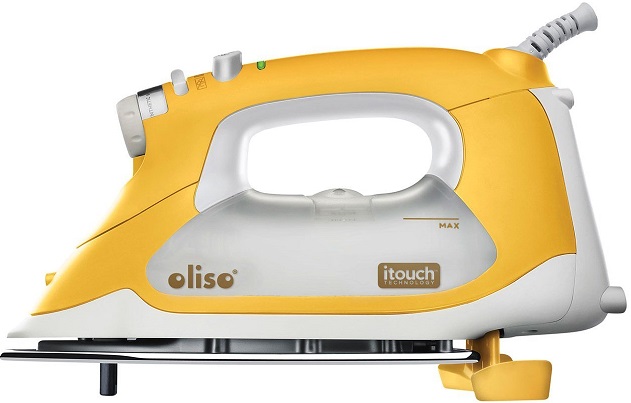 Looking to Buy Oliso Pro TG1600 Smart Iron?
The Pros
Great steam generation – This is one iron that will impress you with massive steam generation. You also get a choice of 3 steam modes including continuous steam, horizontal and vertical steam.
There is little chance of scorching during ironing because the iron automatically lifts itself on the scorch guards.
Thanks to iTouch technology, you do not have to keep lifting the iron hence there is less straining of the arm and less time wastage
This iron has a heavy soleplate that is designed to straighten creases easily and smoothly
30 minutes auto turn off makes this iron ideal for quilters, sewists, and fashion stylists. However, the Rowenta DW5197 is better for this purpose because it has no auto shutoff.
It has powerful vertical steaming. It can, therefore, be used as a steamer.
The detailer tip allows ease of use on tricky spots such as cuffs or the button areas
It has a large water tank so no frequent refills
It comes with 1-year limited warranty
The Cons
It sputters. Many buyers seem to experience massively leaking with this iron especially after one year of use.
After a period of use, the iron has problems heating up
This iron depreciates quickly. It does not last long
Conclusion
The Oliso pro smart iron with iTouch technology TG1600 is a great iron for quilting or ordinary home use. It is heavy and sturdy and is a bliss to work with especially on a stable ironing board like the Parker Extra wide Ironing Pro Board. Unfortunately, the glory is short lived. Many Oliso TG1600 reviews from buyers confirm that this is not an iron that will last you a long time. If you are a quilter or a sewist, the Rowenta DW5197 is a better choice.