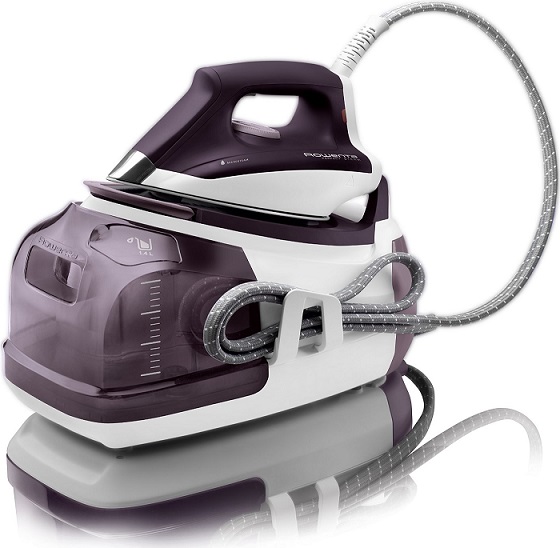 You will likely have spent a number of hours at an ironing board, attempting to work out all the seams and wrinkles in your pants, shirts, or curtains, and more and more wrinkles somehow appear. Or, if your steamer serves its intended purpose, it does take forever to heat up. That can be incredibly frustrating especially if you've appointments to keep, or if you would rather spend your day doing anything other than forcing out the seams and wrinkles of your clothes.
The Rowenta DG8520 Perfect Steam Iron Station is the best solution to this problem. You can consider the Mercedes of steamers, and clothes iron reviews reinforce this fact — promoting this machine as the perfect solution to their ironing issues.
Rowenta DG8520 Review
The Rowenta DG8520 is a household tool that you cannot live without. But my advice is to not just take my word for it – there're countless garment steamer reviews for this steamer-iron to back up the claim. Thousands of people have tried this iron and come away with satisfied results regarding what it offers. Read on to find out why.
Key Features
Lightweight steam iron with 47-oz water tank
Rapid heat up and eco setting
Safety guards
Fixes flaws of the previous model
Precision-shot system
The Mercedes of steam irons
1800 watts of power

The Rowenta DG8520 is a very powerful 1800-watts unit combining high efficiency with maximum convenience. The German engineering of the DG8520 design is exceptional in both form and function; it does bring professional-grade ironing to the forefront in a product which appears to be built for the long haul. Featuring a stable compact base, this machine will fit on virtually any ironing boards one may already have at home.
Constant high-powered steam
This 1800 watt steam iron-station is more than a steam iron. With the touch of a button, this steamer generates exceptional 5 bars or 120g of pressurized, wrinkle removing steam for up to 90 minutes on one tank. A steam release trigger delivers steam continuously for 1 hour and 30 minutes which offers the capability to complete large loads of clothing. High steam output guarantees excellent performance and cuts ironing time down with up to 3 times more steam compared to conventional irons. This makes ironing fast and effortless.
Large water tank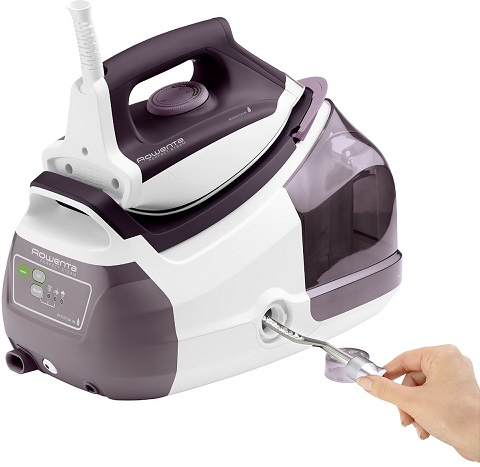 This contraption is equipped with a 47-ounce water tank for easy, fast refilling. It allows you to save time during the sessions of ironing by reducing the number of refills. The high-capacity water reservoir is removable and visible. Full tank allows 2-hours of continuous ironing to easily last through longer ironing sessions.
Microsteam400 Inox Soleplate
Very powerful & convenient, this high-pressure steam generator features a unique, patented and profiled Microsteam400 soleplate technology. Thanks to 400 well-distributed micro-steam holes, it produces great amounts of consistent heat and steam to ensure perfect steam diffusion & distribution. The exclusive scale collector and high-quality stainless steel also guarantee long lasting performance and glide-ability over time.
Eco setting
Using the Eco-energy mode, the Rowenta DG8520 uses 20 percent less heating energy and only takes 2 minutes to heat up. This is so due to the boiler and water tank being separate from the iron. Coupled with 3 times the steam output, the Perfect Steam Steam Station appears to make the process of ironing a bit less onerous.
Short heat-up time
With 2 minutes of heat up time and a full water container to produce up to 90-minutes of continuous steam, you can cut your normal time for ironing in half. Touch ups can be applied almost instantaneously, & full-scale ironing jobs can be done in a fraction of the time. If you've great loads of laundry to iron each week, then this is the ideal upgrade from your typical machine, producing better results and saving time.
Professional ironing results
This steamer is excellent for removing wrinkles on any kind of fabric from light, delicate fabrics to heavy-work uniforms including hanging garments & drapes. The powerful steam output & modest weight also mean that one can use the steamer for ironing delicates such as dresses on hangers and to even refresh fabrics. The steamer was able to straighten out the majority of stubborn wrinkles particularly in those hard-to-reach areas. Even the sharpest creases will not escape from its power steam. Besides, it's quite effective for smoothing & shaping sewing projects.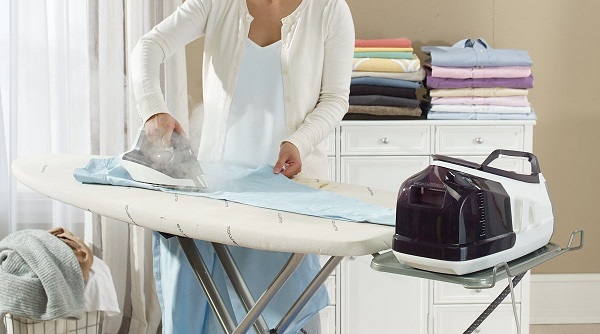 High-precision tip
The profiled tip allows easy and precise access to 'hard to reach' spots. The precision tip easily smoothens collars, seams, narrow edges, and around the buttons to offer detailed ironing results.Lightweight for ease of carrying and use
Because the steamer itself doesn't hold the water & boiler, this device is lighter to use. It is extremely light, so one can steam clothes directly on-their hangers or curtains right on-the-wall without the type strain. So you do not have to deal with soreness in-your hand following a few minutes of use. You also don' have to worry about burning yourself whilst struggling with the weight.
Safety lock system
The steamer has several safety guards to help prevent accidental burns or avoid destroying your clothes. The unit will automatically shut itself off after a few minutes of not being used. And so even if one forgets to shut it off, the clothes and your own safety will not be endangered. It is manually activated by being plugged into the wall — with no on or off switches. This makes sure you are fully aware when the iron is active and when it isn't, preventing mishaps.
6-foot steamer hose
The unit features a 6-foot steamer hose as well as a 12-foot electric cord which is more than adequate for any situation. The water tank attaches to a boiler, with the steam going through a cord attached to the iron. The cord is not much thicker than an electrical cord for a typical iron. It isn't insulated so you'll not get burned if the iron grazes your skin.
Easy and safe transportation
The integrated safety lock system locks the steamer with the iron-steam station when not in use for extra safety, ease of transportation and storage.
Looking to Buy Rowenta DG8520 Steam Iron?
The Pros
Easy transport as it has a locking system for the steam station
Heats up in just 2 minutes
Sleek styling and exceptional design
Has a large water reservoir that is removable
The eco setting reduces energy consumption by up to 20-percent
The Cons
The steam station is somewhat bulky
The power cord is rather short at just 6-feet
Conclusion
The DG8520 is another knock out product from Rowenta. You get an amazing steamer offering the best of both worlds and delivering fast wrinkle removal & ironing results. They have included some great touches which equal good value for money. What is most impressive is its adjustable steam control settings as well as the 400 steam holes that almost borders on obscene. If you're in the market for a Steam Iron Station and you do not mind paying for it, the Rowenta DG8520 is one of the best choices available on the market. For this price, the unit is highly respected & is always a regular selection for lots of people.
Other Rowenta Iron Reviews: