Some garments are quite delicate for ironing while others require being dry cleaned regularly. This is where the Rowenta Compact Valet Garment Steamer IS6200 comes in handy. It is a compact German made steamer that produces professional results. It is a quick way to spruce up and straighten clothes as it heats up in just one minute.
Rowenta IS6200 Review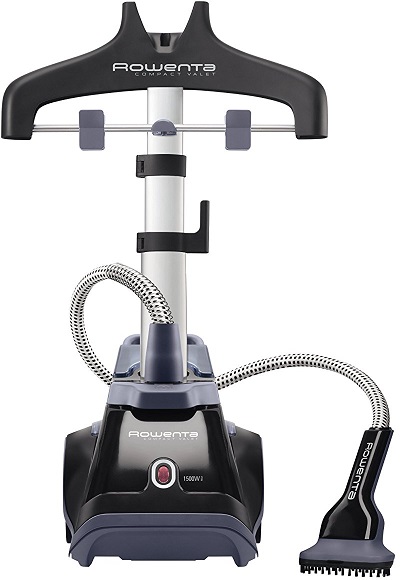 With a free fabric brush and a lint pad, you will find it easy to freshen up and produce a crisp look. If you are seeking to buy a steamer, you have to read this Rowenta IS6200 compact valet garment steamer review before making a decision.
Features of Rowenta IS6200 Garment Steamer:
Tilt and roll design for easy transport
Adjustable telescopic pole
Garment clips and built in hanger
Stay cool handle
Automatic shutoff
1500 watts of power
A steam output of 30g/ minute
Large water tank
On and off power button

Tilt and roll design

The Rowenta IS6200 compact valet full-size garment steamer has a suitcase design for easy moving. It has two large wheels so that you just need to "tilt and roll" it for easy transportation.
Adjustable telescopic pole
This steamer comes with a pole that can be moved to the desired height for comfort during straightening. Other than just comfort, this adjustable pole makes it easier for storage as it can be folded to fit in small spaces.
Garment clips and built in hanger
You do not have to struggle to handle your clothes while steaming them. While the hanger provides a convenient platform, the clips hold the clothes firmly in place to give you all the confidence while steaming.
Stay cool handle
Scorching is a common phenomenon with most steamers. However, the Rowenta IS6200 compact valet full-size garment steamer incorporates a special safety feature, the stay-cool soft touch handle to minimize the chances of such accidents.
Also read: Best Garment Steamer
Automatic shut off
This iron shuts off automatically if the water tank is exhausted to prevent damage. This is one of the most important features in any steamer or iron as it can prevent potential accidents and gives a total peace of mind.
1500 watts of power
This medium range power allows the steamer to heat up fast and produce sufficient steam. If you are one of those people who are always in a rush, this steamer will suit you well. It just very little time, it produces more than just good results.
Steam output of 30g per minute
This is one of the best steam outputs among steamers of its price range. With this kind of steam production, it removes creases from any type of fabric. Whether it is suits or drapes, you will get "dry cleaner" results. If you are looking for a polished look while increasing the lifespan of your clothes, this is the option to go for.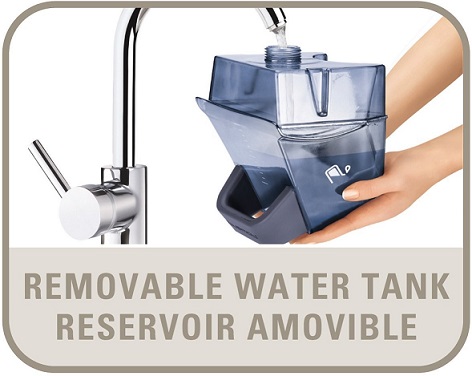 Large water tank
With this Rowenta steamer, you will find a 2.4-litre water reservoir. This tank is detachable for easy refilling and can provide continuous steaming without a refill for up to one hour. In addition, it is easy to monitor the water level because it is transparent.
On and off power button
You will find a foot operated power button for convenience.
Are you looking to buy Rowenta IS6200 Garment Steamer?
The Pros
It heat up in just 60 seconds
Excellent steam generation producing professional results. Many reviews agree that this is possibly the greatest selling point for this steamer.
Tilt and roll design for easy moving
Adjustable pole for convenient steaming and compact storage
It has a large removable water tank
Comes with a clothes hanger and garment holders
It comes with free accessories such as fabric brush and lint pad for easy sprucing up.
The Cons
At only 6 feet, the power cord is rather short
Even though this steamer has a solid base, it is prone to tipping to the front
It is challenging to remove clothes and add them to the hanger during the process of steaming.
Conclusion
All Rowenta IS6200 compact valet garment steamer reviews point out that the power cord should have been longer. However, this can be remedied with a longer extension power cable. Removing and adding clothes to the hanger while using the steamer requires the use of one hand while the other holds the steam head. These drawbacks notwithstanding, the Rowenta IS6200 Compact Valet full-size Garment Steamer is a great choice for a steamer.