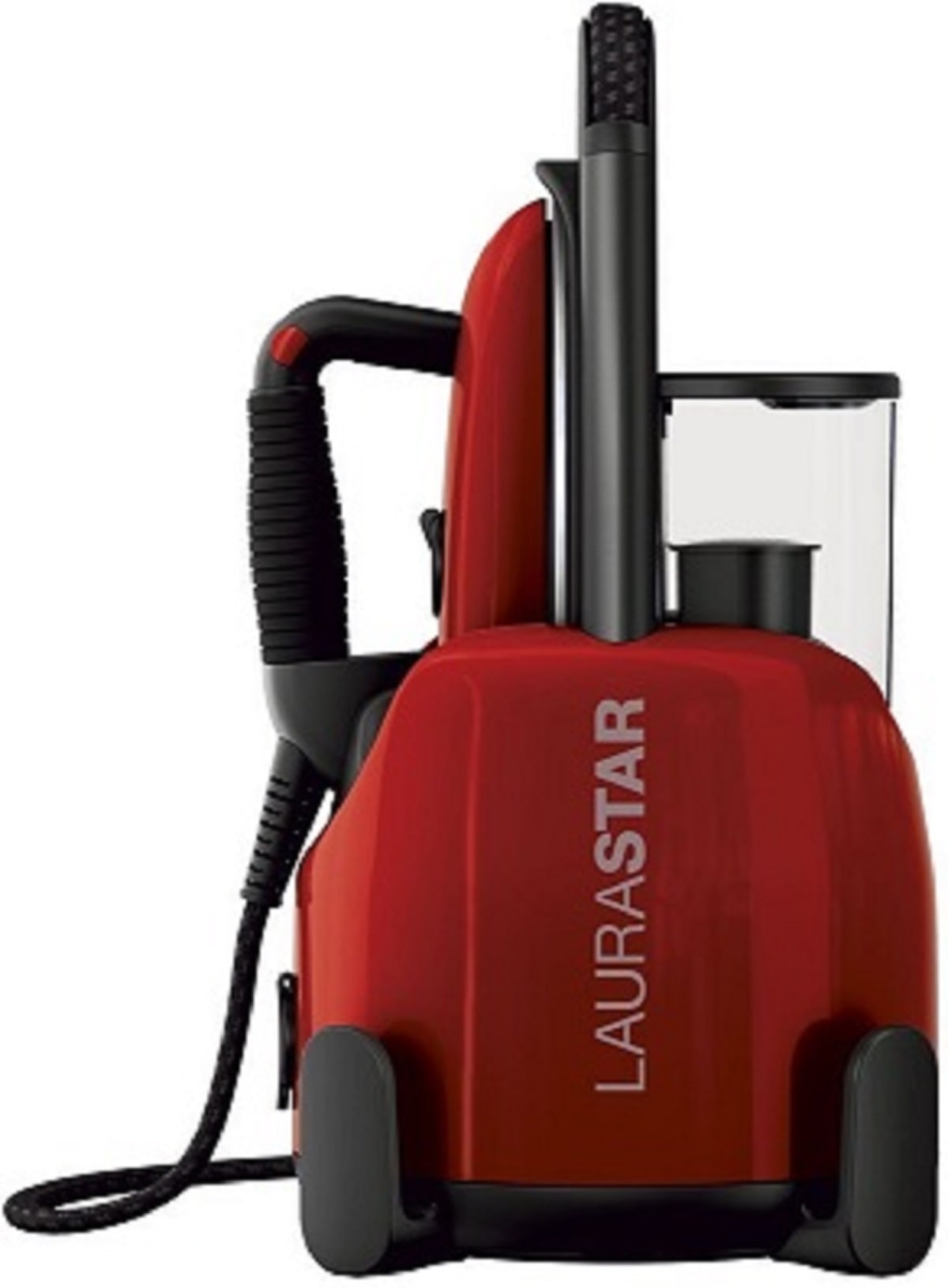 Laurastar is a Swiss company that is dedicated to ironing technology. There is a thing or two to be said for purchasing a product from a company which only makes a particular product type. Laurastar does precisely that. They only make fabric care products like steamers in a variety of models, which include complete ironing systems. The company currently sells its portable steamer iron generator, Lift, in the US. The Laurastar Lift's a powerful garment steamer and iron all in one system.
Laurastar Lift+ Features:
Ready for immediate use as it heats up in just 3 minutes
Auto-stop function – automatically turns off the-appliance after 10 minutes of non-use
Exclusive and scratch resistant professional soleplate featuring excellent non stick properties
Easy to-carry handle
Removable water reservoir tank (approx. 1.1 L)
Steam cord storage
Secure compartment for-the iron
An integrated anti scale filter to allow you to add-water as you iron
Insulating mat for warm-iron
Ultra-fine, powerful steam produced at a constant-pressure of 3.5-bars
Easy-to-place on the floor-with its feet
Laurastar Lift+ Specification
Approx. dimensions: 45h by 28w by 28l cm
Approx. weight: 5.3kg

Stainless Steel Sole Plate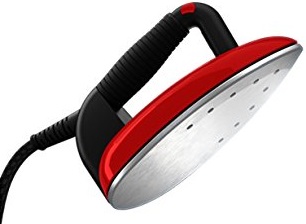 A sole plate is considered a very important part of an iron box. The iron-shaped head of the Laurastar Lift weighs 2lbs 3 ounces. Thanks to-its professional iron that is equipped with a 3D-active and brushed aluminum soleplate, steam is evenly diffused, allowing you to get rid of creases in-a single movement. There is an extra protective soleplate to use with delicate garments, A heat resistant resting pad for the ironing board and an attachable cord holder which screws onto the ironing board's edge. This helps keep the steam cord in place when using with an ironing board.
Auto Shut Off Function
Like many other brands, Laurastar offers an auto-stop feature. This is a function which automatically cuts off power following a period of in-activity. For this particular appliance model, power gets automatically cut off after the iron is left sitting on-its base for 10 minutes. This is for increased safety & energy saving.
Water Filter Cartridge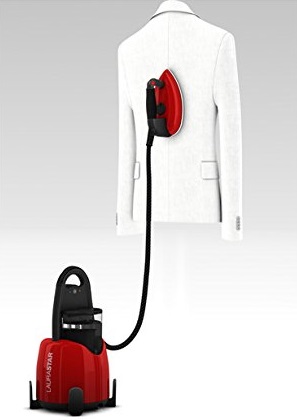 Laurastar Lift's integrated anti-scale filter cartridge is designed by the company's Swiss engineers. It allows one to add water as-you iron thereby filtering tap water before it's used for ironing. The filter helps prevent limescale which can clog steam vents. By preventing limescale, the Laurastar Lift filter helps prolongs the life of your iron. And by filtering salts, the filter cartridge helps improve steam quality. The cartridge is also anti-corrosive, preventing damage to the boiler components. It should be replaced once the red light on your LIFT begins to flash.
Backlit Water Reservoir
For big steaming/ironing projects, the water reservoir can be refilled during use. The system features a 4 2/3-cup water tank with a replaceable filter system and so, standard tap water can be used. All you have to do is fill the tank after you have put-in the anti scale filter cartridge. Laurastar Lift Platinum removable water reservoir can hold up-to 1.1L. The backlit water-tank also lets you to-check the remaining level of water at all times. For increased convenience, the vertical steaming function of the tank allows you-to bring the finishing-touch to your hanging fabric.
Also Read: 2017's Top Rated Handheld Travel Garment Steamers
Electrical Cord
Attached to the Laurastar Lift base (which comes in colors such as Platinum, Pinky Pop, Citrus Ultimate Black, Chic, Happy Purple, Extra Taupe, and Pure White) is a 7-foot 6-inch electrical cord and a 6-foot 4-inch steam cord. This unit weighs a little over 12lbs and features a handle for easy-carrying. Its base also has clips to wind the electrical cord for storage as well as drainage access for long-term storage.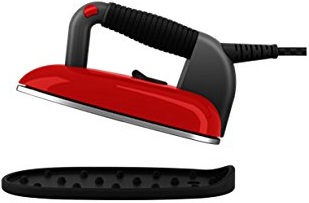 Design
The Laurastar Lift's of a totally-different design as compared to most of the other steam generators: it stands upright and is surprisingly-compact with the electric cord retracting automatically. For all its semi industrial stance it is a very handsome-looking unit. Laurastar Lift Pinky Pop is available in Pinky Pop color.
Portability
The easy portability is also another huge plus point once it comes to doing the vertical stuff, such as a suit or shirt on a hanger or even curtains which need a bit of a touch-up. Compact & light, Laurastar Lift Ultimate Black is the first steam-generator featuring a handle which allows you to take it everywhere, whether it's the ironing board or the clothes hanger. It's as effective-for a final-touch on a hanging fabric as for-ironing a shirt on the ironing board itself.
Looking to Buy Laurastar Lift+ Steam Iron?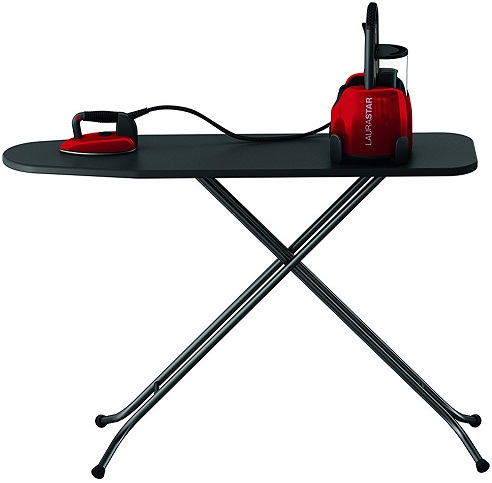 The Pros:
High built quality with amazing versatility
Laurastar Lift black is a simple to use system and is also an excellent iron and steamer
Comes well-packaged with all the accessories one needs like a filter cartridge, steam hose holder, and even a 3D soft-pressing soleplate.
Compact and light for easy portability
The steam generator has a carrying-pouch for easy storage.
The great plus of the almond shaped design is that it makes ironing backwards just as simple as ironing forwards.
The Cons:
While heating up, the unit makes some noise which stops after 3 minutes
The machine may also initially emit a bit-of a smell for the first couple of minutes, which is typical of most heating devices.
Conclusion
Depending on color, Laurastar Lift isn't cheap. However, though a bit super expensive, this very Swiss product is beautifully made and a bit odd too. It's marketed as a quick and easy way to keep your garments looking presentable. This thereby reduces the need for costly dry cleaning. What's more, the product comes with-a 2 year warranty. Hopefully, this Laurastar Lift plus review can help you make the right choice. In this case, would highly recommend you give the Laurastar line a good consideration.