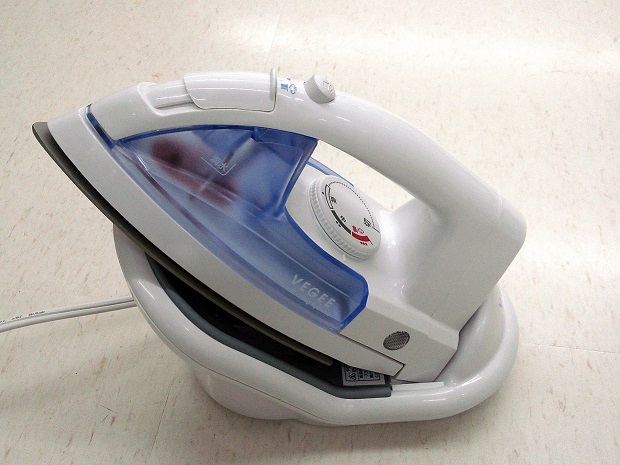 Even though many people might not consider them revolutionary, cordless irons attempt to grab headlines as a game changer in the ironing business. What these irons bring on board is convenience and another way of doing things. A cordless iron allows the user to iron at any angle because it is not attached to a power cable. It also eliminates the hassle of an entangling cable or the cable dragging clothes that are being ironed.
What's the Difference Between Conventional Iron & Cordless Iron in 2017?
Cordless irons are just like the conventional steam irons only that not many of them are cheap. They come with a charging port that connects to the power socket. Before ironing, the iron must be placed on the port in order to heat up and can then be used free of power connection although it requires to be placed on the port frequently to retain its heat.
Panasonic NI-L70SR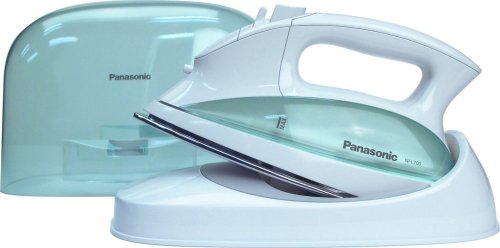 This is a study steam iron that comes without being attached to a power cable offering flexibility in ironing. It is a white iron and at first sight, you will realize that it is an ergonomic iron with everything put in its proper place. There are no complex manuals; you can almost call it plug and play. Read our full review on Panasonic NI-L70SR to know more.
The Pros:
It offers flexibility and convenience as the iron is not tied up by a power cable. It might offer more comfort during ironing as the user can assume any posture.
Since it has no auto shut off it is suitable for professional use such as quilting since it does not have to be reheated.
Stainless steel sole plate with round indentations that trap air, which helps in achieving smooth glide during ironing.
It has variable steam that is controlled by a button allowing selection of the best steam option depending on fabric being ironed.
Allows for precise temperature adjustments through the use of electronic temperature control.
It has powerful burst of steam that easily removes tough creases and helps in self -cleaning.
Unique detachable water tank that is easy to refill.
Charging port has auto off function and goes off after the iron has been left on it for 10 minutes
The charging port has a retractable cord.
The Cons:
Takes up to 3 minutes to heat up unlike other models that heat up in seconds.
Small water tank that requires frequent refills.
It might require regular placing on charging port especially during long ironing sessions.

Panasonic NI-WL600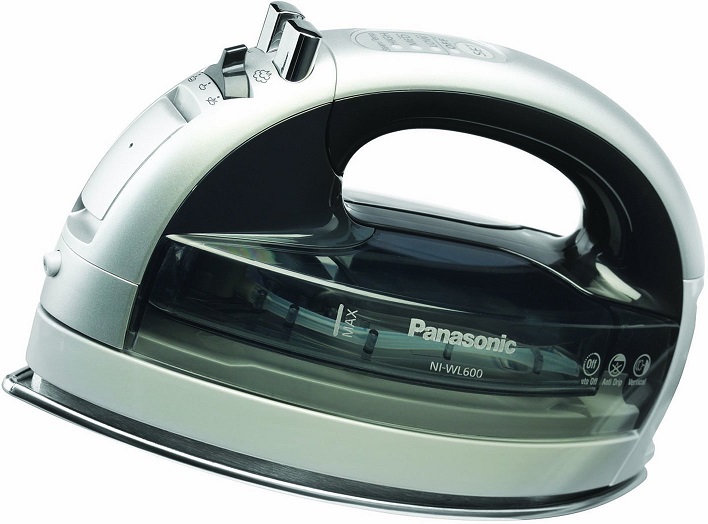 This is a sleek looking iron almost resembling a portable cd player. It is a cordless iron that gives the user freedom to iron at any angle without the headache of an entangling cable. It features a curved soleplate that allows for multi directional movement. Unlike many other models save for Panasonic, it comes with detachable water tank that allows for easy refills.
The pros:
It allows the freedom of ironing at 360 degrees providing comfort and reducing the hassle of a power cable.
Curved stainless steel sole plate that allow for multidirectional movement. This provides convenience in ironing.
Electronic temperature control allowing precision in temperature selection.
Variable steam with vertical steaming capability.
Anti-calc system that prevents the blockage of the steam vents.
Anti-drip that prevents leakages and staining of clothes.
Spray mist and a powerful burst of steam to remove tough creases.
It has auto shut off for security.
The cons:
Although it gets hot it cannot maintain high temperatures and has to be constantly placed at the port for heating.
Its steam generation is not as excellent as in other models.

Panasonic PAN-NI-WL600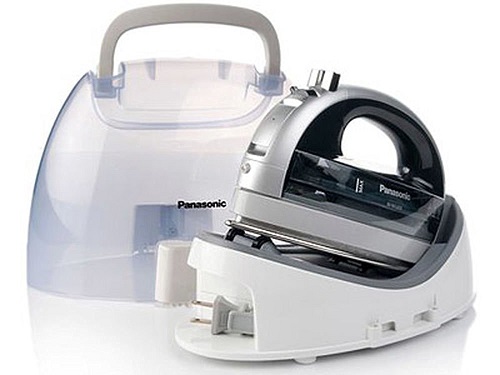 This is without doubt a classy looking iron and is a cut above the rest. It has an ergonomic design that makes it comfortable and easy to use. Because it incorporates cordless technology, this iron offers the convenience of hassle free ironing without the limits of a power cable.
The Pros:
It is a cordless iron providing comfort and convenience during ironing.
Like the NI-WL600, it has a curved sole plate. This allows for multi-directional ironing making it easier to iron.
It has adjustable steam from regular to dry which allows choice of the right amount of steam for efficiency.
Anti-drip feature that prevent spillage and damage to delicate fabrics.
It has powerful burst of steam and spay mist function to remove tough creases.
Allows for vertical steaming.
It has automatic shut off that turn the iron off after a period of inactivity for security.
Electronic temperature control for precision in temperature setting.
The Cons:
It requires relatively more time to heat up than other models of steam irons.
It does not stay hot and requires to be place on the charging port during ironing to maintain temperatures.
Because of varying temperatures, it does not generate as much steam as is available in other models like the Rowenta.

Panasonic NI-L70SRW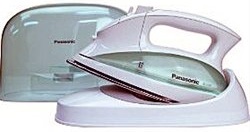 This iron is very much like Panasonic NI-L7OO save for color and its higher price. Panasonic NI-L70SRW features the Panasonic cordless technology which allows for ironing without being tied up by a power cable. This iron comes with a durable stainless steel sole plate that also makes the iron to have a smooth glide on all fabrics. It can be used as both a steam iron and as a dry iron.
The Pros:
Offers the convenience of cordless ironing which offers more comfort and flexibility.
It offers a steam and temperature chart that helps in control and helps to produce good results.
Three heat settings allowing for different fabric choices for best results.
It has a curved stainless steel sole plate specifically designed to trap air between the sole plate and the iron to achieve a superior glide.
Spray mist and a powerful burst of steam that are effective in the removal of creases.
The burst of steam can be used for vertical steaming.
Anti drip system to prevent dripping or spillage.
It has automatic shut off for safety.
Removable water tank for easy refilling.
The Cons:
It cannot be used far from the charging port as it requires regular heating up.
Some models in its price range like the Rowenta have more superior steam generation.
Due to fluctuating temperatures and average steam generation,It is not as effective as other cheaper models like the Black and Decker D2030.

Conclusion
Given all these worthy choices, a buyer not tied by a budget might find it difficult to choose an appropriate cordless iron putting in mind that these four options are from the same manufacturer. The curved sole plate offered by both the PA-NI-WL600 and the NI-WL600 makes for easier ironing but there is not enough to justify the higher cost of the PA-NI-WL600. Given that the L70SR and the L70SRW are almost identical in features, it is the Panasonic NI-L70SR that is the more prudent buy.