Even at first glance, you will realize that Rowenta DW5197 Focus is a sophisticated iron. DW5197 is not dubbed the "official partner of fashion" for no reason. It looks the part. Rowenta looks ready for the runway at any time of the day or night. However it is not all looks; looks can be deceiving you know. Beneath the façade, is a powerful steam iron that commands respect. This German iron has been crafted specially for the needs of designers and tailors. However, it has won the hearts of many people who are not professionals.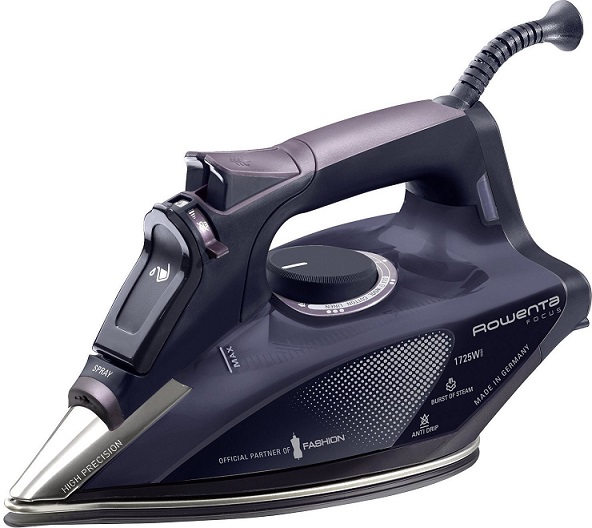 Focus Steam Iron Features:
1725 watts of power.
Stainless steel sole plate with precision tip.
400 micro steam vents.
Powerful burst of steam with vertical steaming.
Auto steam feature.
Ergonomic temperature knob.
Built in anti- calc system with self- clean.
Anti-drip system
No automatic power off.

1725 watts of power.
The Rowenta DW5197 is a power behemoth. It comes with more power than Rowenta DW6080 Eco-intelligence iron. With 1725 watts, this model heats up remarkably fast. If you are a morning rush person, you will find that the DW5197 heats almost instantly and removes creases fast. If steam irons were coffee, Rowenta DW5197 would be instant coffee!
Stainless steel sole plate with precision tip.
This model has a highly polished stainless steel soleplate. This sole plate glides smoothly on all fabrics with little effort. Less energy is therefore required for ironing as the iron is easy to move on fabrics. The sole plate is made of stainless steel. Though ceramic is superior in some ways, stainless steel is still a good material. It retains heat and is durable. It is also easy to clean and maintain. The precision tip on the sole plate allows for easier reach into pleats and seams and other difficult areas
400 micro steam vents.
This Rowenta Focus DW5197 has 400 micro steam holes evenly distributed on the sole plate. This is the highest number of steam holes available in the market and this technology is unique to only a few Rowenta models including DW8080 Pro master iron. Due to this numerous number of micro holes, Rowenta DW5197 has excellent steam production and is one of the most effective steam irons under $100.
Powerful burst of steam with vertical steaming.
This model comes with a steam surge button. When pressed, it produces a powerful steam blast at 180g/min more powerful than the pricier Rowenta DW8080 which produces only 150g/min. When this burst is directed at particularly tough creases, it can down them in seconds. This burst of steam also helps for vertical steaming and is very effective in straightening clothes and drapes while hanging them.
Auto steam feature.
The Rowenta DW5197 comes with auto steam which matches the temperature of the sole plate with steam production. At higher temperatures, more steam is produced and at lower temperatures less steam is produced. This helps the iron to be more efficient because it produces steam according to need and therefore conserves water.
Ergonomic temperature knob
The thermostat in this model is easy to reach and read. It is also easily adjustable and provides precision in reading.
Built-in anti calc with self-clean.
To prevent accumulation of minerals like calcium and carbonates, Rowenta DW5197 incorporates an anti-calc system that prevents furring. Some irons without this feature require frequent decalcification but this model spares you the sweet labor. This system also increases its efficiency and lifespan. The self-clean button automatically throws out dirt and other sediments that get into the iron through the water tank and end up blocking the steam holes. This keeps the iron working at optimum.
Anti-drip system
Dripping is the most common complaint in steam irons. Though not infallible the anti-drip in this model is better than what is in most steam irons and there seems to be lesser spilling or dripping.
No automatic power off.
This being a professional iron, it continues to run on end until it is unplugged. Most steam irons auto shut after a short period of dormancy and are unsuitable for professionals like designers and tailors who have to do certain tasks during ironing. This iron is appropriate for techniques such as embossing or sealing a hem with heat.
Would You Buy Rowenta DW5197 now? Make Final Choice with below Pros & Cons
The Pros:
It is a high power iron. With 1725 watts, this iron has enough power for excellent steaming and effective ironing. Even though it is not as high power as the steam force DW9280, it is has superior performance.
Excellent steam generation. This iron is one of the irons with the highest amount of steam generation. This is due to the 400 micro steam holes on its sole plate. The steam generated is also evenly distributed making it very effective in the removal of creases.
It is one of the most effective irons under the $100 mark. This is because it combines high power and a vast number of micro holes that are evenly distributed on its sole plate.
Highly polished stainless steel sole plate which offers superior glide and is long lasting.
It has a high precision tip that makes it easy to iron pleats and under button areas and other tricky spots.
Auto steam function that matches the temperature of the sole plate with steam output for efficiency and for excellent results.
It has a powerful burst of steam that is very effective in removal of stubborn creases or in vertical steaming.
Tank that is easy to see through and has proper calibration.
It has self-clean and anti-calc feature which maintains efficiency of the iron for a long time.
Anti-drip feature that prevents spillage and leakages.
The Cons:
Due to the large amounts of steam output, its tank requires regular refills.
It has no auto off feature and can lead to accidents when left on in the house.
Some buyers have complained that it overheats.
Final Verdict.
The Rowenta DW5197 is among the highest rated irons costing less than $100. It is a powerful iron and it lives up to its promise of high performance. It is definitely a good choice for professional use but for domestic users, the Rowenta DW8080 would be a better choice.