SINGER prides itself in having been in existence for the last 160 years. All the time providing quality products in garment construction and care. The SINGER expert finish iron continues this heritage of quality. It is relatively smaller in size compared to models like the Shark GI505 but nonetheless effective. It is a digital iron with an LCD display and easy to use buttons. With a 2 year manufacturer warranty your mind can be at ease while buying this iron.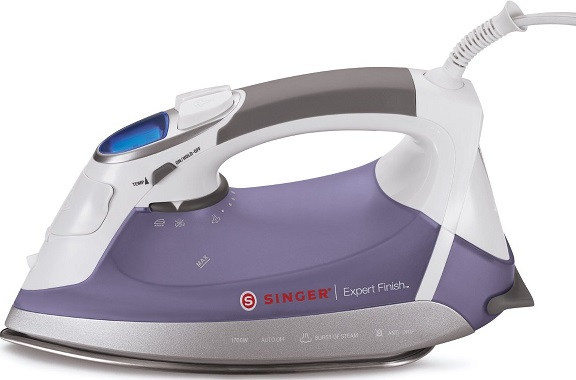 Features:
1700 watts of power.
Stainless steel sole plate with open tip.
Liquid crystal display for different settings.
Continuous steam with burst of steam feature.
Variable steam temperature.
Anti-calc feature.
Auto cleaning system.
Anti-drip system.
Pivoting cord
It has power auto off function.

1700 Watts of power.
This iron boasts of high power that allows it to heat up remarkably fast. Even at the lowest heat setting, it heats up in less than 26 seconds. It irons much faster than models with lower power like the Rowenta DW2070. Although the Shark GI505 packs 1800w of power, 1700w is still decent and effective.
Stainless steel sole plate with open tip.
The SINGER expert finish possesses an 8.75 inch stainless steel sole plate. Even though stainless steel is not as prestigious as the Nano-ceramic sole plate offered by the Eureka blaze, it is still noteworthy. It glides easily on fabrics and is durable. It is also easy to maintain as it requires little cleaning. The sole plate is also unique because it has an open tip compared to other models which offer a tapering tip. This open tip is specifically suited for ironing on pleats and the button region.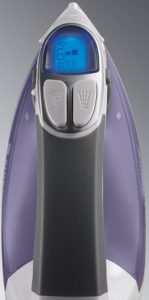 Liquid crystal display.
This model comes with a digital LCD display. Apart from enhancing its looks, the digital display guides the user in selecting the right temperature for different types of fabrics. It also helps in precision and prevents confusion that would be presented by a manual dial. It also comes with sound alerts when the right temperature is reached,
Continuous steam and burst of steam.
Even though the SINGER expert finish has only 23 steam vents on its sole plate, it generates an acceptable amount of steam during ironing. It also possesses a burst of steam button which when engaged, produces a powerful surge which can be used to remove tough creases. It also makes this model ideal for vertical steaming reducing the need to have to place some clothing items on the ironing board and just straightening them while they hang.
Variable steam temperature.
This model is able to deliver more or less steam as is required. Some fabrics require more steam to straighten while others require little or no steam. It is also able to regulate the temperature of the steam from hot to cool. Stubborn creases on heavy fabrics might require hot steam while delicate fabrics require a small amount of cool steam for freshening.
Anti-calc feature.
This feature prevents the building up of calcium, magnesium or carbonate deposits in the iron as a result of use of hard water. When these deposits build up, they decrease efficiency and lead to more consumption of power. They may also lead to reduced life span. This therefore makes it safe to use tap water for this iron.
Auto-clean system.
This system allows the iron to flash out dirt and sediments that may have entered it through the water tank. With just a touch of a button, all impurities are removed and the iron is left spotless clean. This increases the efficiency of the iron by keeping the steam holes free from getting blocked and increases the lifespan of the iron.
Anti-drip system.
Before the water In the tank has been well heated, dripping usually occurs in many irons during ironing. Even though it is difficult to point at a specific iron that has no dripping at all, the SINGER expert finish incorporates an anti-drip system to combat dripping challenges.
Pivoting cord.
This iron comes with a 360 degrees pivoting cord. This allows free multi directional movement and use of the iron from any angle. It results in more comfort and convenience during ironing.
Power auto off
Except for irons like the Rowenta DW5197 which lacks an auto off function, most domestic irons come with an automatic power off. This SINGER iron has not been left behind and goes off after a period of inactivity. If left vertically, it will turn off after 8 minutes and 30 seconds when left horizontally or tipped over. This gives peace of mind as even if it is accidentally left on, it will shut itself off.
Take Final Decision by reading Pros & Cons of SINGER Expert Finish Iron
The Pros:
At 1700 watts, it is a high power iron that heats up quickly and reduces ironing time.
Produces a generous amount of steam and therefore produces good results in little time.
It has a digital LCD display for precision in temperature settings and to show the right fabric at a given temperature.
Vertical steaming function.
It has a stainless steel sole plate with an open tip which allows excellent reach in pleats and under buttons.
Anti-calc and auto-clean functions that increase efficiency and lifespan of the iron.
It has anti-drip which reduces dripping and spillage.
Automatic power off for safety.
The Cons:
It has few number of steam vents and cannot match the steam productivity of some models like the Rowenta.
A number of customers have found that it leaks on all settings.
It's cord is only 8 feet long putting in mind that the t-fal FV4495 has a 12 foot cord.
Some buyers have complained that sometimes it shuts itself off during ironing.
So, Which Steam Iron I should Buy?
The SINGER expert finish is an effective iron even for fabrics that are more demanding in heat. With an LCD screen, it is easy to use and monitor. However some cheaper models like the t-fal FV4495 offer better performance; but it is the Black and Decker D2030 that is most suitable for anyone looking for an affordable digital iron with impressive performance.