The t-fal FV4495 is not a high end iron but it is a front runner in the most feature packed and most effective irons costing less than $50. It does not have the colors of a butterfly; you probably won't find inspiration by looking at it in the morning but once you are done ironing, your looks will be inspiring.
T-fal FV4495 Ultraglide Review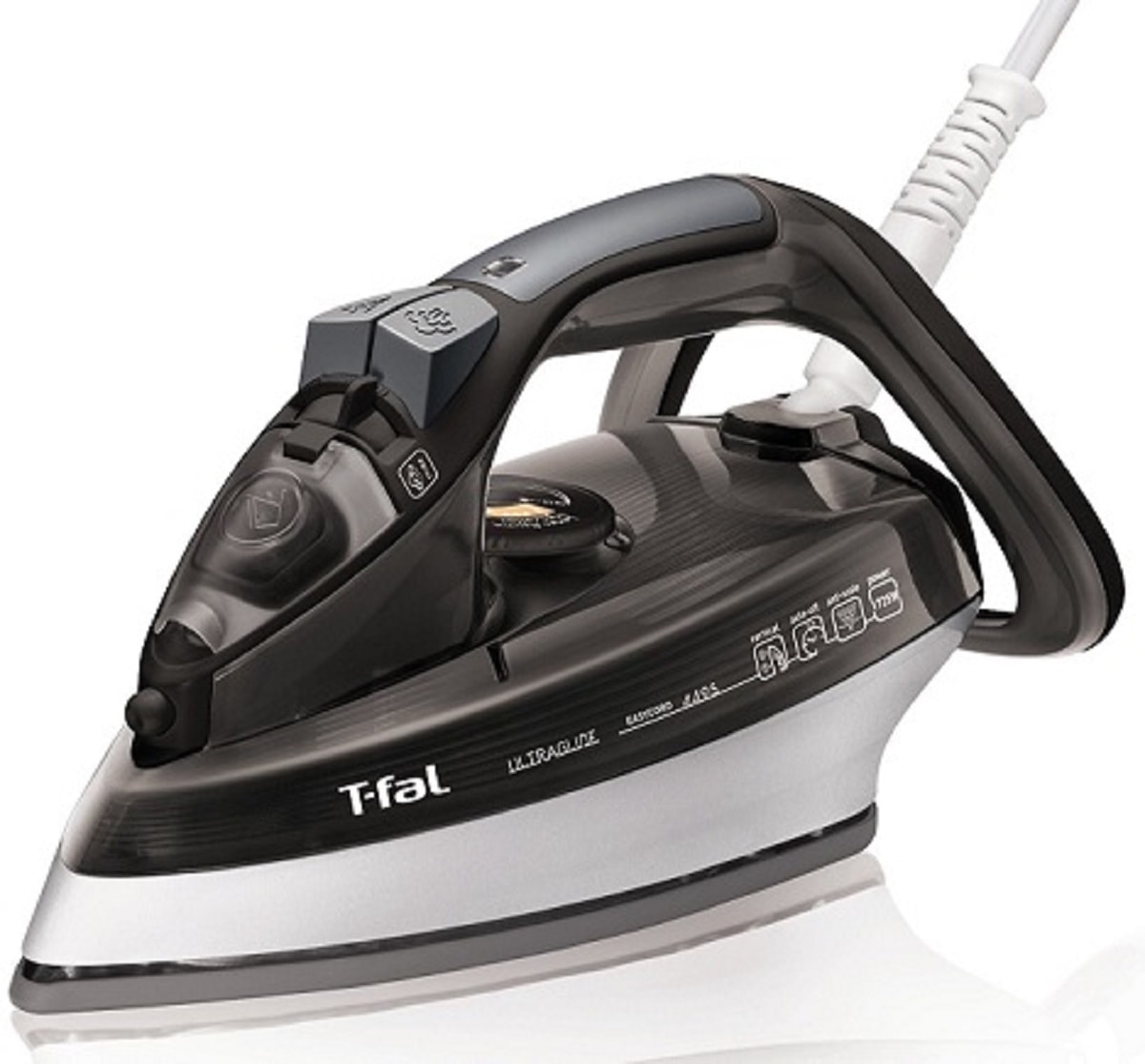 It is a black iron with one of the longest cords you will ever see on a steam iron. It has a soft grip handle that allows for comfort and because it has a heat shield, you will not feel the heat on your fingers even at maximum temperatures. Even though it is not heavy, it has a solid feel. It has a large heel for extra stability and which also provides a surface for wrapping the cord while storing it.
Features of T-Fal FV4495
1725 watts of power.
Ceramic sole plate with non -stick properties.
Powerful burst of steam
Easy cord management system
Self-clean system with anti-calc technology.
Anti-drip system
Power automatic off.
Extra-long power cord.
Large water tank.
Easy to fill sealed water inlet.

1725 watts of power.
This is high wattage that enables the t-fal FV4495 to heat up much faster than even popular models like the Black and Decker D2030. Its wattage is slightly higher than what the Rowenta DW5080 focus steam iron offers even though the Rowenta is a much more expensive iron. This iron heats up amazingly fast and has no problems maintaining the heat during ironing which cuts down time required for ironing.
Continuous steam generation
Many buyers have praised this model for generous steam generation that is maintained at all temperatures during ironing. This steam generation of up to 35g/minute makes this iron very effective and efficient in straightening even heavily creased clothes.
Ceramic sole plate with non-stick.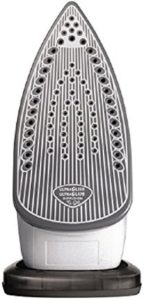 Apart from the Eureka razor not many lower priced irons come with a ceramic sole plate. Ceramic sole plates are the most sought after because they offer the smoothest glide on fabrics and are also scratch resistant. They are durable and require little maintenance. The t-fal FV4495 features a ceramic sole plate with non-stick properties for easier ironing and no damage to clothes thorough sticking.
Powerful burst of steam
With the touch of this lever, a surge of steam is released which can be aimed at a particular area with tough creases. This easily removes creases even on heavy fabric or materials such as wool. The T-fal FV4495 delivers 100g/minute of steam which matches that of the pricier Rowenta DW5080. Apart from removing creases, this feature allows for vertical steaming which can straighten clothes and drapes while they still hang on lines.
Easy cord management system
Operating an iron with a long cord can be disadvantageous because the cord may pose storage and operational inconveniences. The t-fal FV4495 comes with a cord management system that takes away the hassle of dealing with long cords. The cord is designed not to fall over clothes when iron and does not entangle. It easily wraps around the base of the iron for easy storage.
Self-clean system with anti-calc technology.
Dirt and sediments can easily find their way into the iron through the water tank. When it accumulates inside the water tank, it can hamper the effectiveness of the iron and even lead to problems like leaking and dripping of dirt on clothes. The t-fal FV4495 flashes out dirt and other material that may have accumulated in the iron. The t-fal is also proactive in that it prevents build up calcium and other mineral deposits with an integrated anti-calc system. This increases the lifespan of the iron.
Anti drip system.
To prevent dripping, the T-fal FV4495 incorporates an anti-drip system that is highly effective. Not many customers complain about dripping from this iron.
Power auto off.
This feature cuts of power after a period of inactivity. For the t-fal FV4495 it is eight minutes while resting on its base and only 30 seconds when lying face down or on either side. This safety feature can prevent accidents like fires and the risk of electric shock. It can also prevent extensive damage to clothes when the iron is left lying on a cloth accidentally. However the 8 minute shut off is disadvantageous to professionals like tailors who have to complete a task in the middle of ironing. They have to keep reheating the iron from square one once it shuts off.
Extra-long power cord.
The t-fal FV4495 comes with a 12 ft cord and is one of the steam irons with the longest cords. A long cord provides the convenience of ironing at a comfortable distance from the power source without the use of extension cables. It also prevents fatigue because the user can use the iron at any posture without having to bend or strain.
Large water tank
This model comes with a 9 ounce water tank which is larger than that of the Rowenta DW2070 which is a pricier model. This water tank is sufficient and requires fewer refills especially when the iron is operating at lower temperatures. The tank also has a wide sprout for easy refilling and comes with a spring cap to prevent leakages
Don't Forget to Read Pros & Cons Before Buying FV4495 Iron
The Pros:
At 1725 watts, it is a high power iron that heats up fast and completes the job in lesser time.
Its steam generation is excellent making it effective in removing wrinkles on all fabrics.
It has a powerful burst of steam that removes even tough creases easily. It can also be used for vertical steaming allowing straightening of garments when they are hanging.
It has a ceramic sole plate with non-stick properties which offers the smoothest glide and is long lasting.
It has an extra-long cord for comfort during ironing.
It has anti-calc and self-clean system for easy maintenance.
It has an effective anti- drip system.
It has a stable base.
The Cons:
It does not have a retractable cord.
The instructional manual is pictorial and the instructions are difficult to understand.
Some buyers have found the temperature button not conveniently located and difficult to read.
Conclusion.
The t-fal FV4495 combines good features and performance even while priced reasonably low. Even though it costs slightly less than the Sunbeam steam master, it openly outperforms it. It is a better bet against the Rowenta DW2070 and rivals the Black and Decker D2030.