If you love light and bright, you will be friends for a long time with the Panasonic NI-E660SR steam iron. This Panasonic model is eye catching, not really because of dashing looks, but because of its unique shape and color combination. Like most Panasonic models, it has a U shaped design and a curved sole plate. This design allows for pressure to be concentrated at the center of the sole plate during ironing which allows easier movement of the iron and less tugging. The U shaped design allows steam to be evenly distributed around the sole plate for efficiency in ironing. As for color, the Panasonic NI-E660SR comes in dazzling white with a splash of magenta.
Panasonic NI-E660SR Steam Iron Review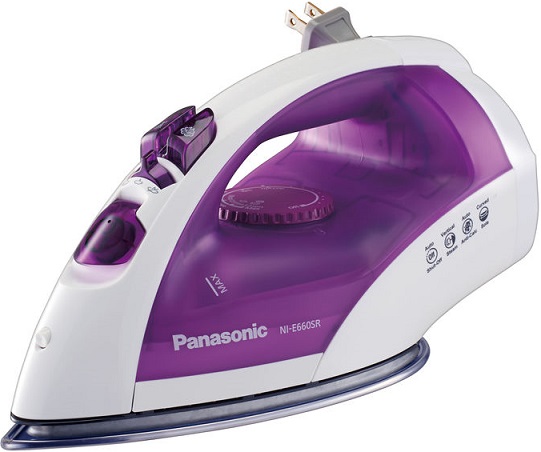 The handle is just basic plastic, there is nothing fancy. NI-E660SR does not have a comfort grip like the Black and Decker D2030 or the thumb rest and ergonomic controls of the Rowenta DW2070. This iron is still manageable though perhaps because it a light iron. It is possibly one of the lightest steam irons you will come across. Weighing a paltry 3.1 pounds, it is way lighter than the Sunbeam steam master iron making it a suitable choice for those with arthritic arms or the elderly. Off course being light has its own disadvantages especially when dealing with difficult creases in heavier fabrics.
Even though it is an inexpensive iron, it has been praised by many buyers for being effective on the job with good steam generation. It is a versatile iron with variable steam settings that can even transform it to a dry iron if need be. Unlike many steam iron models, the Panasonic NI-E660SR comes with a retractable cord that slides inside in an instant with the touch of a button reducing storage space. This is a feature that has endeared it to many people who have used it.
Features:
U shaped base and curved sole plate.
Curved stainless steel sole with non- stick properties.
1200 watts of power.
Power auto off in 3 modes.
One touch spray mist with Shot of mist.
Self- clean system.
Anti calcium feature.
Variable steam control button
Retractable cord.

U shaped base and curved sole plate.
This is a feature that is exclusive to the Panasonic models. As opposed to other models where the pressure is accumulated at the tip, the curved plate allows pressure to be accumulated at the center requiring little effort to glide the iron back and forth. It also reduces tugging and pulling at the tip during ironing. The U shaped base allows for efficient and even steam circulation allowing efficiency and faster ironing. The Panasonic NI-E300TR U-shape promises 25% more steam coverage than other models.
Stainless steel sole plate with non stick.
Even though other models like the t-fal FV4495 offer a more superior ceramic plate, the Panasonic NI-E660SR prides in a polished stainless steel plate. This sole plate is durable and easily glides on any material. It is also easy to maintain as cleaning it is easy. The sole plate comes with anti-stick properties that prevents sticking and damaging fabrics.
1200 watts of power.
This is relatively low power putting in mind that some cheaper models like the t-fal FV4495 packs in 1725 watts. Even though the Panasonic NI-E660SR takes a bit of time to heat up properly, it faithfully maintains the temperature at the level required without fluctuations. It also continuously maintains good steam production during ironing.
3 Mode power auto off.
As in most domestic steam iron models today, this model has an auto off feature that cuts off power after a period of dormancy as a safety measure. When left on its base, it will go off after 10 minutes and while face down or rolled on either side, it goes off in just 1 minute.
One touch spray mist with shot of steam.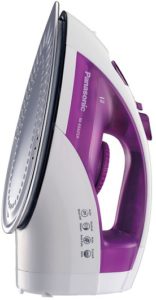 The Panasonic NI-E660SR comes with a one touch button that produces a spray of moisture that can be directed at a particular spot with tough creases for easier removal. The burst of steam can also be used for vertical steaming to straighten hanging garments.
Self-cleaning system.
Unlike the Black and Decker D3030, the Panasonic NI-E660SR comes with a self-cleaning system. This is a feature that allows it to expunge dirt and sediments that may have found their way inside the iron. These sediments may block the steam holes and make the iron inefficient and may even damage electrical components.
Anti-calc system
This Panasonic model incorporates an anti-calc system to prevent the buildup of calcium and deposits from other minerals and carbonates. It is effective in preventing furring which requires frequent decalcification and which can reduce the lifespan and efficiency of the steam iron.
Steam control function.
This model allows the user to choose from different modes of steam from high to low and even use it as a dry iron depending on which fabric they are working on. This prevents damage to more delicate fabrics and increases the efficiency of the iron.
Retractable cord.
This is an impressive feature that is not common even in more expensive irons. A retractable cord does not entangle during ironing and because it goes inside the iron, it reduces storage challenges. It also prevents the cord from wearing out quickly as it does not intertwine requiring frequent pulling and unlooping.
Make Final Move with below Pros and Cons of NI-E660SR Iron
The Pros:
The U shaped design and curved sole plate reduce tugging and enhances steam distribution for efficiency of the iron.
It has a stainless steel sole plate that has non- stick properties and glides easily.
Both steam and dry iron settings allowing choice of setting according to fabric being ironed.
It has a retractable cord for easy use and storage.
A clear water tank for easy monitoring and refill.
It has burst of steam that allows vertical straightening of drapes and other clothing.
Auto-clean and anti-calc system.
It has power auto off function.
The Cons:
Low power iron and takes a bit of time to heat up properly.
No active anti drip system and spills sometimes.
The amount of steam it generates is relatively low compared to other models like the Rowenta DW20-70
Conclusion.
Even though not as popular as the Panasonic NI-E650TR, the Panasonic NI-E660SR has been praised by many buyers for being practical and consistent. Albeit taking relatively longer, it still delivers good results and can be relied on especially because it is relatively cheap iron. However, the Sunbeam steam master iron costs less and has a better performance and might therefore be a better choice over the Panasonic NI- E660SR.