The Black and Decker D3030 is a professional iron that packs the best features making it one of the best steam iron under $50. For individuals looking for a steam iron that they can use for various types of fabrics, this steam iron is a great choice that will make you looking crisp and clean every single day.
Black and Decker D3030 Review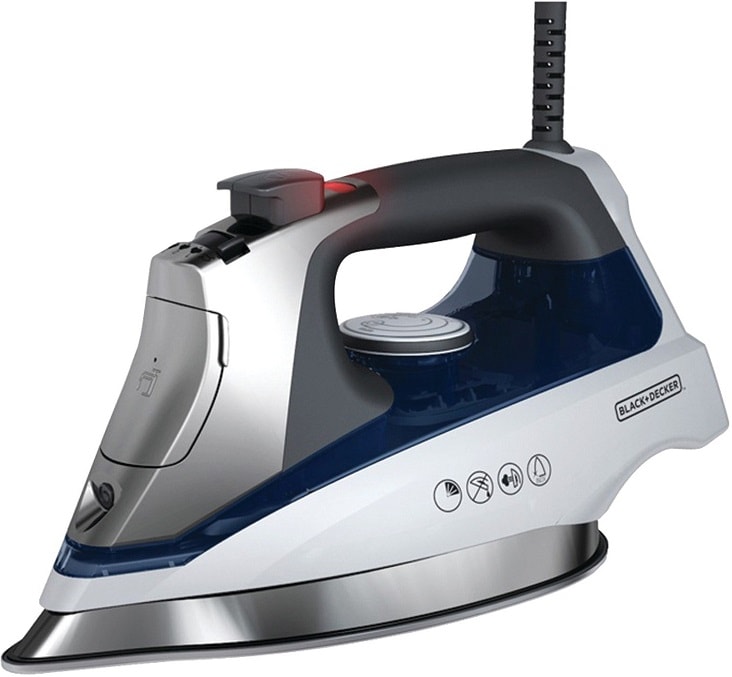 This professional steam iron has the best features that you can have if you want something that you can use for all types of fabrics. The dynamic steam surge technology guarantees that you can remove the wrinkles and creases from fabrics whether they have a delicate material or tougher and thicker ones. It has a wide stainless steel soleplate so you can iron your clothes at a faster rate.
Features of Black and Decker D3030
Stainless Steel Soleplate
Dynamic Steam Surge Technology
Vertical Steam Feature
Auto Clean System
Variable Temperature and Steam Controls
Automatic Shutoff Safety
Comfort Grip Handle

Stainless Steel Soleplate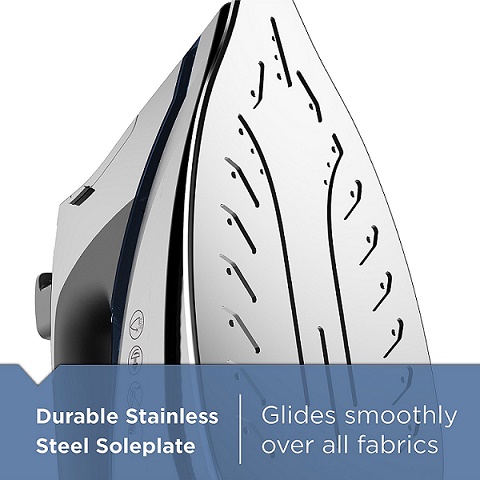 The Black and Decker D3030 feature a stainless steel soleplate that is both sturdy and heavy duty. This feature guarantees that you can easily press your fabrics to even out creases and wrinkles without having to exert too much pressure. In a shorter amount of time, you can even out even the heaviest wrinkles on thick fabrics.
Dynamic Steam Surge Technology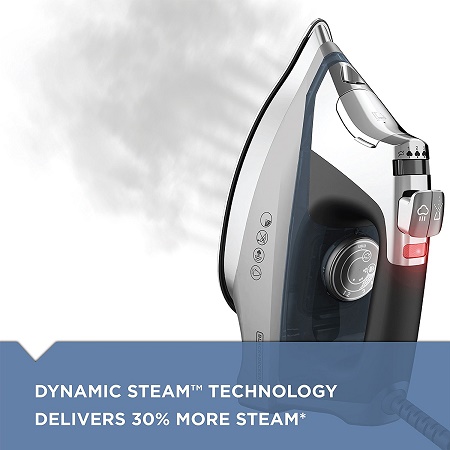 For homeowners and even professionals that are in need of an iron that has a steam feature, this model will work wonders. Categorized as one of the best clothing steamers, the Black and Decker D3030 produces 30% more steam than the Black+Decker Classic Steam Iron F67E. The dynamic steam technology effectively cuts down ironing time while providing you with a crisp look on various types of fabrics, especially when you use the steam surge option.
Vertical Steam Feature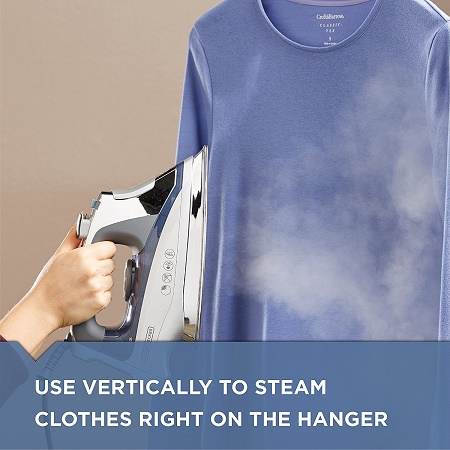 If you have delicate clothes, the steam technology enables you to use the Black and Decker D3030 vertically for removing wrinkles on soft fabrics like lace and silk without using the iron plate. Much like the best handheld travel garment steamers and the Black+Decker IR03V, you can bring this iron and garment steamer with you on long business trips or vacations to quickly touch-up your clothes that have been wrinkled from packing.
Auto Clean System
Much like the Shark GI505, the Black and Decker D3030 provides the same self-cleaning feature at a lesser cost. Using an iron with a steam feature can cause dirt and minerals to clog up the water tank, preventing it to perform its best. This Black and Decker iron model's auto clean system flushes out all mineral deposits to guarantee its peak performance each and every time you use it.
Variable Temperature and Steam Controls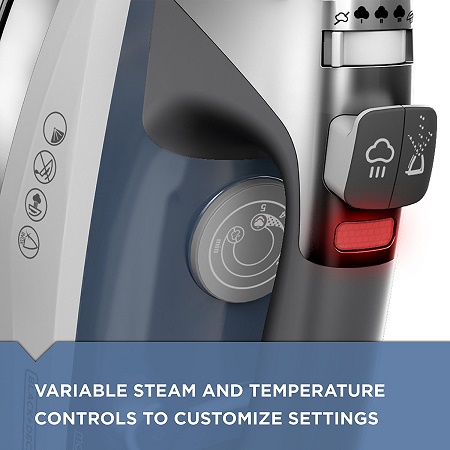 The Black and Decker D3030 boasts of five different temperature settings that you can choose from depending on the type of fabric you want to iron or steam. It has a digital display like the Black+Decker D2030 and Rowenta DW9280 so you can clearly see the temperature of the iron while providing an efficient feature that indicates the best steam level for each setting. Whether you are ironing delicate fabrics or tougher and thicker ones, this Black and Decker iron can do the job for you. For this reason, it is chosen as one of the top quilting irons for sewers because it can remove wrinkles and creases from heavy fabrics without too much effort.
Automatic Shutoff Safety
There are times when something suddenly comes up while you are in the middle of ironing that you may tend to forget to turn it off. The Black and Decker D3030 is great if you are this type of person since it has an automatic shutoff safety feature much like the Rowenta DW5080. When you leave it on with its soleplate down or on its side, it will automatically turn off in just 30 seconds. On the other hand, when you place it on its heel rest, it will turn off after eight minutes. The automatic safety feature will give you the peace of mind that you won't ever burn your clothes—or your house—accidentally.
Comfort Grip Handle
If you have loads of clothes to iron, the ergonomic design of the Black and Decker D3030 assures you that your hands won't become too strained and sore. It has a comfort grip handle that fits perfectly in your hand so you can glide and maneuver it easily.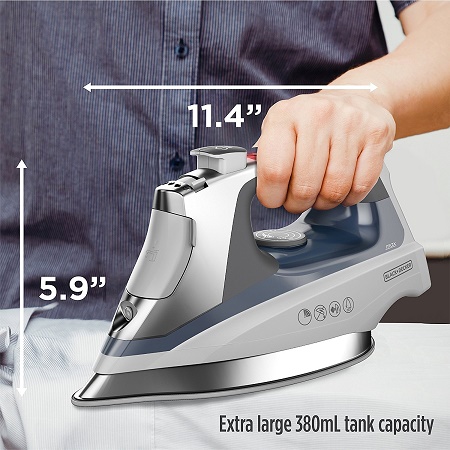 Looking to Buy Black+Decker D3030 Allure Steam Iron?
The Pros:
The stainless steel soleplate is durable and heavy-duty, letting you even out creases and wrinkles easily.
It has a dynamic steam surge technology that effectively lessens the amount of time to iron clothes.
It has a vertical steam feature for quick touch-ups and removing wrinkles from delicate fabrics.
The auto clean system feature prevents dirt buildup for better performance and a longer lifespan.
The variable temperature and steam controls let you choose the right setting appropriate for the type of fabric you are ironing or steaming.
It has an automatic shutoff safety feature that will prevent clothes from burning to give you peace of mind.
It also has a comfort grip handle that makes handling this iron easier than ever.
The Cons:
The Iron gets very hot when used.
The iron spits water at times.
It does not have a pivoting cord like the Black and Decker F210 model.
Conclusion
The Black and Decker D3030 and its features make ironing easier especially when you use it with the best ironing board since you can easily remove wrinkles and creases from your clothes. If you want a professional steam iron under $100, this model is your perfect choice that can match the costlier Oliso Pro TG1600. Surely better than the Black+Decker Classic Steam Iron F67E, you can have the best Black and Decker iron that has all the features that you need when you have this at home.

Related read: