The day steam irons will become motor vehicles, the shark GI505 ultimate professional will be an SUV. It is a large iron and weighing 4.2 pounds, it is way heavier than most steam irons. Even so, it is not as heavy as the Rowenta DW5080 focus. It is a handsome iron that comes in black with a slight touch of gold below the handle.
SHARK Ultimate Professional Iron GI505 Review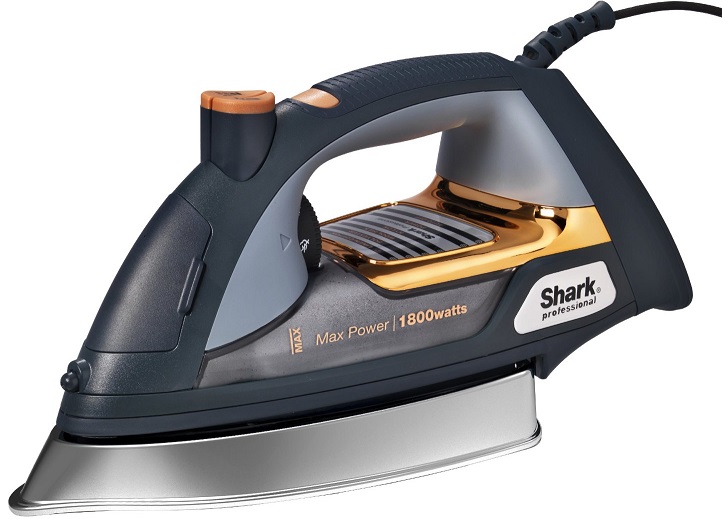 Being an American brand, it commands respect and exudes an aura of superiority. It prides itself as a professional iron with a large stainless steel sole plate and advanced stability. It also promises superior steam generation and top notch results.
Features of Shark GI505:
1800 watts of power
Large stainless steel sole plate
Thermostat with LED indicator lights.
Tapered button tip.
One touch electronic fabric selector
Large water tank.
Anti-calc system
Self-clean feature.
Anti-drip system
Auto power off.

1800 Watts of power.
With 1800 watts of power, Shark GI505 is a power packed monster. It is probably the only iron under the $100 mark that comes with this amount of wattage matching the Rowenta DW9280 steam force iron which costs close to $150. This iron heats up so fast, way faster than models with less wattage. It also maintains the temperature set during ironing. Due to the high heat it is easier to remove creases and ironing takes a shorter time. The high power also enables this iron to produce and maintain a generous amount of steam while ironing.
Large stainless steel sole plate
Shark GI505 features a 9.5 inches stainless steel sole plate. This is larger than that of the Shark 1600 watts professional iron that features a 9 inch sole plate. With a large sole plate, the iron covers a large surface area at a go and therefore lesser strokes are required. If you are morning rush person, you will find this very helpful because it will take lesser time to iron that shirt.
Heavy sole plate
Weighing 4.2 pounds, Shark GI505 is a heavy iron. A heavy iron exerts more pressure on the fabric and is easier to use to remove stubborn creases. This iron is very effective in ironing heavier fabrics even with difficult creases and less effort is required in straightening. Being made of stainless steel, the sole plate has easy glide resulting in smooth ironing.
Thermostat with LED lights
Shark Ultimate professional comes with a simple touch button for temperature regulation. It also has LED lights for use in less lit environment and to ensure precision when selecting the temperature for the fabric being ironed.
Tapered tip
This iron comes with a thin tip for easy maneuverability and reach in the button areas and other spots that are otherwise difficult to reach with a broad iron.
One touch electronic fabric selector.
With the touch of a single button, you can choose a fabric from several settings and the iron will automatically adjust its temperature and steam to match the requirements of the fabric. By automatically matching temperature and fabric requirements it removes guesswork from ironing and leads to efficiency. It also prevents damage to delicate fabrics that may result from use of excessive heat.
Large water tank
This model features an extra-large water tank. The larger the tank an iron features, the lesser the frequency of refills. Many buyers have complained by how fast the Rowenta DW2070 requires refills during ironing sometimes more than three times in a single ironing session.
Anti-calc system
It is a common feature for calcium and other mineral deposits to build up in equipment's that come into contact with water especially hard water. The anti-calc system incorporated in this iron ensures that scale does not accumulate. When accumulation occurs, electric components may be destroyed and the overall efficiency of the iron goes down. Because of the anti-calc system, this iron can comfortably use tap water.
Self-clean system
This iron does not encourage dirt accumulating in its inside; it flashes it out with the touch of a button. Sediments and other impurities might find their way in the water tank and might block steam holes or lead to dirtying of garments. This iron is therefore low maintenance.
Anti- drip system
Constant dripping is one of the most annoying things in a clothing iron it is also one thing that buyers complain most in steam irons. It is good to admit that it is difficult to come across an iron with zero complaints about dripping. Shark GI505 incorporates an anti-drip feature to minimize the risk of spillage or dripping even when operating on low temperatures.
Automatic power off.
This feature though not unique to this model cannot be overlooked. When left idle in several positions, Shark Ultimate Professional iron automatically cuts off power. Even though a cloth might still be damaged from the already heated sole plate, the extent of damage is likely to be less. This feature also reduces the risk of fires or electric shock resulting from a steam iron.
Read the Pros and Cons of Shark GI505 Before Buying it
The Pros:
High wattage leading to faster heating and ironing and more efficient creases removal.
It has a large and heavy sole plate which offers a large surface area reducing ironing time and requiring less effort to straighten creases.
Large water tank with a large fill sprout for easy refilling. The water tank also does not exhaust quickly.It has a tapered tip that allows easy penetration to button areas and other tight spots.
It has self-clean and anti-calc feature that make it low maintenance and increases its life span.
LED lights at the temperature control for easy precision.
It has multi positional power auto off for safety.
Auto fabric selector.
The Cons:
It is a heavy iron and not suitable for people with problematic limbs.
Many buyers have complained that the steam surge button malfunctions rather quickly
The steam output seems to reduce after a little use.
The heating is erratic. Sometimes impressive and sometimes not good.
Conclusion:
The Shark GI505 does a better job in ironing heavy fabrics than models like the sunbeam steam master iron. However even with high power, its performance and durability has not Impressed many buyers. The Black and Decker D2030 which has the same price tag is a more recommended buy than the Shark GI505.


Related to read: