Not many models can proudly flash a "made in china" tag but the Sunbeam steam master iron rightly does so. When the sunbeam corporation said that you can trust them on quality and value, they had this iron in mind. Even though it has not won any modeling contracts with ford, it is a beautiful iron. Perhaps not as stunningly beautiful as the sunbeam aero ceramic iron but still handsomely crafted nonetheless. It comes in a combination of a slight green and grey and chrome finish to spruce up its looks. The chrome is also an add-on to its durability.
Sunbeam Steam Master Iron Review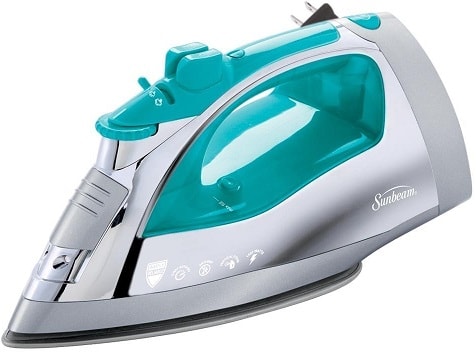 There are no fancy features here; no sensors, no LCD displays, no LED lights, just a steam iron that works. It does not cost a million dollar in fact, it costs way less than $50. Most buyers have praised its performance; even with lesser features and power, it has considerably higher ratings than the pricier sunbeam aero ceramic iron. It is surprising that it is large yet light; not as light as the Rowenta DW2070 but even arthritic users have been able to use it. Among the features it has been praised most about, is its retractable cord. This is definitely an important feature when you want easy storage and a cord that does not entangle when you are ironing.
Features:
1400 watts of power.
Large Stainless steel sole plate.
15 steam macro holes on the sole plate.
Anti-drip system.
Shot of steam and vertical steaming feature.
Anti-calc system.
Self-clean system
Incorporated anti drip system.
Spray mist button.
Auto power off.
Shot of steam function.

1400 watts of power.
Even though not as high as some models like Shark GI405 which features 1800 watts of power and still in the same price range, it offers a decent amount of power. It heats up reasonably quickly and stays hot during the entire ironing session. It is also good enough to be used professionally in tailoring for pressing seams.
Stainless steel sole plate.
The Sunbeam steam master comes with a large stainless steel sole plate. A large sole plate offers a large surface area and fewer strokes are required during ironing saving time and power. The sole plate is made of stainless steel which is smooth and which glides easily on all fabric. Stainless steel is also durable and easy to clean.
Non stick sole plate
Even though not as sophisticated as in other models like the eureka powerful steam iron with its patented Nano ceramic sole plate, the steam master features a sole plate with good non-stick properties that prevents tugging and damage to clothes through sticking.
Macro holes on the sole plate.
The sunbeam steam master iron offers 15 macro holes across the sole plate. These vents allow efficient and even distribution of steam during ironing. Many buyers have commended it on its generous output of steam which makes ironing an easy task.
Shot of steam and vertical steaming.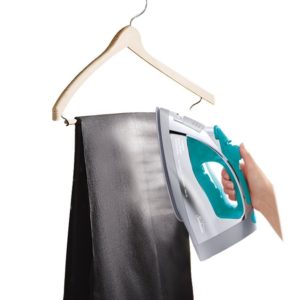 This model produces a targeted shot of steam at the touch of a button this allows the user to target a tough crease which can be brought down in a jiffy though a powerful burst of steam. This feature though not unique to this model, allows straightening of cloths and other garments like curtains while still hanging them through production of an extra steam burst.
Dual spray mist
This feature allows production of double amounts of mist which can be used to dampen delicate fabric before or during ironing for easy ironing and to prevent burning or destruction.
Anti-drip system
Perhaps this is the most praised feature in this steam iron. Dripping is common in most steam irons but this model has a particularly good anti drip feature to prevent soiling or damaging fabric. This is among the steam irons with the least complains about dripping or spillage.
Anti-calc system.
This prevents the formation of calcium deposits inside the water tank of this iron. Calcification is common in steam irons or water kettles due to use of tap water. This iron prevents scale from forming and thus allows one to comfortably use tap water for the tank.
Self-clean system
The Sunbeam steam master iron literally takes care of its own hygiene. It comes with an integrated self -clean system that when engaged hurls out accumulated dirt and other materials that may block the steam vents or cause damage to the iron. This helps the iron to maintain its efficiency and increases its lifespan.
Auto-power off.
Like many other models today, the Sunbeam master iron is not left behind in safety matters. This iron auto cuts power after a varied period of inactivity. When left on either side or when facing down, it sleeps in just 30 seconds but when rested on its base, it goes off in 15 minutes. This feature gives peace of mind and prevents potentially dangerous accidents from happening.
Below Pros and Cons will Help you to Decide Sunbeam Steam Master Iron
The pros:
15 steam macro holes on its sole plate that continuously release and balance steam production during ironing. This makes the sunbeam master an effective iron.
It has an 8 foot retractable cord. This helps in easy cord management during ironing and in storage preventing entangling.
Shot of steam function that helps in removing difficult creases and in vertical steaming.
It has a very effective anti- drip system that prevents delicate fabrics from being spoilt by spillages.
Variable steam control with four settings that allow efficiency and excellent results.
It has a large water tank that does not deplete easily.
Light in weight compared to many other models.
The cons:
The 15 macro holes on its sole plate are not as effective in steam generation as the micro hole technology incorporated by Rowenta models.
The burst of steam is relatively weaker than what is found in other models.
Some buyers have complained of overheating in this model which produces a burning smell.
Conclusion:
The sunbeam steam master iron is definitely an effective steam iron and especially selling at a relatively low price at the time of this review, it is a recommended buy. However those in search of more features and a higher power iron will find the t-fal FV4495 very suitable even though it costs slightly more than the Sunbeam steam master iron.