The Rowenta DW8080 pro master iron is a sturdy iron that exudes confidence. Even though it comes in grey that is not nearly as exciting as the green and black combination and the art work of the Rowenta DW6080, you can still be proud of it. Its shape, which is very similar to that of the DW5080 hasn't won any beauty contests yet, but it still looks chic. It has a smooth grip handle that is ergonomic with a steam control lever at the top and a steam jet and a spray mist button that is reachable when required.
Rowenta DW8080 Review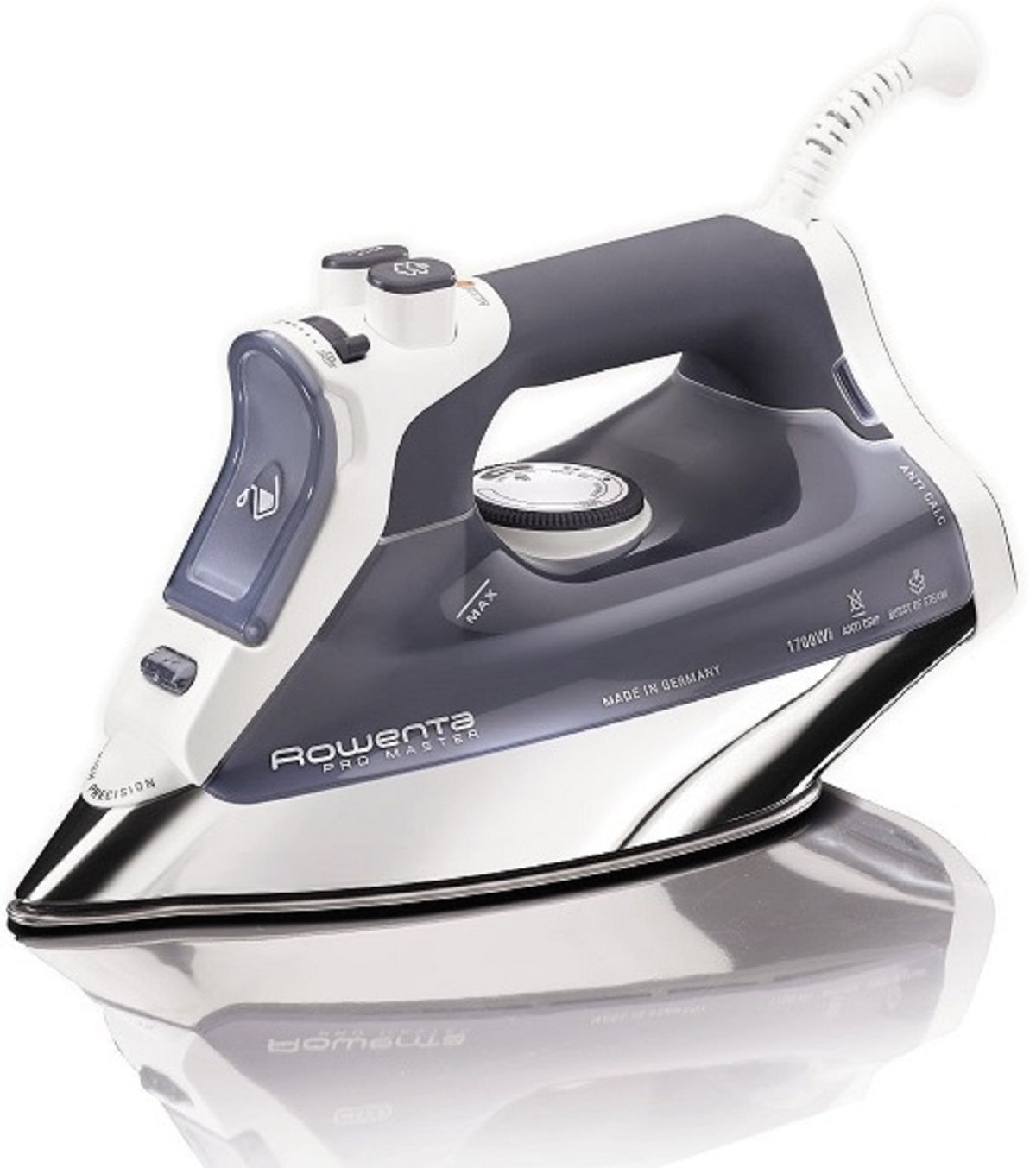 Perhaps to erase any doubts on its quality, it has a "made in Germany" tag conspicuously displayed. Items manufactured in Germany are likely to be of better quality than those manufactured in China and likely to be less defective. The Rowenta DW2070 which is a less popular model is manufactured in China and has gathered a lot of negative reviews from buyers.
This iron comes with with a 7 foot cord that does not retract. This does not win the heart of many people because it is somehow short and you cannot iron far from the power. There are much cheaper models that feature a 12 foot cord like the T-Fal FV4495.
Features:
1700 wattage of power
A high precision tip
Highly polished stainless steel plate
400 micro holes for steam distribution
Power automatic off
Self clean system
Anti calc system that prevents the accumulation of scale
Variable steam and burst of steam
Anti drip system
Vertical steam option

1700 Wattage of Power
The Rowenta DW8080 is a high power iron and matches that of the Rowenta DW9280 which costs almost double its price. With 1700 watts, it is able to heat rapidly and starts to generate steam faster and more efficiently than other irons will less than 1700 watts.This is one of the reasons that make this model very efficient in removing deep creases even on difficult fabrics like wool. The iron incorporates a well calibrated thermostat that allows good control of heat and seamless transition in five different types of fabric from nylon to linen.
A High Precision Tip
This iron has a thin tip that tappers towards the edge. This allows the person ironing to be able to remove creases and to straighten areas that are difficult such as the button strip and the zip region which are otherwise difficult to reach with a broad iron.
Highly Polished Stainless Steel Plate
It comes with an attractive stainless steel sole plate. This material is durable and requires little maintenance as compared to ceramic. Even though ceramic glides easier, it gets black and is difficult to clean. The stainless steel is highly polished and smooth and makes ironing much easier as there is less friction.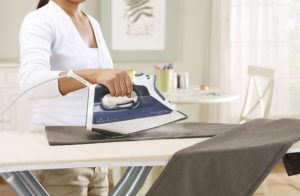 400 Micro Holes
The Rowenta boasts of 400 micro steam holes on its sole plate. These small holes are evenly distributed thought the plate including the tip and at the center. When ironing, these holes allow steam into the fabric and makes it easy to remove creases
Power Automatic Off
This feature will automatically disconnect its power after a period of inactivity. It you leave it on its heel it will sleep after 8 minutes but if left face down or on its side, it turns off in a remarkable thirty seconds. Even though this is becoming a basic feature in irons across all brands, its importance cannot be undermined.
Self Clean System
The DW8080 is pretty much an independent baby and can handle its own cleaning. The self clean system allows the iron to remove accumulated calcium and other common minerals plus other dirt that might have gone through. This ensures that it remains efficient and cost effective as its performance is not hampered. The DW8080 like most other Rowenta brands includes an anti scale function that prevents the iron from furring and increases its lifespan.
Variable Steam and Burst of Steam
The DW8080 can deliver variable amounts of steam for different fabrics or as need arises. More difficult fabrics require more steam. The burst of steam delivers an admirable 150g/minute that can be directed at stubborn creases and erases them with little effort. This is more than the pricier DW5080 which delivers only 100g/minute.
Vertical Steam Option
With this feature, you do not have to place every clothing on the ironing board to remove creases. Some fabrics can also get damaged when ironed often. The vertical steam feature allows such clothes be steamed while hanging to straighten them. The iron produces a long stream of steam that can reach a long distance.
Anti Drip System
Dripping is a common problem among most steam irons. The Rowenta DW 8080 Pro master iron incorporates this system to reduce leaking especially at low temperatures during ironing which can stain clothes.
Looking to Buy Rowenta DW8080 Steam Iron?
Pros:
Its steam generation is excellent. The 400 micro steam holes combined with 1700 watts of power produces a generous amount of steam and makes this iron one of the most effective irons in the market.
It has a large water tank. This iron comes with a 12.7 ounce water tank. The DW5080 only packs a 10 ounce water tank. This reduces the frequency of refills during ironing.
Made in Germany and its quality is unquestionable.
1 year manufacturer guarantee.
Powerful vertical steam functionality that allows even clothes that are far to be reached easily.
Cons:
Due to the large amount of steam generated, its tank runs out much faster than other brands that produce lesser steam.
It is heavy and can be uncomfortable or tiresome over long period of usage even though this is relative.
As with other steam irons, it occasionally drips even at low temperatures.
Its water tank has poor calibration and its difficult to determine the water level.
Conclusion of Rowenta DW8080 Pro Master Iron Review
The Rowenta DW8080 is certainly the best Rowenta model under $100. It has a larger water tank and has a higher steam output than the Rowenta DW5080. When torn between the two, it would be more practical to choose the Rowenta DW8080 because it is cheaper and comes with better functionalities.


Highly relevant to read…