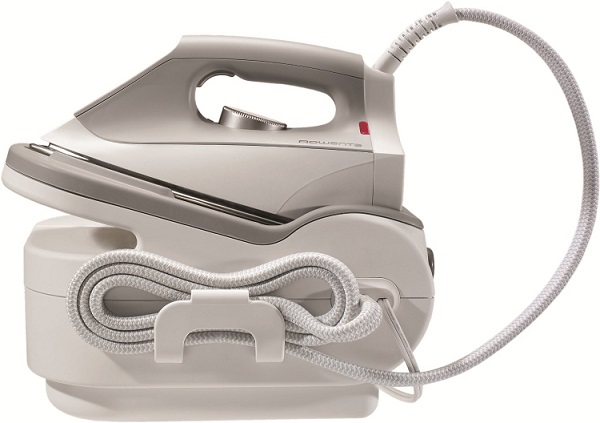 The Rowenta DG5030 pro iron steam station is a stylish and compact steam iron that proudly wears a ? 'made in France'' tag. This iron is not just built to look good, it is built with comfort in mind. The handle is soft yet offers a firm grip while other buttons are withing easy reach. You will find an easy to use control panel and a solid resting dock when your iron is not in use. With a huge water tank and high-pressure steam, this iron promises excellent results.
Features of Rowenta DG5030 Steam Iron
1750 watts of power
High-quality stainless steel soleplate
Powerful vertical steam
Pressurized steam with steam lever
33-ounce water tank
12 feet power cord

1750 watts of power
With such a high wattage, this is a pretty powerful steam iron. Even though it doesn't heat up as fast as models such as the Rowenta DW5080 and the Rowenta DW9280, it heats up in a reasonable time. The truth is that steam stations will take much longer to heat up and to be ready for steam production compared to the conventional steam iron due to the large size of the water tank. However, some steam stations such as the Rowenta DG8520 take much lesser time compared to the Rowenta DG5030 pro iron steam station.
Pressurized steam
The Rowenta DG5030 will surprise you with its excellent steam generation. Not only is the steam output much more than that of the traditional iron, it comes out with such high pressure that it cuts down ironing time by half. When more steam penetrates a fabric, it is easily straightened with just a little pressing. This model has a handle trigger that gives a blast of steam of steam when required especially for very tough creases. Steam output is also adjustable according to the needs of the fabric so you can get the best results.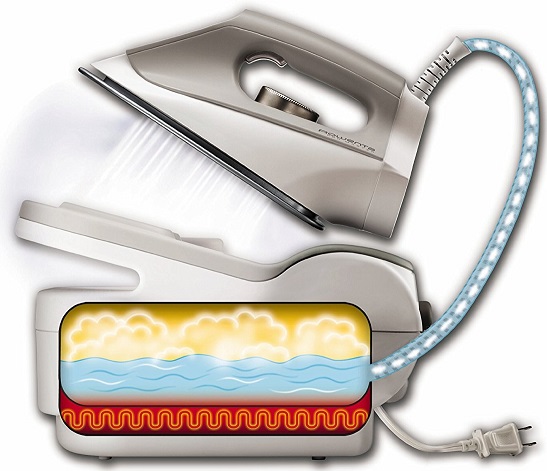 Powerful vertical steaming
Clothing steamers such as the Rowenta IS6200, which could be the best clothing steamer under $100, provide a lot of convenience. They allow quick and easy straightening of clothes without having to press them on the ironing board. With the vertical steaming option, the Rowenta DG5030 pro iron steam station, can not be compared with even the best handheld steamer; you will get way better results. With this steam station, you just need to direct the steam on your hanging clothes or drapes to remove creases. Vertical steaming can also be used on upholstery, slip covers, curtains etc.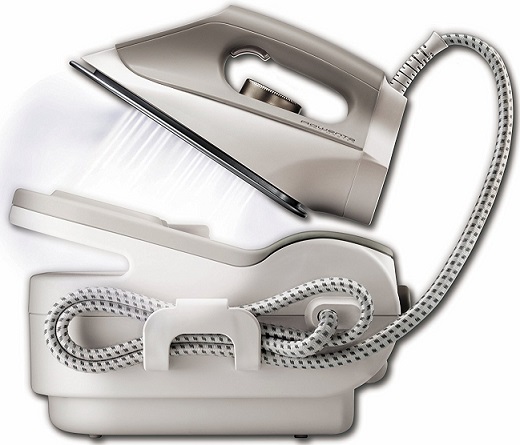 High-quality Stainless steel soleplate
The Rowenta DG5030 pro iron steam station has a high-quality stainless steel soleplate. The soleplate has a superior finish that provides an excellent glide on all fabrics. Stainless steel is durable and does not rust and is one of the best materials for the soleplate. As a compliment, the soleplate has numerous steam holes located uniformly on its surface and even on the tip for efficient steam distribution.
33-ounce water tank
The water tank is definitely one of the most notable Rowenta DG5030 parts. Unlike traditional irons which require very frequent refills, the Rowenta DG5030 pressure iron and steamer will give you up to 90 minutes of continuous steaming without requiring a refill. This is due to an extra-large water tank that has a capacity of 33 ounces. With this iron, you do not have to use distilled water for refilling as it is not easily damaged by scale. You, therefore, can use tap water.
12-foot power cord
Obviously, the longer the power cord, the more convenient it will be to use your steam iron. Therefore when you choose an iron with a long power cord, you will have less hassle ironing. Unlike models like the Rowenta DW5197 whose power cord is only 8 inches, the Rowenta DG5030 offers a 12-foot power cord. Other irons with equally long power cords include the Oliso Pro TG1600 and the Rowenta DG7530.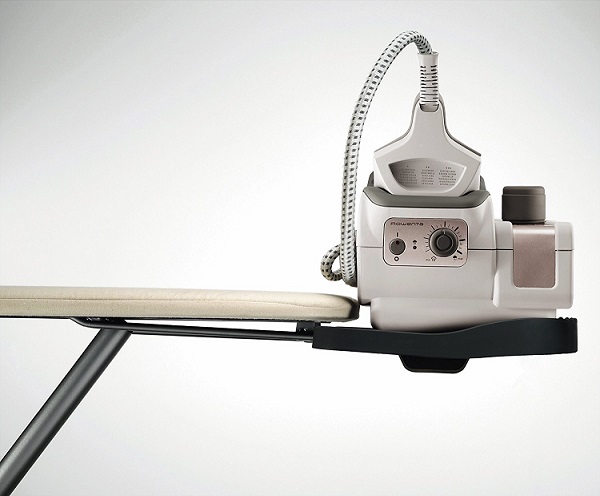 Looking to Buy Rowenta DG5030 Pro Iron Steam Station?
Pros
It produces a generous amount of steam.
There is a steam control button to suit different needs
It has a super large water tank that can last for up to one and a half hours
It has a 12 feet power cord
It comes with a 1-year warranty.
Cons
You have to wait for it to cool before refilling
It takes about six or seven minutes to heat up properly for steam production
Some buyers have noted that it leaks quite a bit especially after a period of use.
The water level is opaque and therefore difficult to monitor.
Quick Tips
To get good results with Rowenta DG5030 consider using a good ironing board. The best ironing board, in this case, is one that has a large working space since the iron has a wide soleplate. Read our guide on how to choose an ironing board to know more.
Rowenta DG8430 vs DG5030
In as much as the Rowenta DG5030 is a good iron, the Rowenta DG8430 is a better iron. Most notably, it comes with a higher wattage of 1800 watts and incorporates the cutting edge 400 micro steam holes Rowenta technology. It also heats up in less than half the time. Unlike in the DG5030, you can refill your iron without having to weight for it to cool down and thanks to a ? 'peep'' window, you can check the water level.
Rowenta DG5030 no steam?
If your steam station suddenly stops producing steam or if the steam output reduces considerably, your steam station could have developed a problem. However, before you raise any alarm bells check the steam vents to see if they are blocked as this could hamper steam output. If not, you can consider sending it for repair.
Rowenta DG5030 repair involves mainly replacement of parts especially if there are other major such issues such as major leaking, poor heating etc. Rowenta dg5030 replacement parts are easily available.
Conclusion
The Rowenta DG5030 pressure iron and steamer isn't just a fashionable iron, it is a practical iron that will marvel you with great results. However, if you are willing to pay a little more, you will get better performance, reliability, and features with the Rowenta DG8430.