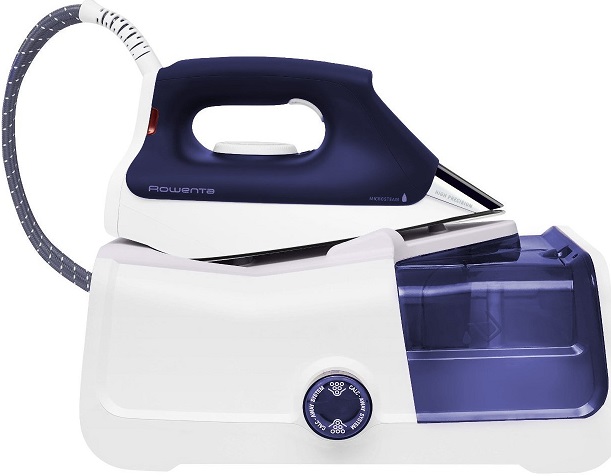 The Rowenta DG8430 iron and steamer pro precision steam station is not anything like the traditional irons, it has a much larger tank and many times more steam generation. Well, that's what you expect of a steam station except that not all steam stations are this good. This German made model is designed with comfort in mind without ignoring high performance.
Features of Rowenta DG8430
1800 watts of power
Powerful steam station with 3 times more steam than ordinary irons
400 micro steam holes technology
High-quality stainless steel soleplate with precision tip
Extra-large water tank
Continuous high-powered steam
Vertical steam and adjustable steam
12 inches power cord
Calc away filter system

1800 watts of power
This is a high power iron that is only rivaled by a few Rowenta models such as the Rowenta DW 9280 and the Rowenta DG8520 steam station. High power is a prerequisite for fast and efficient steam generation and on this, the Rowenta DG8430 steam station does not let down. In just 3 minutes this iron is ready to provide as much steam as the job calls for.
Powerful steam station
Steam stations are steam behemoths. The Rowenta DG8520 is no exception. This model will impress you with so much steam that ironing will no longer be a mundane task. Compared to other models such as the Rowenta DW5197 and the Rowenta DW5080 the Rowenta DG8520 steam station provides three times more steam.
400 micro steam holes technology
This is a patented technology owned by Rowenta. It is featured in select Rowenta irons such as the Rowenta DW9280 Steam Force and the Rowenta DW5197. The Rowenta DG8520 iron has 400 micro steam holes distributed evenly around the sole plate. This high number of micro steam holes allows a generous steam output while providing superior steam generation allowing easier ironing.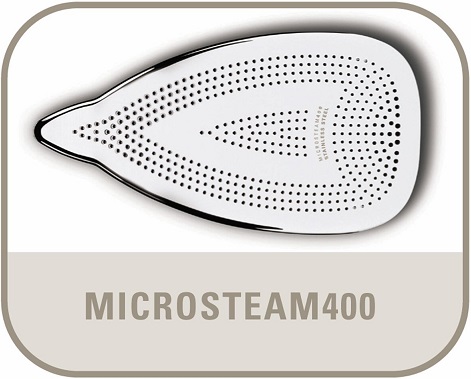 High-quality stainless steel soleplate
The sole plate is arguably one of the most parts of an iron. The Rowenta DG8430 iron and steamer pro precision steam comes with a sole plate optimized for smooth ironing and at the same time, to last a long time. If you use this iron, you will notice a superior glide thanks to a highly polished stainless steel bottom that is resistant to scratches. Stainless steel does not rust and is easy to clean.
Precision tip
Maneuvering through some spots such as the button areas, the color, pleats etc is tricky especially if you are using a broad iron. The Rowenta DG8520 comes with a precision tip on the soleplate. This tapering end gives easy access to such tricky spots on your clothes making sure you reach 100% of all areas while ironing.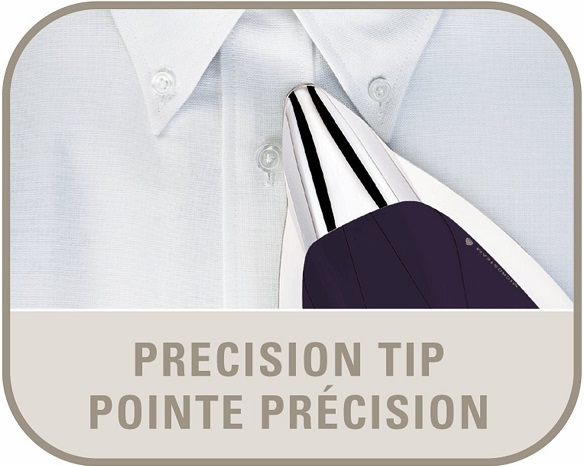 Extra-large water tank
A large water tank is the hallmark of all steam generator irons and is indeed one of the most valuable Rowenta DG8430 parts. With a 33-ounce water tank, this iron will give you 90 minutes of continuous steam. The tank is also easy to refill and no need for purified water; tap water works just fine.
Continuous high-powered steam
When steam is generated at high pressure, it is easily absorbed into the fabric removing creases almost instantly. The Rowenta dg8430 steam station generates steam at a pressure of 4 bars at the same time pumping out as much as 90 g per minute of continuous steam. You can bet on excellent ironing results.
Vertical steam
This iron is versatile because it can work as well as a dedicated steamer, for instance, the Rowenta IS6200. With powerful vertical steaming, you do not have to put your clothes on your ironing board. All you need is to direct the jet of vertical steam at your hanging drapes, slip covers or other garments. The results? Crisp and fresh fabric in just moments.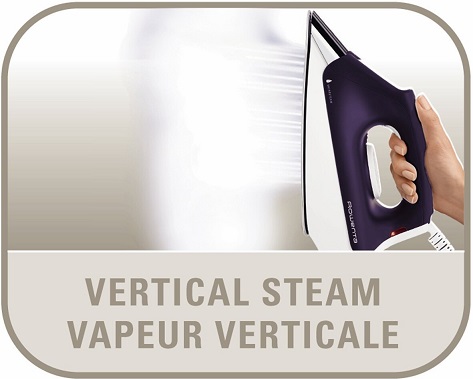 12 inches power cord
A long power cord gives you the convenience of ironing at any location in the room without having to use extension cables. Irons with long power cords are therefore more preferable than those with shorter ones. Like the Oliso Pro TG1600, the Rowenta DG8430 has a 12 inches power cord. This is one of the longest cords you will find on any model today.
Calc away filter system
This iron has an inbuilt filter that prevents entry of impurities in the water tank. This system also prevents the accumulation of scale that often builds up in a steam iron. This system, therefore, makes it easier for maintenance and increases the lifespan of the iron.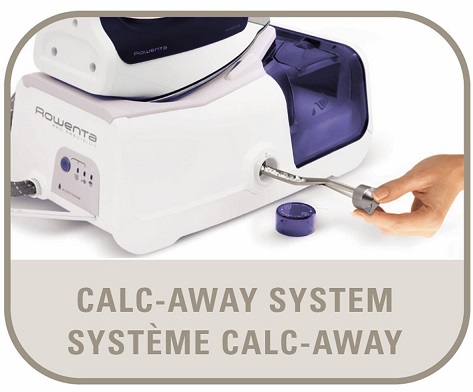 Looking to Buy Rowenta DG8430 Steam Station?
Pros
Generous steam generation and distribution providing excellent results
It can be used as a steamer to straighten hanging drapes
A large water tank that does not require regular refills
The water tank has a window for easy monitoring of water level.
It has an ergonomic design with easy handling, compact yet light and with a solid feel.
Cons
No on/off button, therefore, you have to use the wall socket
It has a short auto shut off time of only 8 minutes. It is therefore not appropriate for long projects like quilting.
Rowenta DG8430 vs DG5030
These two irons are almost similar in design, ergonomics and build. However, the Rowenta DG5030 lacks the patented 400 micro steam holes technology and has lesser power. If what you are looking for is excellence, the Rowenta DG8430 is the better choice.
Rowenta DG8430 vs DG8520
Even though the DG 8430 is a good iron, the Rowenta DG8520 is better in almost all aspects. It generates steam at a much high pressure, therefore, removes creases more easily. It also has a much larger water tank at 47 ounces. The icing on the cake is the Eco setting that saves as much as 20 percent of energy.
Conclusion
The Rowenta DG8430 Pro Precision steam iron is worth its cost and is one of the best steam stations available. Most buyers have found it to be reliable, long lasting and a good performer.