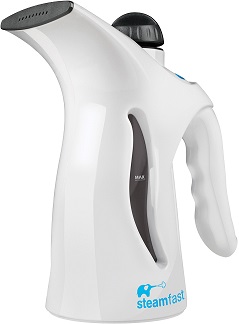 An important part of maintaining clothes is to iron them after washing. Ironing removes ugly creases and wrinkles which make a garment look unprofessional. Before, the only way to iron your clothes would be to press them on a flat surface with a hot metal surface. However, with the advancement of technology, there are now many models such as the Steamfast SF-435 Compact Fabric Steamer which can remove wrinkles through just the application of steam.
Steamfast SF-435 Compact Fabric Steamer
There are many advantages of using a steamer instead of an iron. The most obvious is that you won't require the use of the best ironing board to get the best results. Just this appliance, on its own, is sufficient to remove all wrinkles and make your clothes look smarter. This steamer from Steamfast has got several features that make it an excellent choice.
Features of Steamfast SF-435 Compact Fabric Steamer
Available in pink, orange or white
Compact and lightweight
Fabric brush, lint remover, rubber accessory housing included
Direct fill water tank
800 watts of power
9 feet long power cord
Removes wrinkles from clothes, curtains and upholstery

Available in pink, orange or white
It's always great to have some color options when buying a product. Most irons or appliances of the Steamfast SF-435's type just come in a standard shade of white. This model from Steamfast is available in white as well. However, there's also the pink and orange color options for the more expressive types of people.
Compact and lightweight
An iron can be heavy. It's got a huge plate made of stainless steel and has a heft to it as a result. By being a steamer, this appliance can get rid of the iron plate, making the unit much lighter. It's much more compact than the Rowenta IS6200 Garment Steamer, for example. This makes the Steamfast SF-435 the best clothing steamer you could get if you travel often.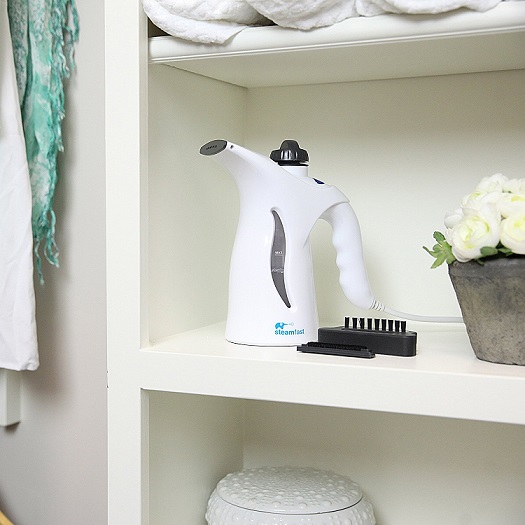 Fabric brush, lint remover, rubber accessory housing included
It's always great to get free extras with your purchases. This fabric steamer from Steamfast includes a fabric brush, lint remover and a rubber housing for the accessories as part of the standard package. Each accessory proves useful from time to time, especially the lint remover.
Direct fill water tank
Since this is a handheld fabric steamer, the tank is located with the steam nozzle. The tank can be opened and filled with water directly. This is unlike the arrangement in Steamfast's larger model, the Steamfast Fabric Steamer SF 407 where the tank is located at the base of the unit, separated from the nozzle which can be taken off.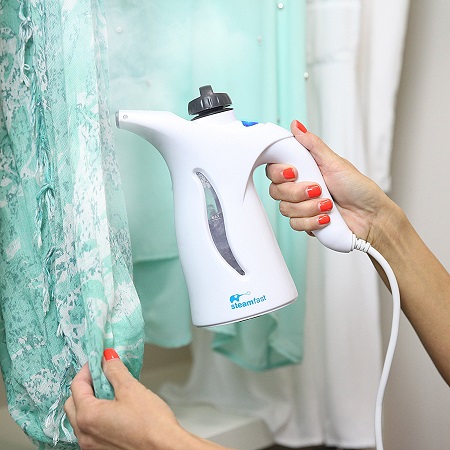 800 watts of power
Despite being relatively compact in size, the SF-435 performs just as well as bigger models like the Laurastar Lift+. This is thanks, in part, to the fact that it uses 800 watts of power. The appliance uses the power efficiently to work fast. It can remove wrinkles from your clothes, even when you're in a hurry.
9 feet long power cord
A short power cable can be irksome to steam with. You could find yourself constantly running out of the steamer's range from the plug point. Thankfully, you won't have that problem with the Steamfast SF-435 Compact Fabric Steamer. Its cable is 9 feet long, which is long enough for the average home user to be able to steam all the clothes in his room without any problem.
Removes wrinkles from clothes, curtains and upholstery
A standard iron isn't really versatile. It can only press out wrinkles from clothes. In contrast, a steamer can be used with other types of fabrics as well. This unit is capable of smoothening out wrinkles from your upholstery such as bed sheets and bed covers and from curtains which are hanging.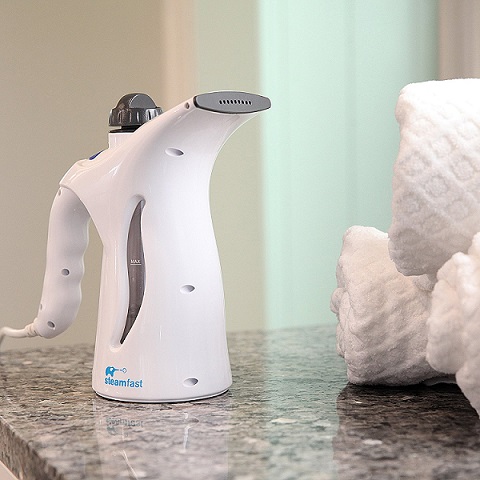 Looking to Buy Steamfast SF-435 Steam Iron?
Pros
Heats up fast, making steaming sessions quicker
Long power cable makes it easier to move around with the unit
Compact and ideal for taking when traveling
Available in trendy colors
Affordable price
Versatile as it can be used on upholstery and curtains, as well as clothes
Cons
Being a handheld model, its water tank capacity is limited to 7 ounces which is enough for only 12 minutes of continuous steam
Heavy and harder to handle when filled with water
Conclusion
Steamfast's compact & travel fabric steamer SF-435 is an all-around great option for those in the market for a steamer which is compact and effective. It's the best handheld steamer you could buy and is even better when you use it with Marry Ellen's best press refills.