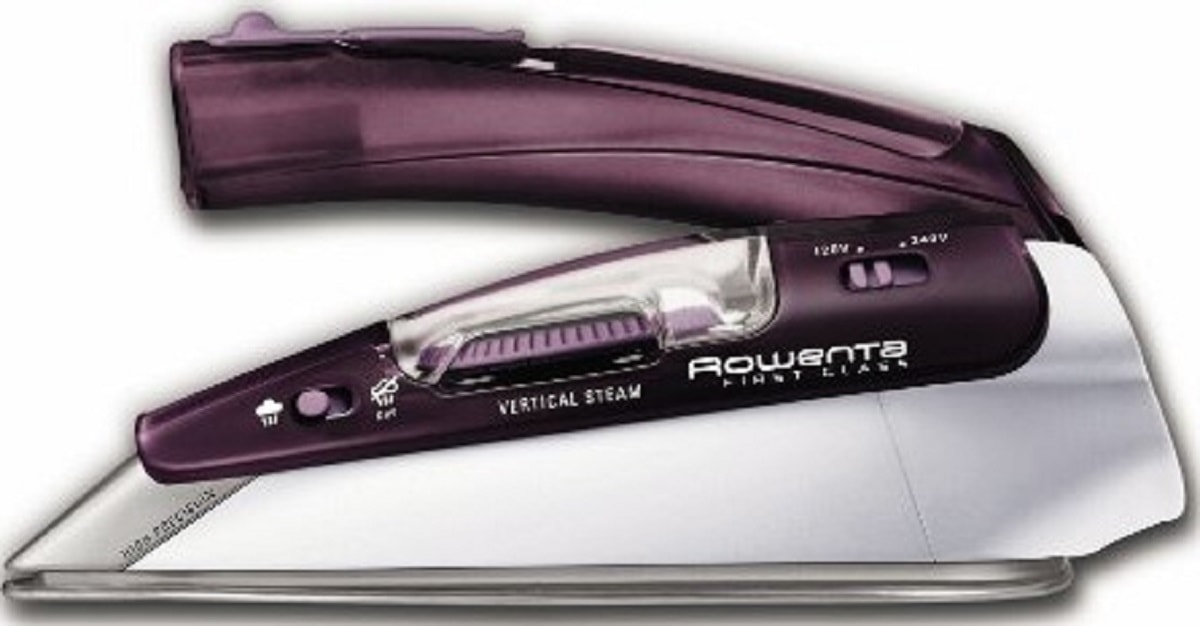 Those who travel frequently know the importance of a travel iron. It's a useful tool to carry for long trips as it lets you press your clothes while on the go. All irons were not created equally. A model like the Rowenta DA1560 Classic Compact Steam Iron is more suitable for including in your travel bag than others such as the Rowenta DW5080 or the Rowenta DW8080.
Rowenta DA1560 Review
With the DA1560, Rowenta has a made an iron that puts the needs and requirements of travelers first. Its reliability and advanced features set it apart from irons made by other manufacturers like the Oliso Pro TG1600. In classic Rowenta fashion, the unit also has a trendy design that will appeal to modern aesthetic tastes.
Features of Rowenta DA1560
Dual voltage
Compact design with folding handle
Lightweight
Stainless steel soleplate
High-precision tip
One-year warranty
Steam generation
Free travel case included
Vertical steam ironing functionality

Dual voltage
Different countries use currents of different voltages. The current coming out of the plug could be 120 volts or 240 volts, depending on where you are. For example, the USA uses the former and Europe the latter. This iron is designed to work with both voltages so that you won't face any trouble connecting it to a power source when traveling abroad.
Compact design with folding handle
The compact design of the DA1560 is one of its main selling points and what distinguishes it from the Rowenta DW9081 and other models from the company. One of the best aspects of the compact design is the folding handle. The handle is normally easy to hold but can be folded down to be flat with the body when you don't require the iron. This allows you to store the iron in tighter spaces and definitely benefits portability.
Lightweight
This iron is much lighter than other ones like the Rowenta DW9280. It weights only 2 pounds when its water tank is empty. It's quite light and easy to carry around as a result. It also makes the iron easier to handle and operate as lifting it up doesn't require much strength.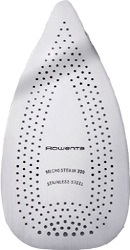 Stainless steel soleplate
Stainless steel is the best material to use for the soleplate of an iron. It's durable and won't get scratched easily. Stainless steel soleplates tend to be some of the smoothest. As a result, this iron can glide over clothes with ease. If you find it to be less smooth after using it extensively, you can clean the plate with Rowenta ZD100 Cleaner Kit for steam irons to restore it to its previous state.
High-precision tip
The high-precision tip found on the Rowenta DW6080 is present in this model as well. The soleplate has a narrow section at the top which can be used to iron places which are hard to reach otherwise. Pleats, seams, the space between buttons can all be ironed without hassle thanks to this feature.
One-year warranty
All Rowenta irons such as the Rowenta DW7180 and this one, the Rowenta DA1560 come with a one-year warranty, effective from the date of shipping. While Rowenta products are very reliable, the warranty is still a great thing to have as it ensures peace of mind. Rowenta's excellent customer support means that you won't have a hard time claiming your warranty if you have a legitimate reason.
Steam iron
Despite being so compact, Rowenta still managed to make the DA1560 a steam iron. The iron has 200 small holes in its soleplate to eject steam from. It spreads steam evenly and has a steam burst mode to make it easier to iron out tougher wrinkles.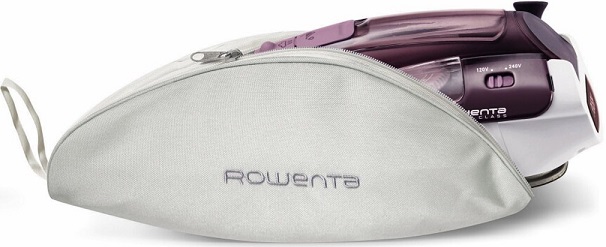 Free travel case included
The inclusion of a special, form fitting case for the iron by Rowenta shouldn't be surprising considering the iron's focus on portability. The case is easy to slip the iron in and out of and does a good job of protecting the iron from scratches and other types of damage.
Vertical steam ironing functionality
Even though the iron is mainly designed to press clothes in a conventional way, it also supports vertical steam functionality. Using this feature you can use the steam from the iron to remove wrinkles from a hanging shirt or a pant.
Read Pros & Cons Before Buying Rowenta DA1560
Pros
Very portable and excellent for traveling
Easy to handle and use
Even steam output
Excellent post-sales service
Looks eye-catching
Glides smoothly over clothes
Cons
Lack of an automatic switch off safety feature
Water tank capacity of 2 ounces is a little less
Conclusion
The Rowenta DA1560 is an excellent product which works reliably. It's one of the best irons for traveling that's available. It's even great for using at home. To get the most out of it, you should pair it with the best ironing board. Those put off by the loud color of the unit can look at a model like the black colored Rowenta DW5197.