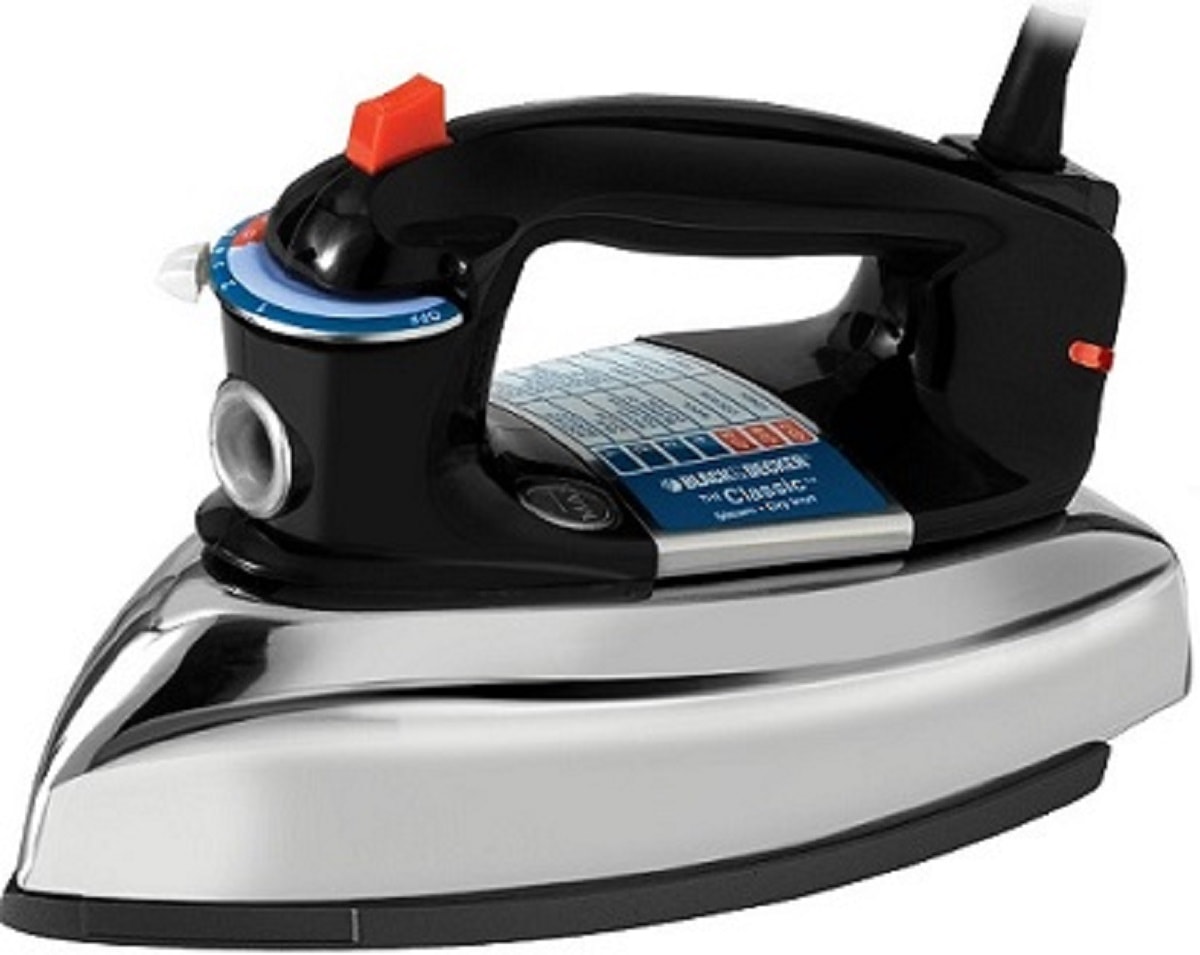 An iron is an important home appliance that can prove useful for many different chores. They shouldn't be neglected. However, you don't need an expensive model like a Rowenta for most basic functions. A relatively cheaper, yet well-made model like the Black & Decker F67E should be sufficient for most people's needs.
Black & Decker F67E Review
Black & Decker the classic iron model #F67E is a great option for budget-minded shoppers. Despite an affordable price tag, the iron doesn't skimp out on any important features. It has all the essentials like steam functionality and some nice extras like automatic shut-off and a 360-degree pivoting power cord connector. The unit is pretty durable and should last you a long time as well.
Features of Black & Decker F67E:
Automatic shutoff
Pivoting cord
Fabric selector dial
Variable steam options
Aluminium soleplate
Smooth ironing
Steam spraying functionality
Grooves for ironing buttons

Automatic shut-off
This feature is great from a safety standpoint. The iron is designed to automatically switch off when it is knocked over or left unused for an extended duration of time.
Pivoting cord
It can be hard to iron clothes properly if the connector which connects the power cord to the unit isn't flexible. Thankfully, the F67E black decker has a pivoting cord which can rotate 360 degrees. This will help you to increase your range of motion and iron more comfortably.
Fabric selector dial
This dial makes setting the temperature for the iron to operate at as easy as selecting the type of fabric you're about to iron. The dial is placed near the front of the handle portion of the iron. It's easy to access and manipulate. It has seven settings ranging from acrylic to linen. It also has an 'Off' setting which is rarely found on other models.
Variable steam options
This iron allows you to select the amount of steam you want it to produce. You can adjust the output easily to suit the type of fabric you are pressing.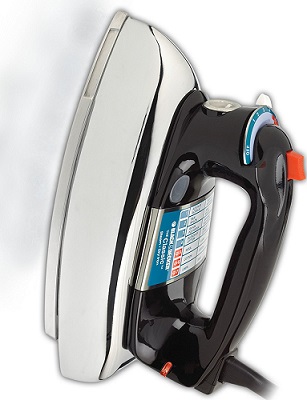 Aluminum soleplate
Aluminum is lightweight and a good conductor of heat. It's not as smooth as stainless steel, though. It's also not as durable and can be scratched easily. However, considering the price of this model it's not a bad compromise as it performs well enough.
Smooth ironing
Even though an Aluminium soleplate isn't the smoothest, this one's is coated with a layer of non-stick material. This means that the iron can glide smoothly, even over coarser materials.
Steam spraying functionality
The ability to spray steam is a great feature to have as it makes removing wrinkles from clothes a lot easier. The Decker & Black F67E has 25 large steam vent holes on the bottom to dispense steam from. You can also use the iron without steam.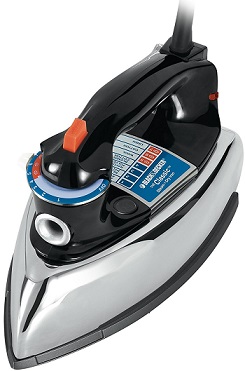 Grooves for ironing buttons
One of the most simple yet thoughtful features that this iron has is grooves in the sides of the front portion of the soleplate to make it easier to iron around buttons and other small areas. Given how simple the feature is to implement, it's surprising that more irons don't have it.
Are you looking to buy Black & Decker F67E?
The Pros
The attractive price tag of the iron and the several handy features that it has make it a purchase which presents excellent value for money.
The features it has are well thought out and properly implemented.
It has solid build quality and is quite durable
The positioning of the fabric selector dial and steam control button near the top of the handle make them easy to access and use.
Its hefty weight makes the iron easy to press clothes with, as one doesn't need to apply much pressure himself and can let the weight of the iron do the work.
The Cons
Due to the dark color of the casing, it can be hard to ascertain what the water level in the reservoir is without closer inspection.
This iron is quite heavy, weighing 3 pounds with the tank empty.
Lack of a spray mist option means that the only way to get water out of the iron is in the form of hot steam.
Conclusion
All things considered, the Black & Decker F67E is a great product with many useful features available at a budget price. It does its job well and is best paired with an iron board like the Homz T-Leg Ironing Board for better results. This iron is great for those looking for a basic one that works reliably. People looking for more advanced options and features should look elsewhere, at models like the Black & Decker D2030.

Highly relevant to read…