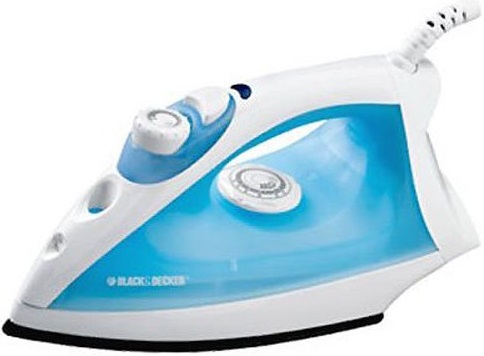 Apart from Panasonic and Rowenta, Black & Decker is the other notable brand for steam irons with more model choices. If you want a steam iron that is affordable, yet a decent unit with great performance, then try the Black and Decker F210 Steam Iron with Non-stick SolePlate. This steam iron heats up quickly and will work extremely well in getting rid of wrinkles from different types of fabrics. Here is more about this highly affordable unit with loads of features.
Black and Decker F210 Steam Iron Review
Black & Decker F210 is the number one seller in Amazon's Irons section and this surely does not disappoint. Simple, easy and yet convenient, this steam-iron lets you fight tough wrinkles with no hassle. Not only is the model super rich in features but also high quality and a bargain price. It offers the most convenient usage at a very affordable price.
Features of Black and Decker F210
1200-wattage
Variable steam and temperature control
Nonstick soleplate
Spray mist
Translucent Water Tank
Fabric guide
360 Pivoting Cord
Size: 5.8″ (H) by 4.8″ (W) by 10.9″ (L)

1200-Wattage
The higher the wattage, the quicker and hotter an iron gets. Being a 1200-watt steam iron, Black & Decker F210 takes only about 2 minutes to heat-up. Once it is hot, it quickly irons out wrinkles, especially on lighter fabrics. That comes in handy, particularly in the morning when one is in a hurry to get ready for school or work.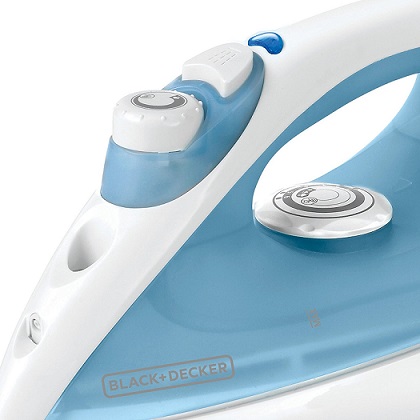 Variable Steam & Temperature Control
For best results, the steam iron has a knob (variable steam selector) below the handle which allows you to adjust the steam-level setting to suit each fabric. The fabric selector has numbers to indicate the different settings. There is improved steam flow when you use quality ironing boards like the Homz T-Leg Ironing Board.
The SmarTemp® system
The iron's SmarTemp® system ensures you are ironing at the right temperature and that your clothes obtain even heat for a sharp, professional look. A simple indicator light glows when the unit is heating up and shuts off once your desired temperature setting has been reached and the iron is ready for use.
Non-Stick Sole Plate
The high quality, non-stick soleplate with steam vents glides over fabrics easily without dragging, as it smoothens out wrinkles. In addition, the soleplate has micro-holes to evenly distribute steam as you iron.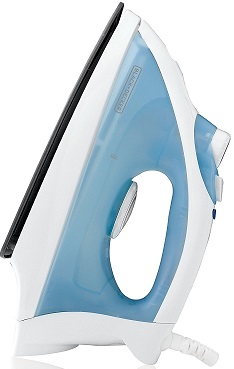 Steam Mist
The iron also features a button at the top which activates the spray-mist feature. This feature dampens stubborn stains before you iron them. Besides, you can use this steam-iron for traditional ironing by-simply selecting the dry option.
360-Degree Pivoting Cord
The 360 swivel-cord rotates for enhanced mobility, in addition to preventing you from getting tangled inside it while you iron.
Fabric Guide
There is a fabric guide printed on the iron's heel with the appropriate ironing temperatures for different fabrics. This ensures that you select the correct temperature for the fabric you are ironing.
Should You Buy The Black and Decker F210 SmartTemp Iron?
Pros
Cheap – This unit costs less than few dollars on Amazon, which is quite affordable for the ordinary person. For instance, you're saving yourself few dollars when you purchase this compared to buying a Black and Decker F67E.
Lightweight – This iron weighs only 1.7 lbs with an empty tank. Most medium-range steam irons weigh around 0.5 to 1 pounds more. For instance, Black & Decker D2030 weighs in at around 3 pounds. Being lightweight can be a lifesaver, especially for those with weak arms and other heath issues, as your hands will not get tired while you iron.
Will work well on a variety of fabrics – This steam iron takes about 2-minutes to heat up in order to produce powerful steam which gets rid of wrinkles on most fabrics in-an instant.
Cons
Leaks badly – A few customers have reported that the steam iron leaks water on their clothes and ironing board. To prevent dripping, allow the iron to stand for about 2 minutes after it is plugged in before you begin ironing. It lacks the anti-drip system feature, unlike the Black and Decker Xpress Steam Iron, which helps prevent water spotting.
Not hot enough – The generation of heat is not up to par according to some buyers since the soleplate doesn't get hot enough to take-out wrinkles.
The lightweight can be a drawback for the iron as there is a lack of weight-pressure to smooth out creases. It seems that it's only suitable for ironing lighter-weight materials owing to its insufficient heat and weight, making it hard to get rid of more stubborn wrinkles on-thicker clothing.
Conclusion
The Black and Decker F210, is a light-weight iron that does a great job at getting creases out of garments. While a few customers have complaints of water leak, most people say that this steam iron works just fine. This unit is a great choice that you need to consider if you're in search for a cheap and lightweight steam-iron that works fast and efficiently. However, if you are searching for a basic steamer iron for everyday use, we would recommend spending about ~$10 more and get the Black and Decker Classic steam iron. Also known as Black & Decker F67E, this one is a classic featuring simple controls and more importantly, with less complaints.

Related read: