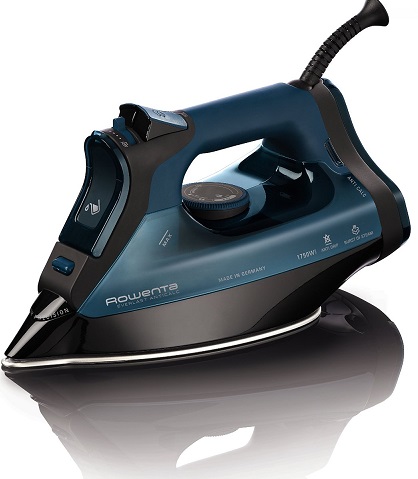 The Rowenta DW7180 is a German made iron made for durability and designed to look good. Not only is it charming; it is one of the most effective irons costing less than $100. One of its most prominent features is the anti-calc system that includes a unique limescale collector.
What is anti calc? Anticalc is a special feature that prevents the build- up of lime increasing the lifespan of the iron.
Features of Rowenta DW7180 Everlast Iron
Patented scale collector
1750 watts of power
400 micro steam holes technology
Premium stainless soleplate with precision tip
3 steam options for best ironing results
Auto steam mechanism
Self-clean mechanism
Anti-drip system
A ten-ounce water tank.
Ergonomic handling

Patented scale collector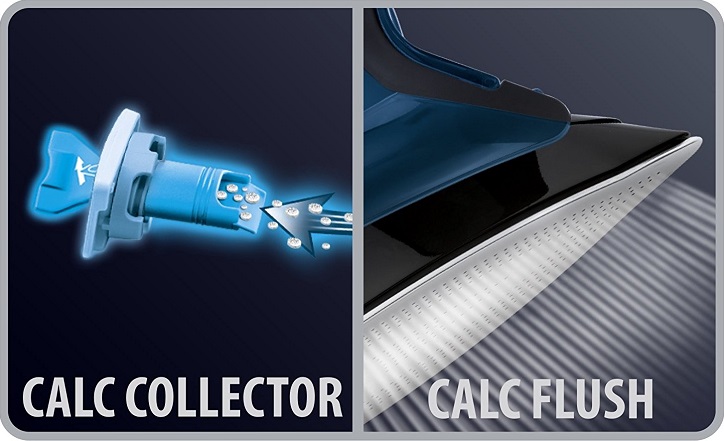 Most tap water is hard. It contains dissolved salts and minerals. When these accumulate inside the iron, they reduce its efficiency by blocking the steam vents. The Rowenta anti-calc iron comes with a unique scale collector and anti-calc system that traps as much as one teaspoon of scale in 3 months. If you are looking for anti-calc meaning, it is simply a system that prevents the buildup of mineral deposits.
1750 watts of power
There is no doubt that the Rowenta dw7180 everlast is a high power iron. With 1750 watts, it beats other popular irons such as the Rowenta DW5080 which features 1700 watts of power. The DW7180 heats up in less than two minutes and stays hot throughout the ironing session. When hot, this iron is also able to produce a powerful shot of steam at 180g/min which only compares to that of the Rowenta DW5197. With this iron, you will have no trouble even with the toughest creases.
400 micro steam technology
This is cutting edge technology exclusive to a few Rowenta models. The Rowenta DW7180 everlast has 400 micro steam holes evenly distributed on the soleplate. The vast amount of steam holes ensures an excellent amount of steam generation while the arrangement on the sole plate ensures an even distribution of steam. When you combine proper distribution and generous steam generation, you get a very effective iron. Other irons with a similar number of micro steam holes include the Rowenta DW8080, the Rowenta DW9081, and the Rowenta DW9280.
Stainless steel soleplate with a precision tip
With the DW7180, you will find a high-quality stainless steel soleplate. Designed with a thick central core, there is even heating on all areas of the soleplate. The sole plate is designed for an easy glide on all types of fabrics. To maintain the glide, it is a good idea to use the Rowenta ZD100 Cleaner Kit for steam irons occasionally to clean the soleplate. Another important feature here is the precision tip. It allows easy access to tricky areas such as pleats, pockets and the collar region.
3 steam options
This model offers three steam options: variable steam, vertical steaming, and burst of steam. Vertical steaming converts the iron into a steamer and can straighten and freshen anything from drapes to upholstery. Variable steam allows different amounts of steam to be generated to match different needs. A burst of steam allows a shot of steam to be directed at a specific point on the fabric to flatten tough creases.
Autosteam mechanism
The Rowenta Dw7180 is built for efficiency. You do not necessarily have to adjust the steam output manually as the iron continually adjusts the steam output to the soleplate temperature. The higher the temperature, the more the steam it generates and vice-versa. This conserves water and at the same time makes ironing easier.
Self-clean mechanism
As a support to the anti-calc system, this iron features a self-clean mechanism. The self-clean action flushes out smaller deposits that may have accumulated in the tank of the iron and keeps the micro steam holes clear. This ensures optimum steam generation and high performance of the iron.
Anti-drip system
This is put in place to prevent spillage and dripping which may damage delicate fabrics.
10-ounce water tank
The Rowenta DW7180 Everlast has a 10-ounce water tank that can go for up to 30 minutes without requiring a refill. If you require a much larger water tank, you may consider the Oliso Pro TG1600 or the Rowenta DW8080 that both come with a 12.7-ounce water tank.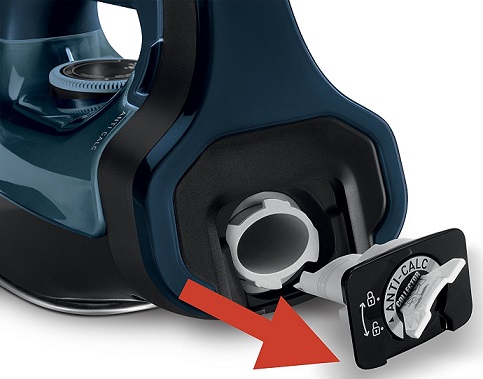 Ergonomic handling
This model has a comfort handle with a good grip. The buttons are located within easy reach and a yellow light indicator shows when the iron is hot. The water is easily fillable on a faucet and is shaped like a funnel to prevent splashing.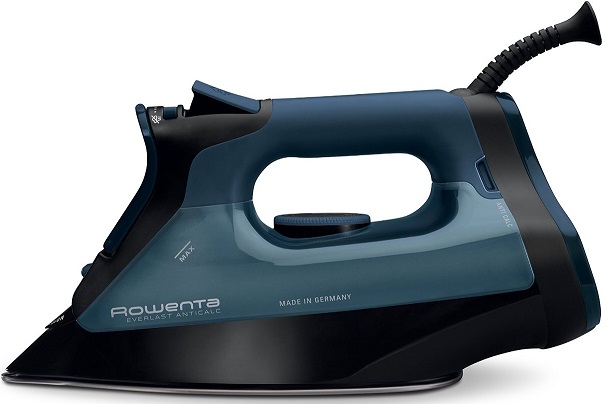 Looking to Buy Rowenta DW7180 Steam Iron
The Pros
Great steam generation and distribution
It offers easy manoeuvring around tricky areas because it has a precision tip
A unique scale collector for easy maintenance and increased lifespan
It has auto off for safety.
Vertical steaming and can be used to straighten hanging clothes
The Cons
At 8 inches, the power cord could have been longer.
While using the burst of steam at lower temperatures, there is a tendency of leaking.
The water tank is opaque hence the water level can't be monitored easily.
The Rowenta everlast anti-calc reviews from many buyers paint a picture of a reliable and durable iron. The cons are not a deal spoiler and should not be a major concern. For a better ironing experience, it is advisable to purchase the best ironing board you can afford.

Rowenta DW7180 vs DW9280 – which is better?
Even though there is only a slight price difference between the Rowenta DW9280 and the Rowenta DW7180, The Rowenta DW9280, comes with more advanced features. It is a digital iron, with all the bells and whistles. If you are not tied by a budget, it is a better choice.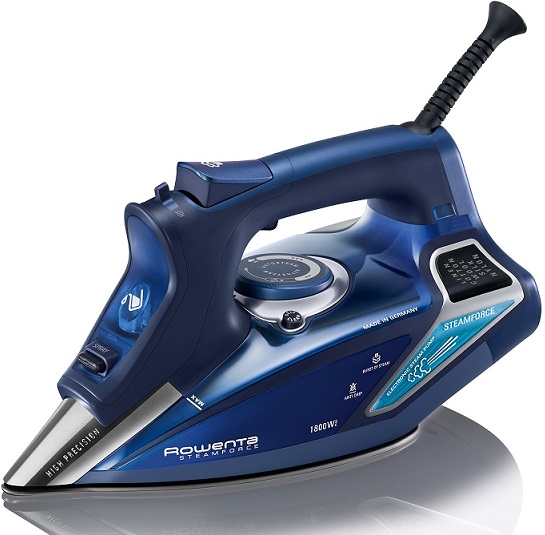 Highly relevant to read…