Properly ironed clothes are a must for every professional working in a field such as law or finance. Improper attire can give the wrong impression to clients and drive them away. For this reason, people working in such fields prefer to wear only properly ironed clothes. As ironing can't be skipped, irons which make the chore easier are preferred. The Rowenta IS6300 master valet full size garment steamer is one such appliance.

Rowenta Master Valet IS6300 Steamer Review
Building on the success of its younger sibling, the Rowenta IS6200, the IS300 is improved in almost every regard. It's clear that Rowenta has worked hard to counter all the issues and criticisms that prevented the Rowenta IS6200 from shining. In fact, it's even got some new features that make this model a more compelling buy and help it rank better than irons from competing brands such as the Steamfast SF-407.
Rowenta IS6300 Features
Large water tank
Press hanger
1550 watts of power
Height-adjustable pole
Hangar features built-in clips
Foot operated on/off switch
Removable tank

Large Water Tank
The benefits of having a large water tank are obvious. It allows you to steam clothes for long duration of time without worrying about if the water will finish and you'll have to refill the unit's tank again. Since most portable garment steamers have a small sized tank to make the unit easier to hold up to steam, these leads to sub-optimal capacity. By being a full sized unit, with the tank resting on the ground, the IS300 circumvents this issue. In fact, it's tank is so huge that you could use this steamer to steam your clothes for an hour continuously, far longer than can be done with other irons such as the Rowenta DG5030.
Press Hanger
The notable feature of this steamer's hangar is that it there is a pressing surface integrated into it. This surface is normally hidden since it rolls into the hangar. However, it can be pulled out whenever required to reveal a flat surface that prevents steam from escaping from behind when the cloth item is hung on the hanger.
1550 Watts of Power
Using 1550 watts of power, this steamer is undoubtedly very capable of pushing out steam at a fast rate. It can make short work of any type of wrinkles or folds. The high wattage allows the steamer to heat up fast. This way, it can start producing steam much faster than is possible with a less powerful, lower wattage iron or steamer. It effectively allows you to get to work immediately and doesn't waste your time by forcing you to wait long for the water to heat up. The high wattage makes this steamer ideal for professional scenarios and applications.
Height Adjustable Pole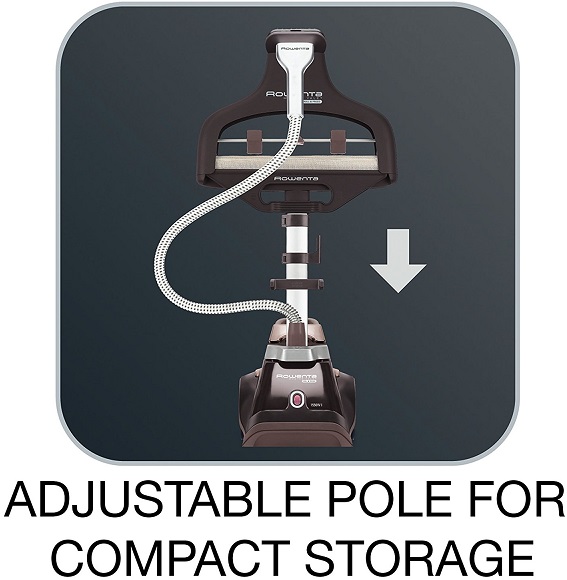 Adjusting this steamer to suit your height is very easy thanks to the height adjustable pole. This pole has a telescopic design structure which allows a user to pull it out, up to a height that he or she desires. This can make steaming clothes a much easier affair for people who are shorter or taller than average. The convenient and clever locking mechanism is pretty sturdy and ensures that the pole retains its length and height after it's been pulled out. At the same time, it's easy to fold back in place as well and slides in smoothly.
Hanger With Built In Clips
Anyone who's steamed a lot of clothes knows how much more convenient it is if the shirt or pant is hung up in such a way that it's accessible from all sides. A hanger integrated into the steamer allows one to accomplish just that. This model goes one step further than the Rowenta DG8430. Its hanger features built-in clips which ensure that the cloth item is securely fitted onto the hanger. It ensures the clothes won't fall off, even as you're steaming.
Foot Operated On/Off Switch
It's common to steam a number of clothes together at once. This way more clothes can be made wrinkle-free in one steaming session. However, switching between clothes can take a bit of time. To ensure that steam and electricity aren't wasted, you need to switch the steamer off. This can be a chore if it's a standard switch that's hard to reach and manipulate. Thankfully, Rowenta chose to go with the more ergonomic option of a foot-operated on/off switch. This allows a user to quickly and easily turn the appliance on and off, using only their foot.
Removable Water Tank
One of the most annoying drawbacks of electric steamers is that they eventually run out of the water. At this point, they need to be filled up again. In models where the tank doesn't separate from the rest of the unit, this can be a chore since you either have to take the entire steamer to the faucet to fill up the tank or fill the tank cup by cup. Either option isn't very desirable. That's why having a removable tank is so important. It allows you to quickly and easily fill up the tank again without any hassle.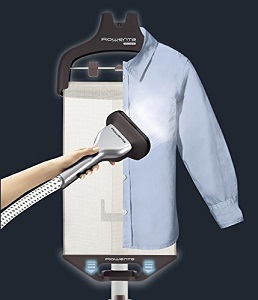 Looking to Buy the Rowenta IS6300 Steamer?
The Pros
Oversized Tank: A garment steamer with a tank capacity as large as this one is hard to find. The high capacity ensures you won't have to be filling it up with water too often.
Well Designed Pole: The telescopic pole makes steaming much easier by allowing a user to securely attach a clothing item at a height they find comfortable.
Several Included Accessories: This steamer comes with a number of nifty extras out of the box. This can be fitted on or ignored, as per your requirement and can make steaming clothes much easier in some circumstances.
Strong Hanger: The hanger is built to be sturdy and can easily bear the weight of heavy clothes like denim jeans or jackets.
The Cons
Expensive: While the IS6300 does a number of things to justify its price, the fact still remains that this steamer has a premium price tag.
Tough Hanger Clips: The clips built into the hanger, while a nice addition, can be a bit hard to open because of how strong they are and their position close to the roller.
Foot Operation Has A Learning Curve: People who are used to operating electric steamers with only their hands will find transitioning to a foot-operated system a drastic change that can take some time to get used to.
Conclusion
So, should you buy the Rowenta IS6300? Well, the answer's pretty simple. If you're a person who needs a robust steamer that can remove wrinkles from any type of clothes, then this is the product for you. However, if your steaming requirements are more modest or you desire a more traditional iron, something like the Rowenta DG8520 might suit your needs better.