Steam irons these days come in all shapes and sizes. If you are just looking at the shape and size of the steam iron, it can be difficult to pick the right one. You have to also look at the functionality. You have to start with the specifications. Only when the specifications are conducive for you, you will buy a steam iron. Normally, when you just search for best steam iron, you will get plenty of options like Rowenta DW5080, Rowenta DW2070, and Sunbeam Sun Master Iron. You have to then compare these options in order to choose the right one.
We will today talk about an iron which has more features as compared to your average steam iron. We will discuss the T-fal FV4017 steam iron.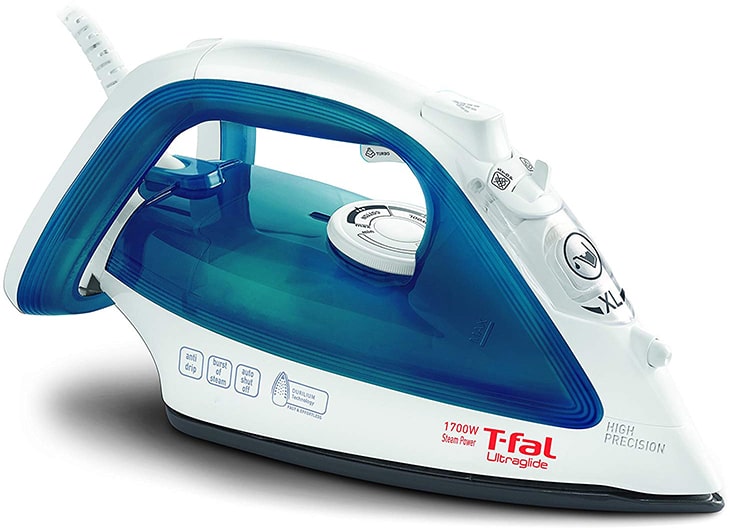 T-fal Ultraglide FV4017 Review
The design of this iron is much more modular as compared to some of the other steam irons. Additionally, the visually appealing design will attract any prospective buyer looking for a steam iron. There are a few other features which you have to take into account as well.
T-fal FV4017 Features
Easy to glide
Nonstick soleplate
Scratch resistant
Ceramic soleplate
1700 W power rating
Auto shutdown feature
Ergonomic steam trigger
Powerful burst steam
Easy to fill the water tank

Easy to glide
With the help of ceramic soleplate, you can be sure that the iron is pretty easy to glide. This means that irrespective of the fabric which you are ironing, you will be able to iron quite easily. As a result, the time which is required in order to iron each and every fabric will be much lower.
Nonstick soleplate
The main reason why you need a nonstick soleplate is to ensure that each and every fabric can be ironed. Irrespective of the temperature which you set, you can be sure that the ironing will go smoothly.
Scratch resistant
Many irons like the Black & Decker D2030, CHI (13101) and Steamfast SF-407 often do not have a scratch resistant soleplate. As a result, you have to think about replacing the soleplate or repairing it from time to time. This can certainly add to a lot of expenses. If you don't want to do that, you will have to buy a new steam iron. With this particular iron, you will have no such problem. With the help of scratch resistant soleplate, you can be sure that it will last for a pretty long period of time.
Ceramic soleplate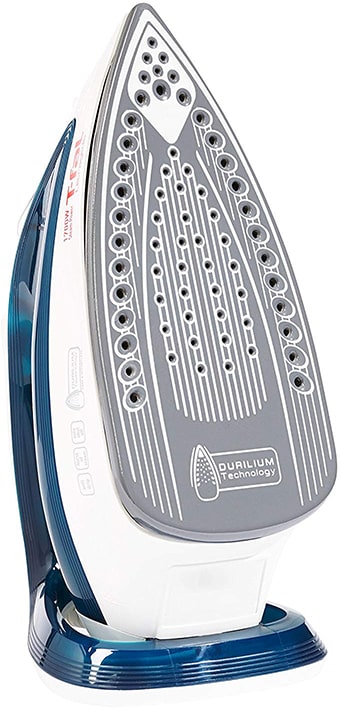 Ceramic soleplate gives durability to the steam irons. You will be able to use them in a rough manner and still, it will continue to work. This is one of the main reasons why you should opt for irons with ceramic soleplates.
1700 W power rating
With 1700 W of power, you can be sure that the steam will be generated pretty quickly. You will not have to wait for a longer period of time for the steam to get generated. This will actually help you in saving a lot of time.
Auto shutdown feature
The auto shutdown feature is for added safety. It will help you in saving electricity. If you do not operate it for 8 minutes, it will shut down automatically when it is in the standing position. On the other hand, when it is in the horizontal position if it is not operating it for 30 seconds, it will shut down. This will help you in protecting the fabric on which it is placed as well.
Ergonomic steam trigger
When you want it to release the steam, there is a proper trigger. It is ergonomically designed. This means that you will be able to control the steam trigger easily while using the steam iron.
Powerful burst steam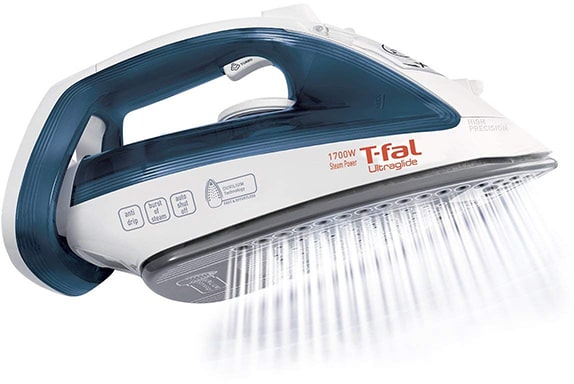 When you're looking for burst steam settings, it can provide you with 80 g of steam per minute. This ensures that you are able to remove the hardest to remove wrinkles. You will be able to get crisp and clear fabric quite easily.
Easy to fill the water tank
The water tank is pretty large and the extra-large water inlet helps in easy refilling the tank. This means that you will not have to worry about spilling the water over while filling water in the water tank.
Thus, when you're looking for steam iron under $50 or when you're looking for the best steam iron available, instead of looking at other options like T-Fal FV4495 it is a good idea to go with the T-fal FV401The number of features mentioned in this T-fal FV4017 review, make it a much better option as compared to any other steam iron.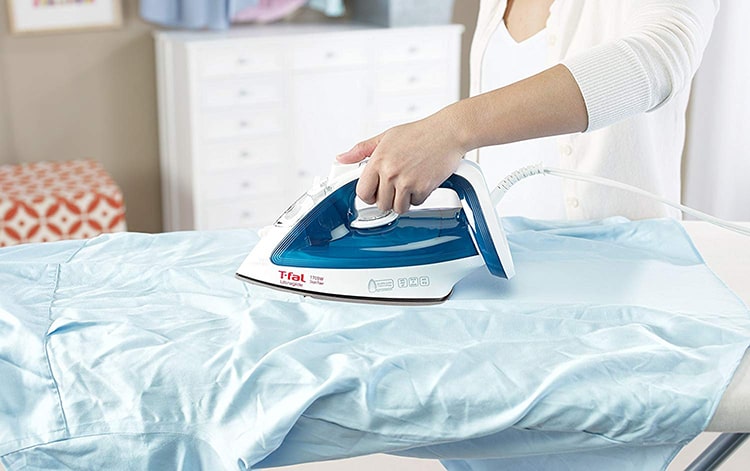 Looking to buy T-fal FV4017? Check out The Pros and Cons.
The Pros
The ceramic soleplate is highly durable.
It has burst steam mode.
An ergonomic steam trigger.
It has a large inlet for filling the water into the water tank.
Auto shutdown feature.
It has a power rating of 1700 W.
The soleplate is scratch resistant.
The soleplate is also nonstick in nature.
It is easy to glide the iron over any fabric.
The Cons
You should avoid filling the water tank up to the brim as it can result in water spillage.
Conclusion
Thus, if you already have a homz ironing board and are looking for a good steam iron to go along with it, you should definitely choose the T-fal FV4017 steam iron. The features which it has on offer will ensure that you do not have any kind of complaints while using the steam iron. These features make it a much better iron as compared to CHI (13101), Steamfast SF-407 and other such options.