Maytag is more popularly known for their dryers and washers rather than the iron. However, this has changed a lot in the recent years. Due to unavoidable problems such as leakage or low temperature, even from the well-established brands, people have been trying out new products for a change. Oliso Pro TG1600, Shark GI505, Black and Decker D2030, Maytag and the Sunbeam Steam Master GCSBSP-201-FFP 1400 Watt are some of the brands that have been trending hugely in the market. Hence, as long as the price tags are reasonable, the customers will flock in. This is a review on the Maytag M400 that discusses all its specs and features in great detail while also pointing out the pros and the cons.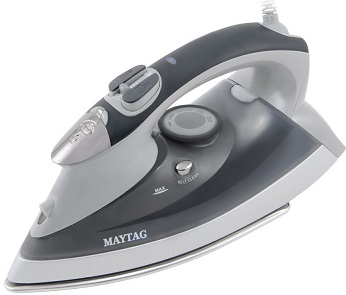 Maytag M400 Speed Heat Iron Features
The iron runs at 1500 watts
It has a smooth and heavy soleplate made entirely out of stainless steel
The soleplate is designed to save it from damage due to calcification
It is an anti-drip & anti-scale streamer iron
It features a steam burst
The iron allows for variable steaming for different type of fabric
The iron also allows for vertical steaming
It sprays a fine mist so that your clothes do not get drenched while steaming
The iron has an auto shut off feature. This keeps the soleplate from getting too hot and also helps save electricity
The iron has a dimension of 11.5 by 4.8 by 5.8 inches

Stainless steel soleplate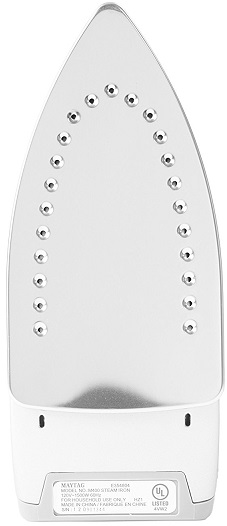 The iron uses a stainless steel soleplate which does not rust or corrode easily, even when used frequently together with the steam. This ensures that no stains are passed along to your garment during the steaming. The soleplate has a very quick heating time and does not take any longer than a minute to catch up the full heat. This makes sure that you do not have to keep on waiting. This is probably the Best Steam iron under $50 that allows you iron bulk quantities of garments within a very short time.
Steam burst for wrinkles
The Maytag M400 can easily give a tough competition to all the Best Clothing Steamers out there in the market. This is an iron plus steamer and starts giving full blasts of steam in just under a minute. This feature makes the iron very convenient for straightening out the stubborn wrinkles that refuse to go away with ironing. Furthermore, you only have to wait 3 seconds for subsequent bursts of steam. There are steam burst buttons for adjusting the amount of steam you would want while steaming. This can be an easy guide to check that you are not spraying too much mist over your clothes. The steam controller buttons are well within the reach of the thumb, so you do not have to pause in order to switch over to a particular setting. The iron also has a self-cleaning button on one side.
Soft grips
If you have ever tried ironing bulk amounts of clothes, then you probably know the importance of grips. The Maytag M400 has a soft and comfortable grip which does not hurt your hands irrespective of how long you go in with your pressing. The iron also has a soft touch heel that allows you to place down the irons in a more gentle and secure manner while readjusting the garments in the middle of the ironing.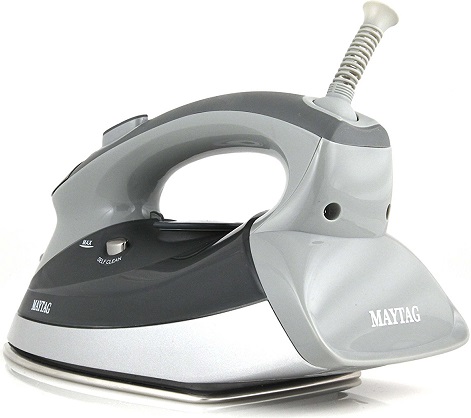 Long cord and swivel
The designers of Maytag M400 have paid attention to even the smallest of details in order to make them highly user-friendly. The iron has a long 8-foot cord that remains tangle free. Hence, with this iron, reachability is not at all a problem. You can iron garments of all sizes without having to worry about straying too far from the power socket. This makes the M400 a tough competition to all the Best Cordless Steam Irons. Furthermore, it has a 360-degree swivel that allows you to glide the iron smoothly over the clothes and make swift changes in the direction. This easily makes Maytag M400 the Best Steam Iron for everyday use. In fact, it is much better than the Rowenta DW5080 in terms of functionality.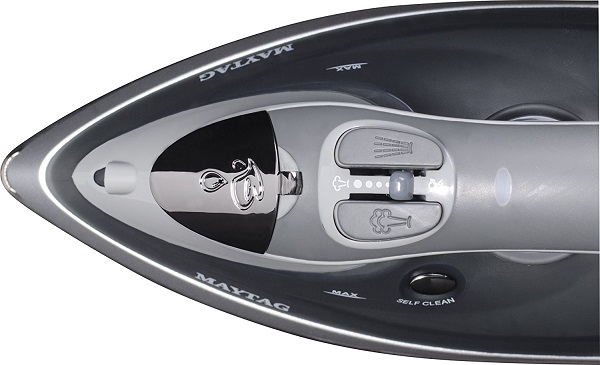 Can be used on all the different garments
The Maytag M400 can be used on all types of fabric. It has a fabric selector dial and heats up in accordance with the setting it has been adjusted to. With its fairly good wattage and temperature control, it does a great job of removing even the toughest of wrinkles from fabrics such as silk, polyester, linen, and cotton. It can also be ranked together in the line of Best Handheld Travel Garment Steamers due to its convenient weight and the ease of adding touch-ups to the difficult fabrics.
Steam capacity
The Maytag M400 has a water tank with a capacity of 8 ounces. This allows it to give a fairly good amount of steam. Coupled with the Best Ironing Board, the Maytag M400 can work wonders on even the toughest of the clothes. With its high heat limit, it easily stands as one of the Top Quilting Irons for Sewers. Since the iron has a maximum security 3 way auto shut off feature, you also do not have to worry about too much heating and damaging your fabrics.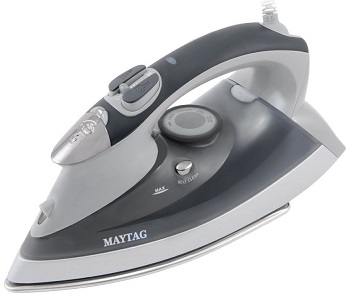 Looking to Buy Maytag M400 Steam Iron?
Pros
The Maytag M400 is a highly affordable Steam iron under $100.
It has powerful features and heats up within a very short time.
The iron gives off a lot of steam, making it easier to get done with large heaps of laundry in a very short time.
Cons
The temperature control button is placed in an awkward position which makes it a little difficult to access while still ironing.
Conclusion
The M400 is perfect for people who frequently wear clothing made out of line. It is a tough competition to Rowenta DW9280 and smoothens out even the most stubborn of wrinkles with great ease. It is also ideal for people who indulge in quilting and sewing on a regular basis. The M400 is a mark of dependability and sturdiness and will last you years.