URPOWER Garment Steamer is one of the best clothing steamers which you can get your hands on. Not only, it is highly portable but also completely compact as well which helps you use it even when you're traveling.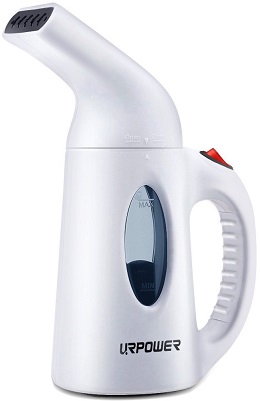 URPOWER Portable Steamer Review
The first thing which you would notice about this URPOWER portable steamer is that it has a perfectly designed nozzle which would help you in spreading the steam consistently over your clothes. Moreover, it is highly powerful as well which ensures that you are able to use it to iron any kind of cloth. It helps you in removing the most stubborn wrinkles as well. The features of URPOWER garment steamer 130ml make it much better as compared to some of the other options like Rowenta DG8430, Steamfast SF 435, Steamfast SF 407.

URPOWER Garment Steamer Key Features
Perfectly designed nozzle
Continuous stream production
Compact design
Can be used on all types of fabric
Quick heating system
Steam lasts for up to 10 minutes
Easy to handle
Removes the most stubborn wrinkles
Automatic shut-off feature
Lightweight
Perfectly designed nozzle
In any steamer, it is important that the nozzle is perfectly designed. Only when that is the case, it would be easier for you to spread the steam across the clothes. With the perfectly designed nozzle of the URPOWER portable steamer, you would have no problems at all in steaming your clothes. You can just place it in front of your clothes and you would be able to steam them quite easily.
Consistent steam production
Once you are filling up the tank with water, the steam can be produced consistently for up to 10 minutes. The steam production is pretty strong and unobstructed. This helps you in removing all kind of wrinkles from your clothes.
Compact design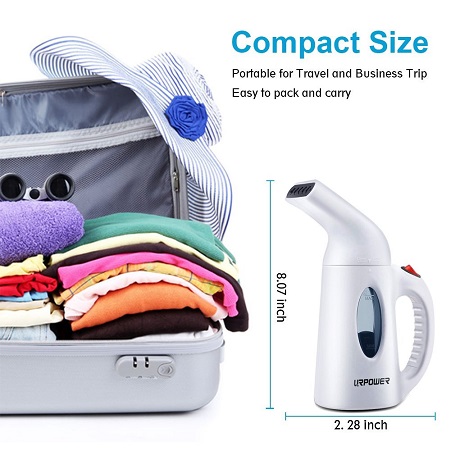 The size of the steamer is smaller than an iPad. This ensures that if you're looking for best travel garment steamers, this one would fulfill your need perfectly. You can easily carry it in your bag without any issues.
Works for all kind of fabric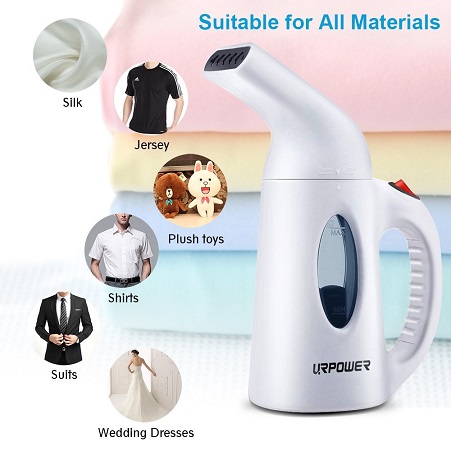 You need not worry about the type of fabric which you are ironing. The steamer works with T-shirts, shirts, trousers as well as other fabrics. Thus, you would not have to worry about looking for a different way to iron them.
Quick heating system
Once you click the steamer, it would start generating steam within a couple of minutes. Therefore, even if you're running on a tight schedule, you would be able to use the steamer quite easily without any delay. This especially useful for times when you're following a hectic schedule.
Long-lasting time
On a tank full of water, it can easily last for up to 10 minutes. This ensures that you are able to get consistent steam production for a long period of time. You would be able to iron multiple pairs of clothes within 10 minutes.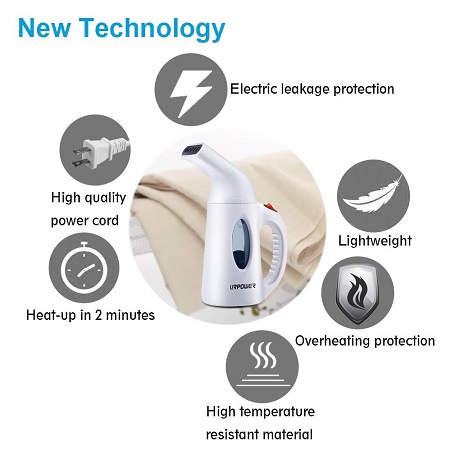 Easy to handle
The steamer is pretty easy to handle. All you need to do is to just unscrew it and fill it with the desired quantity of water. You have to at the most fill it up to maximum level indicated. Thereafter, you have to plug it in and the light would indicate that the steamer is on. Within a couple of minutes, you would be able to see the steam coming out from the nozzle.
Removes even stubborn wrinkles
The main reason why the steamer is so well liked by the customers and has received positive feedback is that it can remove even the most stubborn wrinkles. All you need to do is to just hold it for a longer period of time for highly stubborn wrinkles. It would be able to eliminate them quite easily.
Automatic shut-off feature
Whenever the steamer runs out of the water, it would shut itself off automatically. This ensures that you do not have to worry about it operating without any water which can actually damage it.
Lightweight
As the form factor is pretty small, the weight is also on the lighter side. It just weighs 1.2 pounds. This ensures that you are able to carry it along with you on your trips as well as on your vacations quite easily.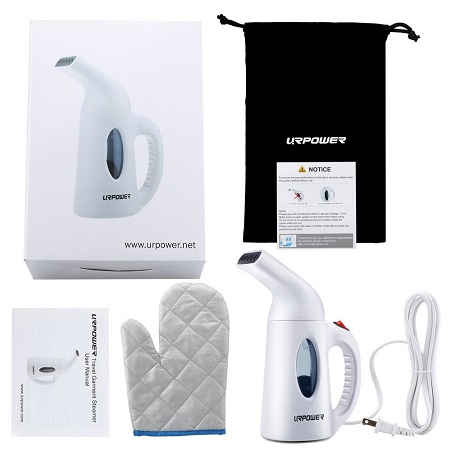 Don't Forget to Read Pros & Cons!
Pros:
It has perfectly designed nozzle to spread the steam.
It can consistently produce steam for up to 10 minutes.
It has a safety feature which automatically shuts off in case of low or no water.
It can produce steam within 2 minutes of plugging it in.
It can easily remove wrinkles on all types of fabrics.
It can accommodate 130 ML of water.
It is pretty lightweight.
It comes with a travel pouch.
Cons:
It cannot operate in wireless mode.
It is less effective on thicker fabrics.
Conclusion:
If you're tired of spending hundreds of dollars to iron your clothes while traveling, the URPOWER portable garment steamer is one of the perfect options for you. Not only, it is pretty easy to use but it is highly portable as well as compared to some of the other options like Rowenta IS6300, Rowenta IS6200. When we tried it for our URPOWER fabric steamer review, we found that it is highly efficient and does the job pretty well. Thus, if you're looking for a garment steamer, this one is one of the best options for you.