There is an increased usage of dry irons in industries and homes nowadays. Dry irons are user-friendly and have lots of ease to use.
It is highly recommended to take into consideration the power rating of a dry iron before purchasing it. A relatively high-powered dry iron enables you to iron your fabric with ease. You get to iron each part of the cloth efficiently. You'll save time when you use a dry iron since it heats up quickly. You may use distilled water in a bottle sprayer when you would like to dampen clothes made of cotton.
Other readily available dry irons in the market comprise CONTINENTAL ELECTRIC CP43001, BLACK+DECKER F67E, Panasonic NI-W8110CS, Sunbeam Hot-2-Trot.
WASING Classic Dry Iron Review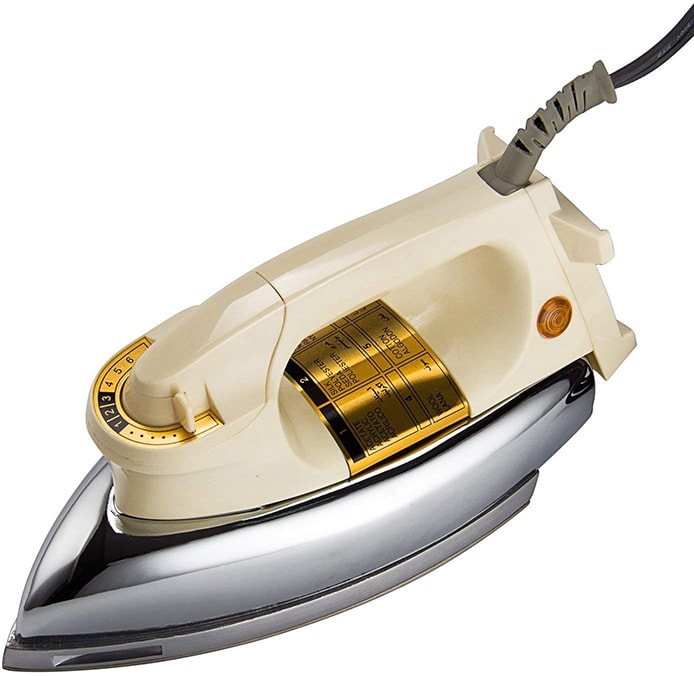 It's quite hard to make an informed decision when considering the best dry iron to purchase in the market. We are going to assist you get a better choice today. WASING Classic Dry Iron comes with an elegant and unique design which makes it appear like a modern dry iron.
Is purchasing a WASING CLASSIC DRY IRON worth drawing your attention or just a mere plug? Let's have a breakdown of its characteristics and any other needful details.
The iron has an automatic temperature control system.
Stainless steel base.
Easily adjustable temperature setting.
It has a good weight.
A power rating of 1000 Watts.
Ideal for usage in industry or home
Affordable price
Temperature range of between 75-220 degrees

Automatic Temperature Control System
This feature keeps the iron at a constant temperature. You are able to save on energy costs and ensure that you are safe from accidents which could arise from the iron.
Stainless steel base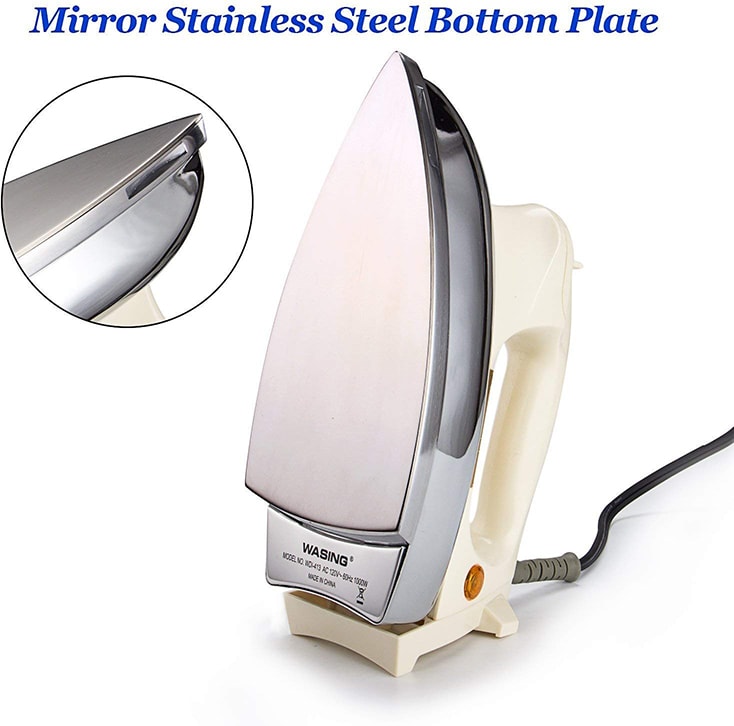 The base is made of stainless steel soleplate for smooth ironing. This keeps the iron off from rust even after several days of non-use. With the stainless steel soleplate, you are assured that your fabric won't stick on the soleplate. The major merit of having a stainless steel base is that wear and tear mechanism is highly reduced. This gives iron longevity.
Related Read: Best Stainless Steel Iron
Easily adjustable temperature setting
Turning the fabric dial on a clockwise direction raises the equipment's temperature, turning on an anti-clockwise direction lowers the temperature.
A relatively heavyweight
You are assured of ease when ironing your linen. The iron weighs 1.5kg which makes it easy to compress clothes and iron them out perfectly.
Power rating
You use the Alternating Current power source. 120V-60 Hz is enough to use your ironing apparatus. The power rating is 1000W. Sufficient heat will be generated, making it very easy to remove stubborn wrinkles.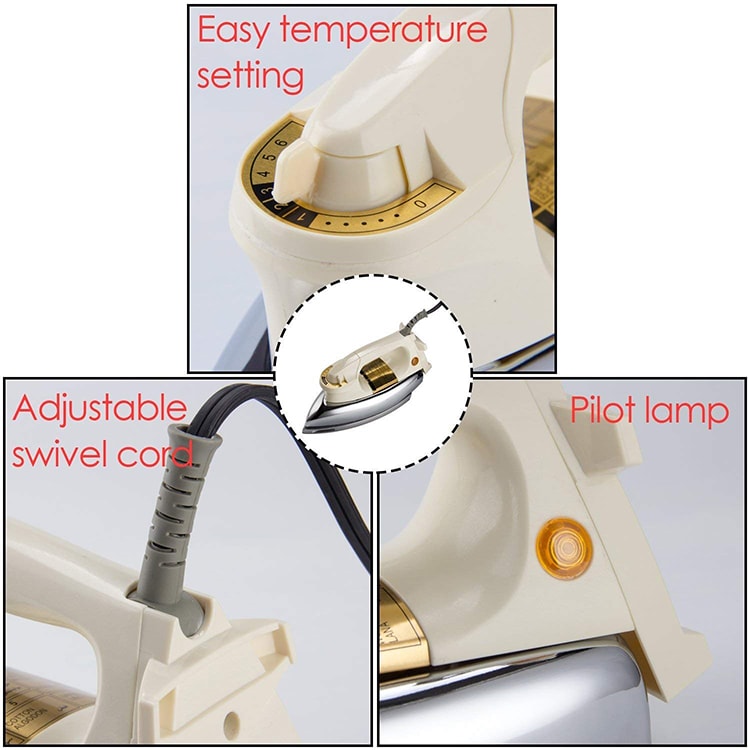 Ideal for usage in industry or home
The high-temperature requirements make it possible to use the dry iron in the family and/or industry. This gives you reliability to Behold what WASING CLASSIC Dry Iron can offer and purchase it. It will be a great value for your money, time and linen life.
Affordable price
Everyone's pocket is catered for. Purchasing this gadget helps you save on the hassle of keeping on replacing already rusty irons.
Temperature range
The temperature produced by the iron box of between 75-220 degrees is ideal for ironing all kinds of clothes. You are assured of perfectly ironed clothes as heat is uniformly distributed. You can regulate the temperature to any heat point.
Read Pros and Cons of Wasing Classic Dry Iron Before Buying
Pros
Its relatively heavy weight is essential for pressing quilt blocks on fabric
Has an easy to read dial
The best iron for shirts
It keeps fabric away from rusty stains as it has no steam vents.
Affordable in its class
It heats up quickly saving you time
Works extremely perfect after dampening and rolling up your clothes before ironing.
It has an elegant and modern design.
Highly durable
It is prettily easy to glide the fabric on most materials of fabric.
Cons
Unsuitable for light clothing due to its heavy weight.
Conclusion
It is crystalline clear that those features are just superb. Having a dry iron which can be utilized for family and industrial use at an affordable price should be your first factor to consider when purchasing a dry iron. The good amount of heat produced helps you iron out your clothes in the shortest time possible.
WASING Classic Dry Iron is able to cover all your ironing-related needs. Purchase it without a second thought. You will be a satisfied customer.