The Sunbeam GCSBCS-200 is a modest iron; it has no ostentatious features. However, it does what an iron should do; remove creases. Although it does not have superior technology like the 300 micro steam holes of the Rowenta DW2070, it has continuous steam which can be adjusted according to need. It has a decent amount of power and coupled with an extra large soleplate, this iron produces good results.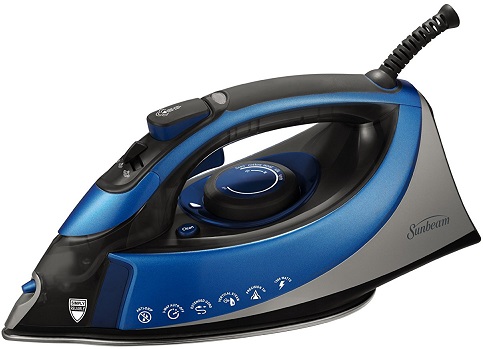 Sunbeam GCSBCS-200 Top Features
1500 watts of power
Extra large stainless steel soleplate
Burst of steam
Vertical steaming
Large water tank with anti-drip system
Anti-calc and self-clean mechanism
Auto power off
Precision tip
Variable steam control

1500 watts of power
The Sunbeam GCSBCS-200 packs 1500 watts of electric power. This is medium range power that ensures reasonably fast heat up time. It is enough to heat up the water in the reservoir to generate a generous amount of stem. This iron matches the wattage of the Eureka Champion which is a much more expensive iron.
Extra large stainless steel soleplate
Stainless steel is the most common material for soleplates. This is because it does not rust and is easy to clean. The GCSBCS-200 has a super smooth soleplate that glides easily for easier ironing. This soleplate is extra large to offer a large surface area thereby reducing the number of strokes required while ironing.
Burst of steam
As an extra help in dealing with stubborn stains, this iron can release a shot of steam at a specific area to straighten tough creases.
Vertical steaming
You can use this iron as a steamer to straighten clothes without ironing them on the ironing board. It can be used on curtains or hanging drapes.
Large water tank with anti-drip system
Even though the water tank of the GCSBCS-200 is not as large as that of the Rowenta DW5080, it can hold about 8 ounces of water. The anti-drip system is installed to prevent leaking especially at low temperatures.
Anti-calc and self-clean system
To prevent accumulation of mineral deposits, this iron has an anti-calc system. A self- clean button flashes out dirt and other material that could clog the steam holes.
Auto power off
This iron has 3 modes smart power off. It will cut off power when left idle after a period of time ranging from 15 to 30 minutes depending on the lying position of the iron.
Precision tip
This iron has a specially designed tip that is narrow. It is able to reach tricky areas such as button areas or around pleats.
Variable steam control
While working with this iron, you can adjust the level of steam output to suit the specific needs of the fabric you are working with. A more creased jacket, for example, would require more steam than a less creased one.
Sunbeam GCSBCS-200 Pros:
Large soleplate that covers a large surface area reducing ironing time.
Extra long 360 degrees swivel power cable that measures 10 feet giving more convenience
It can be used for vertical steaming.
Since it has an anti-calc system, you can use tap water for the tank.
The precision tip allows reach to otherwise tricky spots.
Sunbeam GCSBCS-200 Cons:
Many buyers have complained that it leaks frequently at any temperature.
Some professional users like quilters have complained that it does not get hot enough for tailoring needs.
It seems to malfunction after a period of use.
Conclusion – Should You Buy or Not?
Even though the Sunbeam GCSBCS-200 has its downsides, its strengths are greater and its price is very reasonable. It matches the wattage of other more expensive irons while the extra long power cord is one of its hallmarks. It is longer than that of popular models like Rowenta DW2030 and DW5080 and indeed many other models. This model is a recommended buy for any budget conscious person interested in a nonprofessional iron.