The Panasonic NI-E250TR incorporates no cutting edge technology or fancy features; it is a pretty basic iron. But do not dismiss it, it works well. One of its most comforting features is a retractable cord that will save you a lot of inconveniences. You will find that it has a quality titanium soleplate with nonstick properties. Above all, you will never suffer tugging while using it.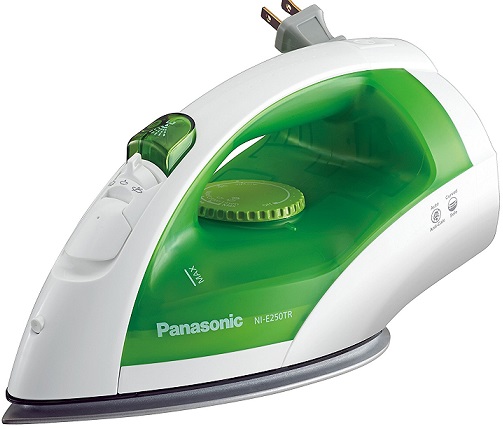 Panasonic NI-E250TR Iron Has the Following Features
U-shaped design
Non-stick curved soleplate
Adjustable steam with dry settings.
Shot of mist button
Easily refillable water tank with window
It has a precise temperature dial
1200 watts of power
Retractable power cord reel.
Anti-calc system

U-shaped design
The Panasonic NI-E250TR has a unique U-shaped sole plate that enhances the circulation of steam and distributes it evenly around the base of the iron.
Non-stick curved soleplate
This Panasonic model has a high-quality titanium soleplate. Titanium conducts heat quickly and evenly ensuring that the soleplate heats up at the same pace around all areas. Titanium also offers a superior glide over all fabrics and for this iron, it is enhanced with nonstick properties. The curved soleplate reduces tugging.
Adjustable steam with dry settings
This model like the Panasonic NI-W810CS allows the user to control the steam output. Tough fabrics with deep creases require a combination of high temperature and a large volume of steam. You will find that you can completely turn off the steam to convert your steam iron into a dry iron.
Shot of mist
This button releases extra moisture in a specific region to help remove tough creases.
Easily refillable water tank with window
Unlike other models like the Rowenta DW5080 which has an opaque water tank with no easy way of monitoring, the Panasonic NI-E250TR has a window which allows easy water level monitoring. Refilling is easy because it has a wide refill port which is easily accessible.
Precise temperature dial
You cannot go wrong with this iron when selecting temperatures; the easy to turn dial allows precision when selecting temperatures. You can be able to adjust temperatures according to the needs of your fabric.
1200 watts of power
This iron gets hot enough to produce decent results. However, at almost the same price range, the Sunbeam GCSBCS-200 comes with 1500 watts of power.
Retractable power cord reel
This is one of the few irons that have easy cord management. The retractable power cord reel prevents entanglement during ironing and reduces storage space when the iron is not in use.
Anti-calc system
With the Panasonic NI-W810CS, you can use regular tap water. This is because it has a built in anti-calc system that prevents build up of scale which originates from hard water. This is likely to increase the lifespan of the iron.
Panasonic NI-E250TR Pros
Nonstick titanium soleplate which offers superior glide on any kind of fabric
Curved soleplate that prevents tugging reducing the risk of scorching.
Retractable power cord that reduces entanglement during storage or when ironing.
Dry steam option which is important when working with delicate fabrics.
Large window for easy monitoring of the water tank.
Panasonic NI-E250TR Cons
It is a low power iron and it may not be able to handle tough creases.
Does not have an auto-off feature.
It has no steam burst and cannot be used for vertical steaming.
Conclusion
Being priced relatively low, the Panasonic NI-W810CS is indeed a good iron. You may not have all the fancy features you would love but it will get your clothes straightened. If you are on a tight budget, this is an iron that you might want to consider.