In many cases, you get what you pay for in steam irons. However, there are certain exceptions and the Black and Decker IR03V is one. This is a low priced iron which is unexpectedly packed with many useful features not typically found in irons within that price range. For example, steam surge and mist spray buttons are rare in irons costing less than $20. The iron is light yet compact and has a decent soleplate. You will also find it comfortable and easy to use.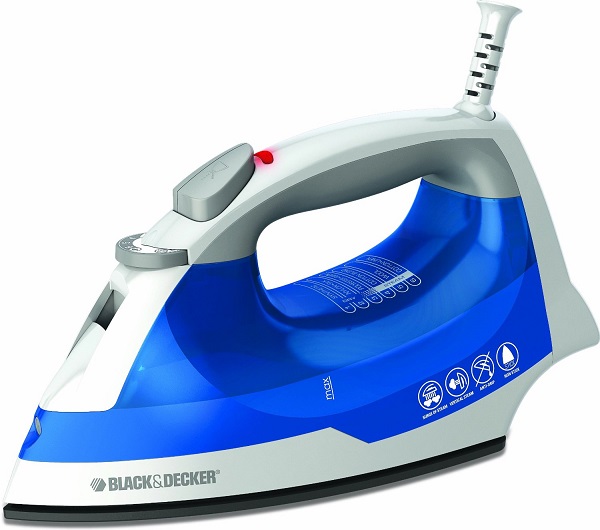 Black and Decker IR03V Features:
True glide sole plate
Smart steam technology
1200 watts of power
Steam surge
Spray mist and push button mister
Imprinted fabric selection guide
Anti-drip

True glide soleplate
An iron is only as good as its' soleplate. Even though the Black and Decker IR03V is a budget iron, it comes with a reasonably good soleplate. A nonstick soleplate is a feature found in more expensive irons such as the Sunbeam steam master iron however it is standard with this model. Nonstick reduces the tendency of scorching and accumulating bits of burnt material. This iron also has a superior glide on all fabrics.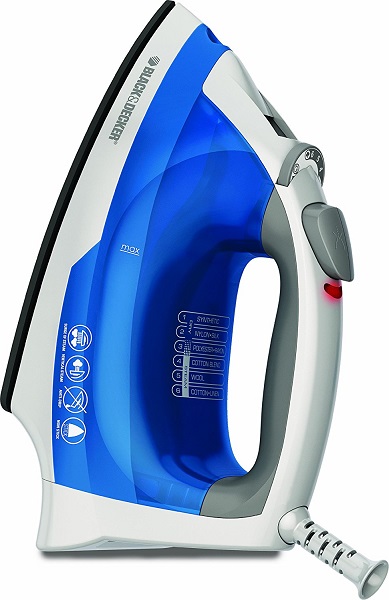 Smart steam technology
This is a feature that matches the steam output to the fabric selected. Different fabrics have different steam requirements; heavy fabrics generally require more steam while more delicate ones barely require steam. Smart steam technology reduces the guesswork in choosing the amount of steam by automatically generating the optimum amount of steam.
1200 watts of power
This is relatively low power iron but nevertheless, it still gets hot enough. Low power wattage has its limitations in heat up time and the ability to remove creases quickly. Although this iron heats up in a reasonable time, it lacks the effectiveness of more powerful such as the Black and Decker D2630.
Steam surge
When dealing with powerful creases, the steam surge feature comes in handy. A steam surge is a powerful shot of steam that can be targeted at a particular spot to easily flatten creases. Like the Black and Decker IR1350S, this iron has a well- positioned steam surge button that sends a powerful burst of hot steam on fabric. Steam surge can also be used for vertical steaming.
Spray mist with push mister
Like the steam surge, this button is an ironing aid. When pressed, it produces a spray of soft steam on a focus area. It can be used to create crisp lines and is invaluable when dealing with delicate fabrics such as georgette or Satin which can easily be damaged by heat or hot steam.
Fabric selection guide
This iron has a fabric selector imprinted on the top part of the iron. There is a choice of more than 6 different fabrics over a range of heat settings. The fabric selection guide automatically provides the temperature requirements for the fabric selected.
Anti- drip
This is an inbuilt mechanism put in place to prevent spitting which may damage some delicate fabrics.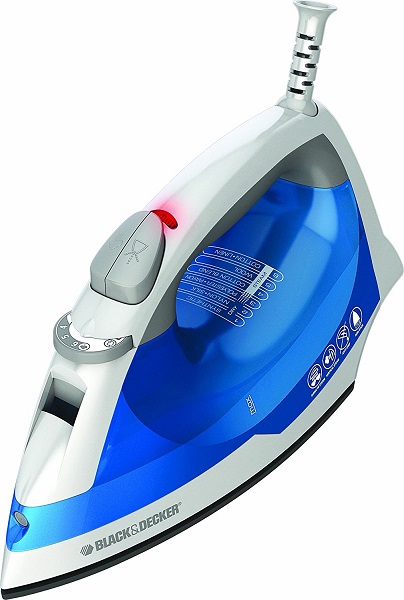 Looking to Buy Black and Decker IR03V Steam Iron?
Pros
Can be used for vertical steaming
It is a low priced iron yet it has features such as spray mist and steam surge found in more expensive irons such as the Black and Decker D2030.
Can be used for vertical steaming
The spray mist button can be used for creating crisp lines
A translucent water tank that allows easy water monitoring.
It is a light iron. It is comparable iron to Black and Decker easy steam compact iron
Cons
Even though it has an anti-leak system, some buyers have complained of major leakage issues with this iron.
It lacks the powerful of other models such as the Black and Decker IR1350S which is a 1500 watts iron.
It is not a very durable iron
Which Ironing Board to Use with IR03V Iron?
This iron is small and light. It can be used with an ordinary sized ironing board. However, an ironing board with a large working space will give you more comfort while ironing. Read recommendations for best ironing board and how to choose an ironing board to know more.
Conclusion
The Black and Decker IR03V is not one of the best Black and Decker irons. However, very few models can match its features at its price. It is a budget iron that performs well for people who do not have very high expectations on performance and durability. If you are seeking long life and good performance, you should probably consider the Black and Decker D2030; its performance is almost as good that of some of the best garment Steamers in the market today.

Related read: