If you talk about the best ironing boards, you just cannot leave out the Bartnelli Pro Luxury Iron Board. It is one of the best ironing boards out there in the market. There are other great ironing boards too like Brabantia Ironing Board and Best Homz Ironing Board but Bartnelli Ironing Board is unique and special in its own way. Its design makes it very comfortable to iron the clothes for a homemaker. There are a number of unique features which make this modern ironing board a great ironing board choice if you are looking to buy one.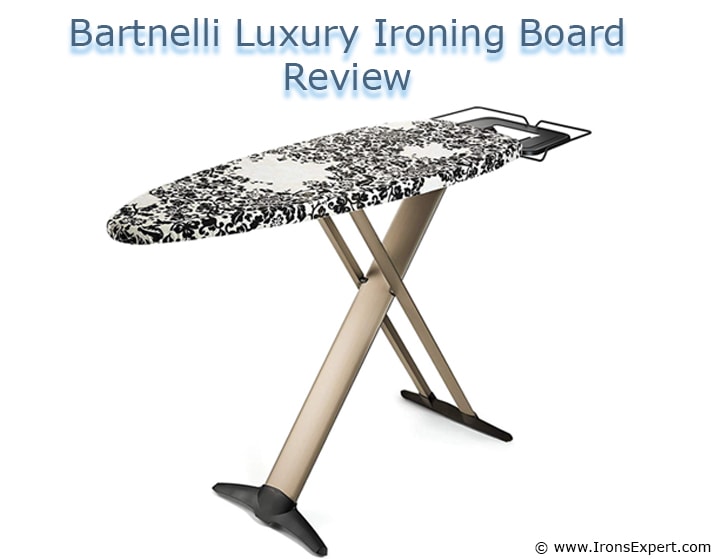 It is large, sturdy and rustproof. It's a T-Leg Ironing Board which always has an advantage over the best over the door ironing board, best ironing mat, and best tabletop ironing board. It's not a lightweight ironing board like other ironing boards but that just gives it the perfect stability that you need while ironing your clothes. This Bartnelli Ironing Board has four different heights to which you can adjust it as per your comfort. Its feet don't skid and there is an iron rest too on the side to add to your comfort while ironing. Bartnelli Pro Ironing Board makes ironing more fun than it was ever before.
Some questions which people often ask themselves before purchasing an Ironing Board cover are "How to choose an Ironing Board?" and "How to choose Ironing Board cover?". The simplest answer to these questions is that you need to choose what gives you more comfort than the rest of them. Bartnelli Ironing Board is designed to provide comfort in every possible way.
The Features of Bartnelli Ironing Board
1. Large Surface For Ironing
It's 51 inches long and 19 inches wide which makes it larger in size than usual ironing boards and provides you with a larger surface area to iron on. Nobody likes to iron pants when half of them are on the ironing board and half of them hanging. There is no problem of this kind with Bartnelli Ironing Board. So its size is a great advantage and gives it an edge over the rest of the usual ironing boards.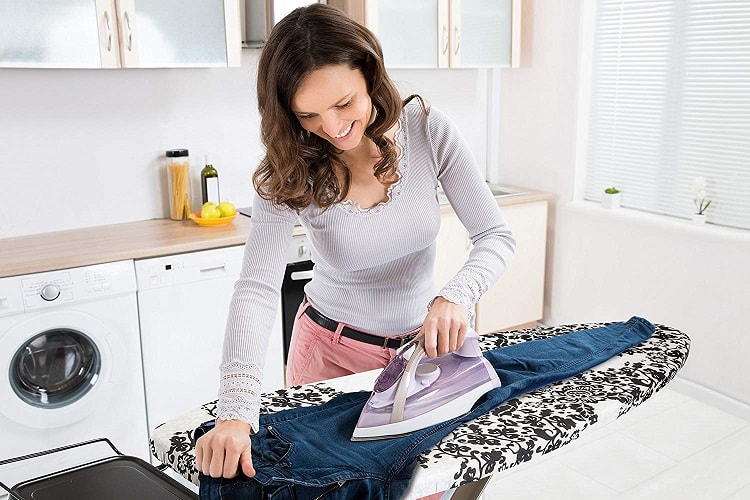 2. Thick Cover
Its cover is very thick as it is made up of four different layers of metal mesh, felt layer, a foam layer, and 100 percent extra thick cotton. These layers make sure that the cover can withstand heat and also prevents the clothes from sticking to it. Metal mesh is there to help the steam go through and evaporate. It's so thick that there is no chance for any bolt or screw to poke through the board. You can iron without any worries on the Bartnelli Ironing Board. Its thick covering makes it last even much longer than any usual ironing board can ever last. You can also fit an extra cover like Epica Silicone Coated Ironing Board cover over it to prevent scorching and staining.
3. Adjustable Height
If you have more than one person who will be using the ironing board, Bartnelli's tall ironing board has got you covered with four different heights to which you can adjust it as per the user's height. You can lower it to as low as to 30 inches height and raise it to as high as to 38 inches height. It's mentioned above that Bartnelli Ironing Board is designed for "comfortable ironing" but it is actually "comfortable ironing for everyone".
4. Steam Iron Rest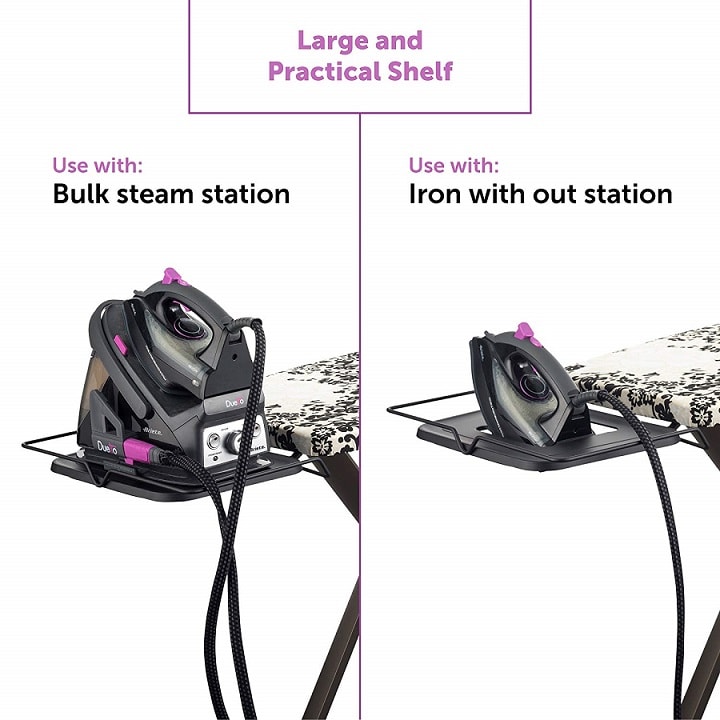 It comes with a steam iron rest attached to the side of the ironing board. You can put the iron on it instead of putting it on the ironing board. It's very sturdy and flat so you don't need to worry about it falling over.
There are rails around the iron rest which are there for a purpose too. They can be used to hang the clothes after finishing ironing them. You can just put the ironed clothes in hangers and hang it on the rail. It's a great feature of this ironing board as it enables you to iron all of your clothes at once unlike the usual ironing boards where you iron a few clothes and then have to go to put them away first to start doing the ironing again. So steam iron rest helps you iron all your clothes at once while none of them getting wrinkled or anything.
5. Cotton Cover Design
The design of the Bartnelli Ironing Board's cover is really cool and you will definitely like it. It's color scheme is beautiful too. It is capable of adding a lot of value to space where you keep it. It's kind of attractive as it catches the eye of whoever is around it. The design on the cotton cover looks beautiful even after a long period of usage as it doesn't fade away or something, unlike other usual ironing boards which start looking old and lose their charm just after a few months of use.
6. Anti-Skid and Anti-Corrosion Feet
Corrosion is the enemy of metals and once it attacks something, there is nothing which can reverse it. Corrosion reduces the lifetime of metals. Bartnelli company has used the finest quality material in its legs to make sure that it doesn't rust or corrode. The non-corrosive properties of its legs help it to stay new and good looking for as long as possible. The protective material on the feet prevents the ironing board from skidding by providing a strong grip. It also offers no scratches to your floor whatsoever.
7. Sturdy Overall
The Bartnelli Ironing Board is built with the strongest of materials to prevent it from wobbling or skidding on the floor. This Ironing board stays stable on all kinds of floors. It is very strong overall and won't be going anywhere for years after the purchase. Bartnelli is something that defines the quality of this ironing board.
8. Foldable
Bartnelli Ironing Board is a foldable ironing board which means it can be folded into a flat position and then put away in a safe corner until you need to iron again. It is very easy to fold it using the lever under it and anyone can do it. It gets very thin after the fold and you can stick it anywhere in your house when not in use.
PROS
Doesn't skid or wobble while ironing
Can be used by anyone in the house
Stays new and last for long
All clothes can be ironed at once
CONS
Should you Buy Bartnelli Ironing Board?
Bartnelli Ironing Board is definitely a great choice when going out to buy an ironing board. It has a combination of features which only it has which makes it unique and of much more value. If you are looking for an ironing board which will be there for you even after years of use, then Bartnelli Ironing board should be your choice but its a bit on the heavier side too which makes it a little difficult for you to carry it around anywhere, so you need to keep that in mind also before making your purchase.
More to read: